House Speaker Nancy Pelosi has announced that she intends to run for re-election this year, stamping out speculation about retirement.
In a video posted on Twitter on Tuesday, Pelosi revealed that she would be seeking a 19th term in Congress and said: "This election is crucial. Nothing less than our democracy is at stake. But as we say, we don't agonize, we organize."
The announcement comes as Democrats prepare for this year's midterm elections, where they face the prospect of losing control of Congress.
"While we have made progress, much more needs to be done to improve people's lives. Our democracy is at risk because of assaults on the truth, the assault on the U.S. Capitol and the state-by-state assault on voting rights," Pelosi said in the video.
The video, however, does not confirm whether Pelosi will be running as the House's Democratic leader or not.
Pelosi's announcement comes after announcements from 29 House Democrats that they will not be seeking re-election.
The midterm elections usually see the party inhabiting the Oval Office lose seats in Congress, and the Democrats are bracing themselves for potential losses in both chambers as President Joe Biden's approval rating slumps.
What Are Nancy Pelosi's Re-Election Chances?
Pelosi enters the race as the clear favorite, having won 78 percent of the vote in 2020 and still enjoying popular support within her California district.
However, she has also received criticism for crime and homelessness in her district, and her candidacy comes at a troubled time for the Democrats on the national stage as the ruling party braces for potential heavy losses in the midterms.
Candidates with such popular support normally get overlooked by bookmakers, though Pelosi's national relevance and influence over other U.S. House and Senate races could encourage punters to post their odds.
According to US-Bookies.com, Pelosi has 9-2 odds of securing re-election, while House Minority Leader Kevin McCarthy's odds stand at 1-5.
Other possible nominees such as Minority Whip Steve Scalise has 11-1 odds, while the odds for the representative of New York's 8th congressional district, Hakeem Jeffries stand at 14-1.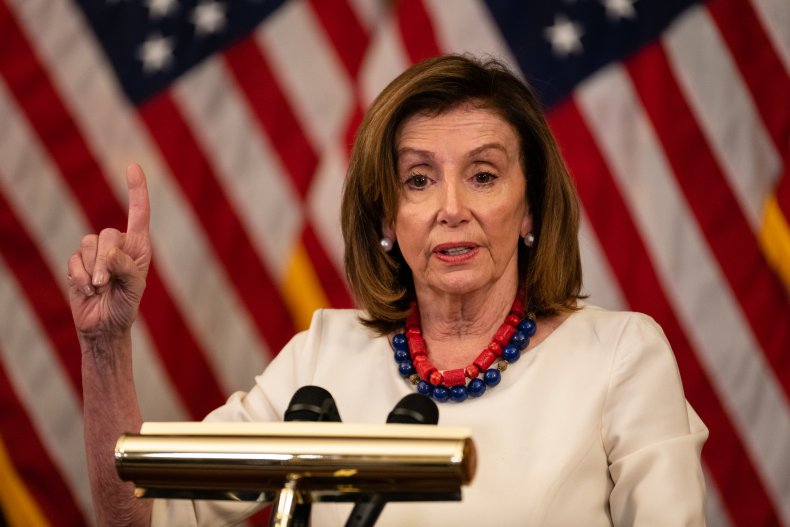 Kyle Newman, public relations associate at Oddschecker, also shared the odds for the future look of the House.
Newman told Newsweek: "Republicans are -500 [1-5] or an implied 83.3 percent chance to retake the majority in the House. Democrats are +450 [9-2] or an implied 18.2 percent chance to retain control of the House. There's +6600 [66-1] odds, or an implied 1.5 percent chance that there's no majority in the House."
Oddschecker also assessed the Californian's chances of becoming the Democratic nominee for 2024.
"Pelosi is given +8000 [800-1] odds, or an implied 1.2 percent chance to be the Democratic nominee in 2024. That's 50th on the odds market and worse odds than those given to George Clooney, Leonardo DiCaprio, Mark Cuban, Kim Kardashian and Dwayne 'The Rock' Johnson. Pelosi is usually at least top-15 on this market given her high-profile role in the party," Newman said.
How Old Is Nancy Pelosi?
Pelosi is 81 years old and will turn 82 in mid-March. If she is re-elected, the San Francisco Democrat will be 84 years old by the time the 2024 midterm elections are held.
Her age does not rule out retirement, however, as a number of current lawmakers are older than Pelosi.
The oldest person to have served in the House is Rep. Ralph Hall, who represented both Democrats and Republicans in his 35 years in the House. He retired in 2015, aged 91.
How Many Terms Has Nancy Pelosi Served?
The Speaker is a veteran of the U.S. political scene and has been in the House for 18 two-year consecutive terms.
In 2007, Pelosi made history by becoming the first female Speaker of the House.
How Many Years Has Nancy Pelosi Been in Congress?
Pelosi has been in Congress for almost 35 years, since she was first elected to represent California's 12th congressional district in 1987, a seat she has held in each election since.
Prior to that, Pelosi was the chair of the California Democratic Party from 1981 to 1983.
The Californian Democrat also served as the House Minority Whip between January 2002 and January 2003.
She was inducted into the National Women's Hall of Fame in 2013 at a ceremony in Seneca Falls.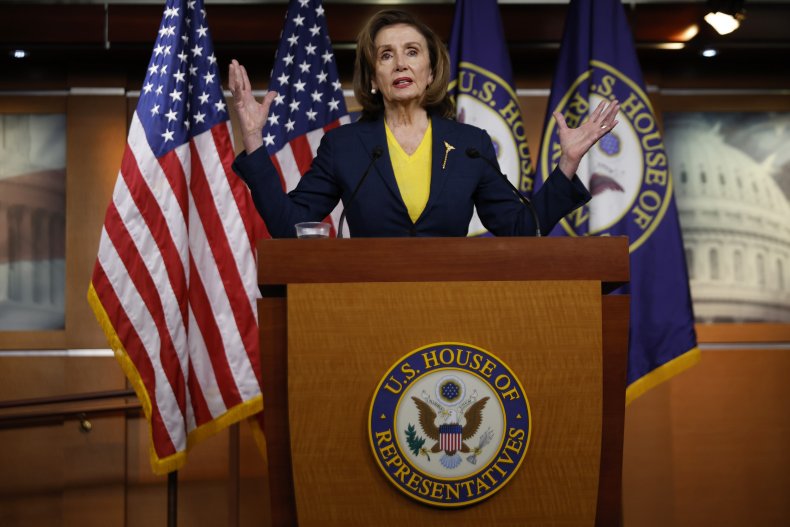 Update 02/04/2022, 11:30 a.m. ET: This article was updated with the latest odds. Update 02/02/2022, 3:10 a.m. ET: This article was updated with new odds and comment from Kyle Newman at Oddschecker.