How Joe Biden's Approval Ratings Have Changed During His First Year in Office
Today marks one year since Joe Biden was sworn in as the 46th President of the United States. From day one, the inaugural year of President Biden's administration was expected to bring with it a series of complex challenges.
The Democrat inherited a country in disarray, staring down the barrel of a troublesome pandemic, faced with growing social and political division, and economically burdened by the consequences of the continuing COVID crisis.
As Biden wraps up his freshman year in the Oval Office, he finds himself in a weaker position than when he was given the presidential baton last year.
On the week of his anniversary, Biden's approval rating is sitting at 42 percent, with over 52 percent of Americans disapproving of the way the President is handling his job.
When he assumed power last year, Biden's approval ratings hovered around the 55 percent mark, while disapproval ratings sat in the mid-30s, according to RealClearPolitics, which has compiled data from hundreds of polls held over the last year.
Over the last year, Biden has averaged an approval rating of 48.9 percent, according to Gallup figures, giving Biden the second-lowest approval rating for a President's freshman year in the White House.
On this front, Biden is surpassed only by his predecessor Donald Trump, who entered his second year in power with an average approval rating of 38 percent. In contrast, Barack Obama culminated his inaugural year in office with an approval rating of 57 percent, George W. Bush with 68 percent and Bill Clinton averaged 49 percent.
Biden maintained his early approval ratings during his administration's opening months, boosted by the reduction in COVID cases and mass vaccine roll-out. However, sharp declines began in July, following a surge in coronavirus cases over the summer due to the emergence of the Delta variant.
His approval rating first dipped below the 50 percent mark in mid-August and Biden has failed to recover since, according to RealClearPolitics data.
His ratings also took a hit after the U.S. military's turbulent withdrawal from Afghanistan in late August and the consequent terrorist attack on Kabul airport which killed 183 people, among them 13 U.S. troops.
The emergence of the Omicron variant and subsequent spike in coronavirus cases, prolonged economic uncertainty, continued inflation and disruption in the national supply chain, as well as political blows such as recent failures to pass key legislative bills have all dealt Biden a blow in the polls.
The American population has also seemingly lost trust in Biden's administration, as an average of 62 percent believe the country is heading down the wrong track, according to RealClearPolitics.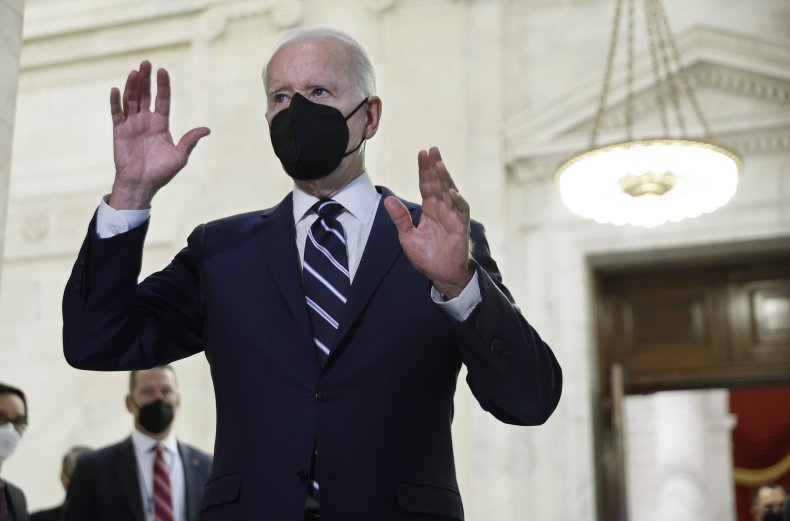 Americans were similarly disenfranchised with Biden's predecessor when he assumed office, and Biden actually narrowed the gap significantly in the first six months of his presidency, with 43 percent of Americans believing the country to be heading in the right direction at its peak. However, the gap broadened drastically once again from July onwards.
The final quarter of Biden's freshman year at the White House — which ran from October 20 to January 19 — he averaged an approval rate of 41.7 percent. This is the second-lowest approval rating for an incumbent president's fourth quarter, beaten only by Trump's fourth quarter average approval of 36.9 percent, according to Gallup statistics.
All other predecessors averaged approval ratings of over 50 percent in the fourth quarter of their inaugural year, with W. Bush peaking at 85.7 percent following stringent support after the 9/11 terror attacks.
Increased political division
When he was sworn in last year, Biden's approval ratings among his fellow Democrats sat at 98 percent, with 61 percent of independents favoring the President and 11 percent of Republicans approving, according to Gallup figures.
However, President Biden has seen those ratings consistently slip throughout the last year. Perhaps the most noticeable decline was seen among those in his own ranks. Since November, his approval among Democrats fell to hover around the low 80 percent mark in recent months.
Currently, an estimated 33 percent of independents approve of the President, whereas a mere 5 percent of his Republican counterparts approve.
The President has seen the approval gap between Democrats and Republicans reach a yearly average of 83 percent, considerably surpassing his predecessors, reflecting the entrenched political division the country is facing.
At the culmination of Trump's first year in the Oval Office, the Democrat-Republican gap averaged 75 percent, making it the most polarizing administration at the time. Trumps approval ratings among Democrats were equally low as Biden's current approval among Republicans, yet Trump did not enjoy as high an average approval among Republicans (83 percent) as Biden holds among the Democrats (91 percent).
According to Gallup, Biden's freshman year has been the second-most polarizing for any president during any year of their tenure, surpassed only by Trump's final year in the White House.