Only six percent of Biden voters believe things are going "very well" in the United States, according to a new poll.
Nearly one year into President Joe Biden's administration, he continues to face a myriad of challenges, including the soaring number of COVID-19 cases, inflation and many of his priorities stalling in the Senate—leaving some of his own voters feeling less optimistic.
The CBS/YouGov poll found that in total, only four percent of Americans believe things are going very well, with only two percent of Trump voters agreeing. Meanwhile, more respondents—22 percent—said things are going "somewhat well," with 35 percent of Biden and six percent of Trump voters saying so.
Most Biden voters still approve of his performance. Thirty-nine percent of those who cast their vote for him in 2020 strongly approve, while 41 percent somewhat approve of him, the poll found.
Across all voters, 44 percent approve of Biden, while 56 percent disapprove, according to the poll.
Meanwhile 45 percent of all voters said they "feel better" about Biden than they did former President Donald Trump. By comparison, 39 percent said they felt better about Trump.
The Biden administration has seen a series of setbacks in the past few months. Coronavirus cases continue to surge across the U.S., which averaged 798,325 new cases per day on Friday, according to data from the Centers for Disease Control and Prevention.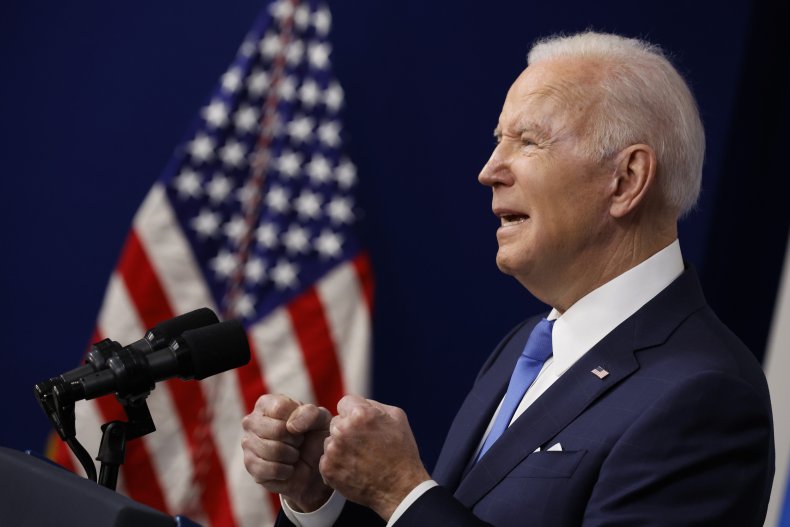 Americans are nearly split on whether they think Biden is doing a good job managing the pandemic, according to the poll. Fifty-one percent disapprove, while 49 percent approve of the way he is handling it. A narrow majority of voters—52 percent—gave Biden positive marks for the distribution of the COVID vaccine.
Two high-profile bills—a large social spending bill known as Build Back Better and a voter rights bill—have also failed to make progress in the Senate, where Democratic senators Joe Manchin of West Virginia and Kyrsten Sinema of Arizona decline to change the Senate rules to allow the legislation to pass with only 50 votes.
Forty-seven percent of respondents said their approval of Biden would improve if Build Back Better passed, while 48 percent said their opinion of him would improve if the voting rights bill passed, according to the poll.
Biden's poll numbers—once relatively high—began dropping at the end of last summer, as he faced blowback from the withdrawal from Afghanistan and a surge in Delta-related COVID cases.
Other recent polls also show Biden struggling to earn the approval of most voters. A Quinnipiac poll released last week showed Biden's approval rating at only 33 percent—lower than Trump's at the same point in his presidency.
The CBS poll surveyed 2,094 adults between January 12 and 14. It has a margin of error of about 2.5 percent.
Newsweek reached out to the White House for comment. This story will be updated with any response.