Joe Biden's Approval Rating Hits All Time Low in New Poll
President Joe Biden's approval rating is continuing to slide, with the latest Quinnipiac poll putting him at his lowest ever score of 38 percent.
The survey found that Biden received negative scores in the double digits on a number of issues, including the economy, immigration and his handling of the crisis in Afghanistan.
Biden's 38 percent job approval rating is his lowest in any poll since he took office. It's down from the 42 percent he received in Quinnipiac's last poll three weeks ago.
The results are part of a trend that has seen Biden's approval ratings drop consistently. for the past few months.
According to FiveThirtyEight, Biden's average approval rating currently stands at 44.1 percent, a dramatic decrease from the low-to-mid 50 percent approval ratings he enjoyed through much of the earlier part of this year.
"Battered on trust, doubted on leadership, and challenged on overall competency, President Biden is being hammered on all sides as his approval rating continues its downward slide to a number not seen since the tough scrutiny of the Trump administration," Quinnipiac University Polling Analyst Tim Malloy said in a statement.
The Quinnipiac poll found that the only key issue on which the American people don't overwhelmingly disapprove of Biden's response is the COVID pandemic, with 48 percent approving of his handling of the crisis, compared to 50 percent who disapprove.
The key issues that Biden is thought to handle least well are immigration and the situation at the Mexican border, with just 25 percent and 23 percent of voters, respectively, approving of his work, compared to 67 percent disapproval for both.
When asked if they would say that Biden has good leadership skills, 56 percent responded that they would not, compared to 41 percent who say they believe he has.
Elsewhere, a majority of people disapprove of his handling of the economy (55 percent, compared to 39 percent approval) and his job as commander in chief of the U.S. military (58 percent disapprove, while 37 percent approve).
Impact of Afghanistan Withdrawal
As with a number of other polls in recent weeks, Biden's approval rating appears to have been hit by the withdrawal of troops from Afghanistan in late August.
Biden has continued to received criticism over the evacuation operation in Kabul ahead of the takeover by the Taliban, especially in the wake of the suicide attack at the airport that killed more than 180 people, including 13 U.S. service members.
A total of 50 percent believed the U.S. should have only withdrawn some troops from the country, with 15 percent thinking none should have been pulled out at all.
Nearly three in 10 Americans (28 percent) think the U.S. did the right thing by withdrawing all of its troops from Afghanistan.
Overall, 58 percent of those taking part in the poll said they disapprove of Biden's foreign policy, compared to 34 percent who approve.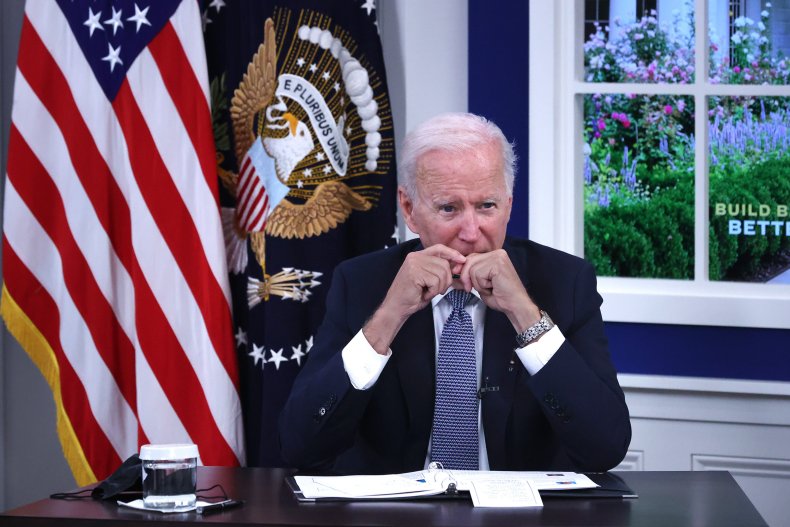 "Though the troops are gone, America's longest war still gnaws at the country," added Malloy.
"Weary of the seemingly endless conflict but wary of what was left behind, the majority of people still see boots on the ground as the firewall between a country in the grip of Western hating factions and the rest of the world."
The results also found that one in 10 Democrats don't believe Biden is doing a good job as president, with a resounding 94 percent of Republicans and 60 percent of Independents saying they disapprove of the job he is doing.
A total of 1,326 adults nationwide took part in the survey from October 1 - 4 with a margin of error of +/- 2.7 percentage points.
This graph, provided by Statista, shows the fall of Biden's approval ratings in Gallup polls.