Joe Biden Abandoned Us, Say Afghan Politicians as Taliban Forms Government
As the Taliban prepares its government for Afghanistan after seizing control once again, politicians who served under American protection accuse President Joe Biden of abandoning them.
Taliban leaders are expected to announce their new government on Friday, two weeks since Kabul fell to the extremist militant group after 20 years of fighting the U.S. and its international and Afghan allies.
Former prominent politicians say the U.S. and its allies have left the Afghan people at the mercy of the Taliban and an economic crisis.
"We feel like it is 1996," said Azra Jafari, an activist and politician who in 2008 became Afghanistan's first-ever mayor when she was elected to represent the town of Nili in Daykundi Province.
Jafari, a prominent woman leader and a member of the Hazara ethnic group, which in the past has been subject to Taliban oppression and massacres, left Afghanistan in 2014 and now lives in Maryland.
She told Newsweek the Afghan people fear a return to the authoritarianism of the Taliban-controlled Islamic Emirate of Afghanistan of the late 1990s: "The majority of people think that yes, they have abandoned us, the U.S. and the international [allies]."
Agence-France Presse reported that the government would be announced after Friday prayers, while Taliban official Ahmadullah Muttaqi said a ceremony was being prepared at the presidential palace in Kabul.
Reuters reported Friday that Mullah Abdul Ghani Baradar—the head of the Taliban political office—will lead the new government.
Mullah Mohammad Yaqoob—son of Taliban founder Mullah Omar—and Sher Mohammad Abbas Stanikzai, the Taliban representative in Doha, Qatar, are both expected to be given senior positions.
Biden has been resolute, despite the chaotic and humiliating scenes that accompanied the international withdrawal from Afghanistan.
Republicans have called on the president to resign or be impeached, while Democrats have lamented the human tragedy of a quick retreat that left hundreds of American citizens behind and many more Afghans who wanted to escape.
The U.S. president, however, has maintained that leaving was the right thing to do. Biden said he would no longer send Americans to die in an unwinnable war, and accused the Afghan armed forces of failing to fight the Taliban.
That assertion prompted fury in Afghanistan and the U.S., with critics noting that some 66,000 Afghan troops and 47,000 civilians have died in the past two decades.
Omar Zakhilwal served as President Ashraf Ghani's special representative and ambassador to Pakistan from 2016 until 2018. Zakhilwal was previously finance minister under President Hamid Karzai from 2009 to 2015 and has been central to the intra-Afghan peace dialogue since it began in 2019.
"I have participated in most Afghan leaders' meetings with President Biden since 2008," Zakhilwal told Newsweek from Kabul.
"I have found his positions on Afghanistan all these years consistent. When he as a candidate responded he didn't care what happened to Afghanistan post-withdrawal, I believed then that he meant it.
"However, my criticism of the U.S. not pushing for a political settlement prior to the complete withdrawal, and also the way their final withdrawal created a panic amongst Afghans, is a criticism of President Biden as well as the other U.S. leaders."
Zakhilwal added: "Also, as an Afghan, I find his statements of belittlement of Afghanistan offensive."
The end result of the 20-year war was decided by American and international inaction, Zakhilwal said: "It is not what the internationals led by the U.S. could do over the past month, but what they could do over the past year, two years, three years.
"The international community, particularly the U.S., could have pushed effectively for a political settlement but did not.
"The U.S. knew and repeatedly acknowledged that former President Ghani was an obstacle to peace and that he sabotaged almost every opportunity, and yet Ghani hung to power with his destructive behavior with the U.S. support to the very end.
"It is this, plus more mismanagements or unwillingness to play a decisive and constructive role for a political settlement, that make Afghans angry."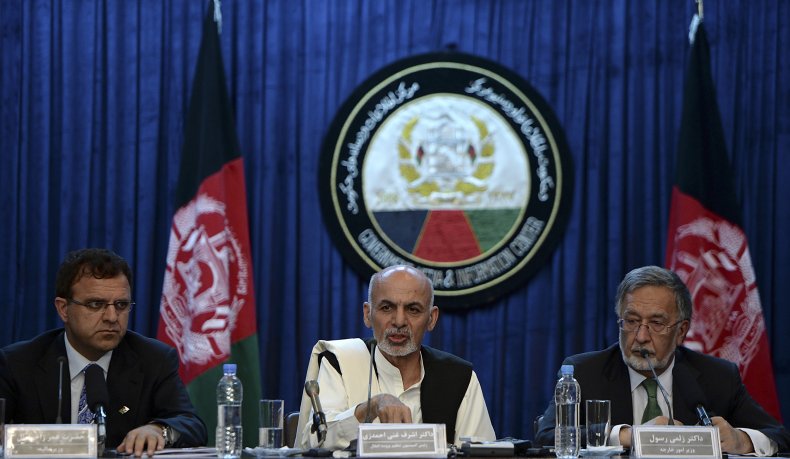 The Taliban has tried to present a more moderate face to the world since sweeping to power last month.
Officials have claimed there is a general amnesty for all former government workers and troops, encouraged women to join the government, and assured all Afghans of different ethnicities that they will be safe.
Moreover, the Taliban has been working closely with international troops to protect—with mixed results—Hamid Karzai airport and facilitate the evacuation of foreign staff, troops, and their Afghan allies.
But the Taliban rhetoric does not match the reality. There are reports of summary executions—sometimes public—of people who worked with the previous government, the kidnapping of young girls to marry off to fighters, and killings of ethnic minorities.
Women have been told they will be safe at home, and if they adhere to the Taliban's interpretation of Sharia law.
"The Taliban can never change," Jafari said. "The Taliban is a group that obeys ideology."
The organization is no monolith. Observers are watching closely for signs of internal quarrels, or friction between field commanders who swept the country and the politicians who flew back to Afghanistan from Qatar after it had been won.
How much control these politicians have over the rank and file is a matter of debate. "Ninety-nine percent of the Taliban are uneducated people," Jafari said, "and have been raised as very radical people...The main problem is this ideology, and that can't change. Leaders will sometimes say some modern sentences, but this is just for the media."
Zakhilwal is more hopeful—though not confident— that the Taliban government will be somewhat inclusive.
"I do meet [with the Taliban] and I do feel safe, but could not be certain how effective we could be in trying to push for a truly inclusive government," he told Newsweek.
"However, our interactions and exchanges are very candid and in an environment of mutual respect and understanding. These and more keep me optimistic that with talks we could be able to find a middle ground that gives needed comfort to all sides.
"They have total control now and I am sure there will be a temptation and also that it will be internally easier for them, at least for now, to keep it that way. However, I do believe they understand based on the experiences and repeated mistakes of the past forty years...that it would be difficult to sustain.
"They also understand that inclusivity would be important for quick international recognition which in turn is needed for international financial support, without which it will be difficult to prevent expected serious economic difficulties.
"Therefore, I would like to believe based on the above that they would still be open for a genuinely inclusive government."
Zakhilwal is even hopeful that Taliban behavior will improve, rather than worsen, as they entrench control and the interest among the Western public wanes. "We do see some stark differences, no doubt," he said of the victorious Taliban.
"Their behavior with former government officials, women, general public, towards what they wear, how they look, media, etc. is largely very tolerant and respectful.
"There are incidents of ill-treatments here and there but those are more the exceptions than the norm at least for now.
"I do expect that this behavior will not only continue but that it could further improve—the reason is that the Taliban I talk to are themselves happy with their own tolerant behavior."
These encouraging signs, Zakhilwal added, must be part of a real and lasting shift towards moderation: "But the behavior itself and how tolerant they are, would not be enough. How inclusive they are ready to be in the next government and what rights and freedoms they are willing to accept for citizens would also be important."
Regardless of how polished the Taliban appear, there are those who refuse to submit.
Women have been leading protests in the cities of Kabul and Herat, while Taliban militants are reportedly engaged in vicious fighting in the Panjshir Valley against forces led by Ahmad Massoud, son of the legendary mujahideen leader Ahmad Shah Massoud.
Asked about the chances of success in Panjshir, Zakhilwal urged an end to the fighting. "I have been pro-peace all along," he told Newsweek.
"I never believed in the war that was fought in Afghanistan over the past 20 years and won't believe in any war in the future either. I have friends and contacts on both sides and I actively advocate for a negotiated solution.
"I see the desires on both sides for such a solution—I hope those desires materialize."
Massoud and his troops remain defiant. "Inshallah we will never surrender," Massoud wrote on Twitter on Thursday, adding: "I do not recognize the Taliban and I will not surrender to them."
Panjshir is among the Taliban's most pressing challenges. Fighting an insurgency is different from running a country, and Afghanistan's new leaders now face a guerilla war, economic collapse, international pressure, and internal protests.
Afghanistan and its people are not the same as they were when the Taliban took Kabul in 1996. The American-led democratic project may have collapsed, but elements of it will live on with the Afghans—at least those in large cities—who grew up with more opportunity than those who came of age under Taliban rule.
"We started a new democracy," Jafari said. "We trained women, we started living with freedom, we started freedom of speech.
"We feel like 1996, the situation is like that. But the people are changed. The women are changed. The women are not the women from 1996. The women now know how to fight for their rights, even if the international countries and the U.S. abandoned them."
Newsweek has asked the White House for comment.