Joe Biden's Approval Rating Continues to Sink, Shows No Signs of Improving
A polling firm has found approval ratings for President Joe Biden have dropped into negative territory for the first time since he took office according to its surveys, as data showed Americans' views of him have cooled on foreign policy, COVID and the environment.
The national poll of adults by Quinnipiac University, conducted between September 10 to 13, showed that only 42 percent of people approved of the way Biden was doing his job.
This was down four points from the 46 percent the organization's survey found he had at the beginning of August.
The latest poll released on Tuesday also found that half of respondents (50 percent) disapproved of the way Biden was doing his job, an increase of seven percentage points (43 percent) from the last survey conducted between July 27 and August 2.
"If there ever was a honeymoon for President Biden, it is clearly over," said Quinnipiac University Polling Analyst Tim Malloy, who added, "this is, with few exceptions, a poll full of troubling negatives... from overall job approval, to foreign policy, to the economy."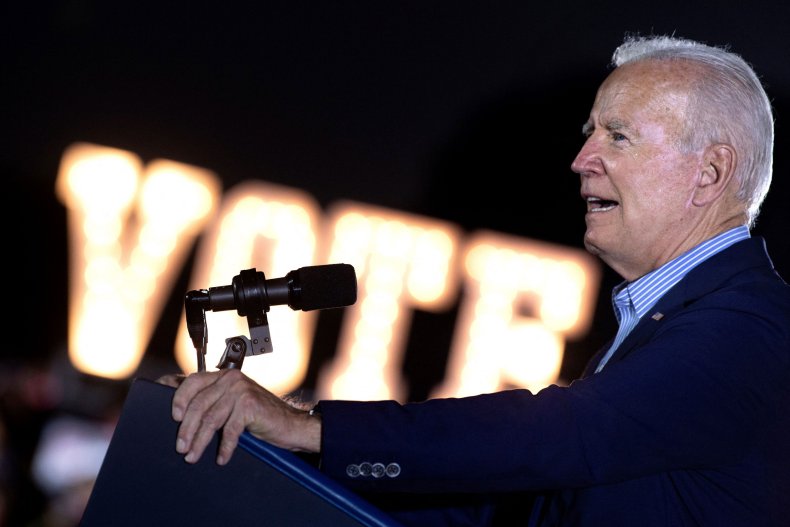 The poll described Biden as "underwater on job approval and handling of key issues" and suggested that Americans' views on Biden's actions on the international stage were dimming as he faced intense scrutiny over the exit ending August 31 from Afghanistan by the U.S. military.
Although more than half of Americans (54 percent) approved of his decision to withdraw U.S. troops from the country, and 69 percent said ending the 20-year war was the right thing to do, the poll gave the president a negative 31—65 percent score for the way he handled the exit.
However, more than six in 10 Americans (62 percent), believed that U.S. troops will have to return to Afghanistan to fight terrorism, with Malloy saying his poll showed that voters "clearly see a looming terrorist threat churning in the cauldron that is Afghanistan."
More broadly on international matters, only 34 percent of people approved of his handling of foreign policy, while 59 percent disapproved.
This was a notable swing to the survey in August, when 42 percent of respondents approved and 44 percent disapproved. As commander in chief, 40 percent approved of Biden, while 55 percent disapproved.
On the coronavirus, roughly the same approve (48 percent) and disapprove (49 percent) but this was down on figures from August when he had a 53—40 percent approval rating on his handling of the pandemic.
Meanwhile, on climate change, 42 percent approve and 45 percent disapprove, compared with a 48—35 percent positive approval rating over a month ago.
The survey of 1,210 adults nationwide, which had a margin of error of 2.8 percentage points, is the latest statistical sign of Biden's declining popularity after eight months in the White House.
A poll by Morning Consult, an organization whose B rating according to data website FiveThirtyEight is lower than Quinnipiac's A minus rating, points to dwindling approval over the last month or so.
Its survey, also conducted between September 10 to September 13, showed that 47 percent of people approved of Biden's performance, compared with 50 percent who disapproved.
This was a marked dip from its poll between August 9 to August 13, in which 56 percent approved and only 40 percent disapproved.
As of September 14, a tally of polls by FiveThirtyEight shows 49.2 percent of people disapprove of Biden and 45.9 percent approve. This is his most negative rating since he took office in January, when he enjoyed a 53 percent approval rating versus only 36 percent who disapproved.
Newsweek has contacted the White House for comment.