Biden's Approval Drops in Latest Poll as Post-Inauguration Honeymoon 'Officially Over'
President Joe Biden's approval rating has dropped in the latest Harvard CAPS-Harris Poll as his post-inauguration honeymoon phase comes to an end.
Fifty-two percent of respondents said they approve of Biden's job performance, while 43 percent said they disapproved, The Hill reported.
These numbers showed a slip in his approval rating from June, when 59 percent of respondents said they approved of his performance, compared to 34 percent who disapproved, according to the previous poll. His approval rating peaked in May at 61 percent.
The poll also showed Congress remains unpopular. Forty-five percent of respondents said they approve of Congress' work, while 55 percent did not approve, according to The Hill.
The poll found the COVID-19 pandemic is back at the top of the list of voters' concerns, The Hill reported. Forty-six percent of respondents said the country is on the right track, compared to 53 percent in June. Forty-seven percent of respondents said the country is on the wrong track, compared to 39 percent in June. When it comes to the economy, 43 percent of respondents said it is on the right track, while 49 percent said it is on the wrong track—however, 53 percent still said it remains strong.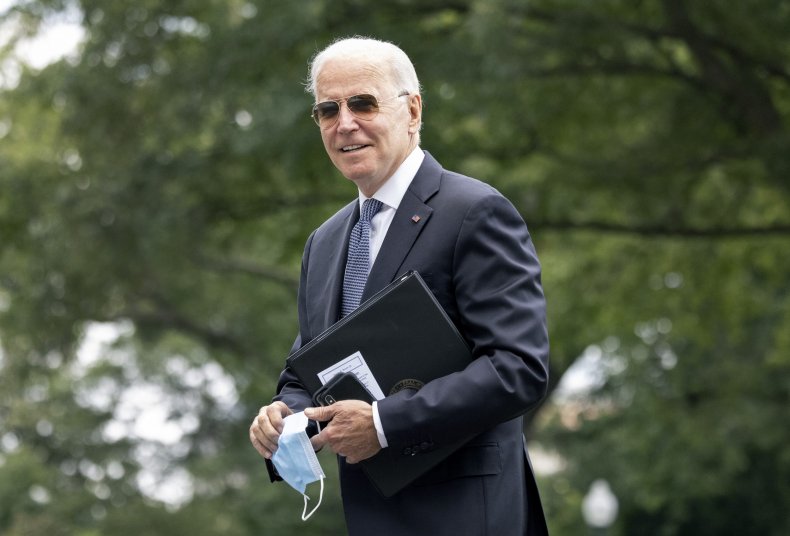 The poll surveyed 1,788 registered voters from July 28-29, according to The Hill.
Newsweek reached out to The Harris Poll requesting the full survey report and further comment, but had not heard back as of publication.
In comparison to former President Donald Trump, Biden remained relatively popular. Trump never reached a 50 percent approval rating in a Harvard CAPS-Harris Poll. Most polls from July 2017 showed him with an approval rating hovering either just above or below 40 percent.
Other recent polls reported similar findings. A poll released July 26 by George Washington University showed Biden had a similar approval rating of 51 percent, though a higher disapproval rating at 47 percent.
A CBS News/YouGov poll released last month showed 66 percent of Americans believe Biden is either doing a very good or somewhat good job of managing the pandemic.
The drop in Biden's approval rating—and reemergence of the COVID-19 pandemic as the top issue Americans believe the country faces—comes as the Delta variant leads to an increase in cases throughout the country.
The U.S. had a seven-day-average of 79,763 new cases on Sunday, compared to 12,183 a month earlier on July 1, according to data from The New York Times. The surge in cases is prompting some officials to reinstate mask mandates, and has prompted many to take the COVID-19 vaccination.
As of Monday, 70 percent of Americans have taken at least one dose of the COVID-19 vaccine, nearly a month after Biden's goal of doing so.