Biden Gets 66 Percent Approval From Americans in His Handling of Pandemic: Poll
President Joe Biden's handling of the COVID-19 pandemic is praised by a majority of Americans, a new poll shows.
The CBS News/YouGov poll revealed that 26 percent of Americans believe Biden is doing a "very good" job at managing the pandemic while another 40 percent think he is doing a "somewhat good" job at it. Only 34 percent disapprove of the COVID-19 response, with 18 percent calling it "very bad" on Biden's part.
People said the country as a whole is doing a better job now at getting the coronavirus under control than efforts in January of this year. Polling numbers from January and July on the subject flip-flopped. Now, 64 percent of Americans believe the fight against the pandemic is going well, compared to January's 35 percent.
The poll showed 52 percent of Americans are hopeful for the coming year, but 40 percent are scared about what is to come.
The Biden administration is focusing its pandemic response on getting a majority of eligible Americans vaccinated, but many have hesitancies, according to the July poll.
Just over half of those surveyed believe the president is putting the right amount of focus on getting people vaccinated. Some 35 percent think the focus is too much, and just 13 percent would like to see more of a push. Most Republicans (57%) agree there is too much pressure from the president to get the shot.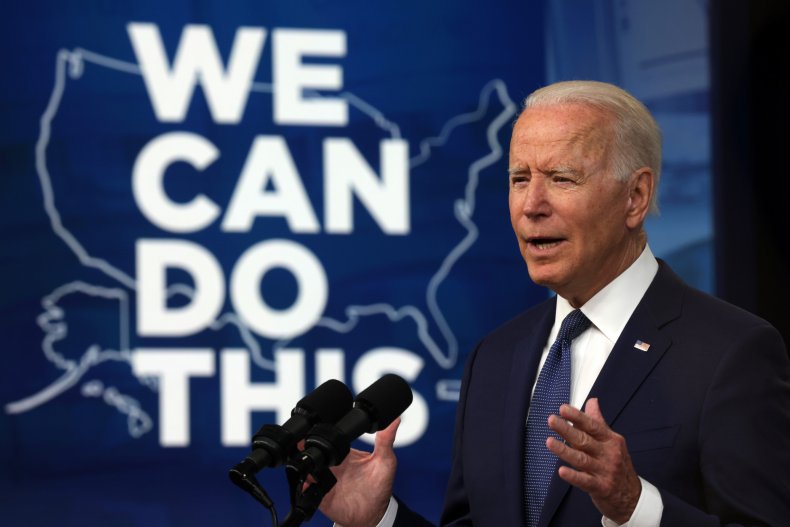 Seventy percent surveyed have already been vaccinated or plan to be, while 19 percent do not plan on getting it and 11 percent are still deciding. Of those against the vaccine, nearly 75% said they would still not get the shot even if their own doctor recommended it.
The vaccinated pool breaks down into 84 percent of Democrats, 62 percent of Republicans and 67 percent of Independents.
Only half of the people under 30 are vaccinated, according to the poll, which is the demographic that Biden's recent initiatives have been aimed at.
The hesitancy on getting the vaccine stems from a number of areas, according to the poll. Among respondents who said they won't get vaccinated, half said they do not trust the government, 45 percent don't trust the science and 53 percent are worried about what side effects may come from getting the shot. All categories increased 10 percent or more from June's poll.
Some 62 percent of Americans report being worried about the Delta variant. Most of the people expressing concern about it are already vaccinated. This is likely due to the population most concerned about COVID-19 in general being the first to line up for the shot, CBS reported.
The CBS News/YouGov poll surveyed 2,238 U.S. adults between July 14 and July 17.