U.S. Hits 70 Percent Vaccinated With One Dose, Almost a Month After Biden's Target
Seventy percent of Americans have received at least one dose of the COVID-19 vaccination, Cyrus Shahpar, the White House COVID-19 Data Director, said on Twitter Monday.
President Joe Biden had initially hoped the U.S. would reach this goal by July 4.
"Milestone Monday just in: Today we hit 70 percent of adults w/ at least one dose! +468K doses reported administered, incl. 320K newly vaccinated (vs. 257K last Monday). 7-day average of newly vaccinated highest since July 4," Shahpar tweeted.
"Let's continue working to get more eligible (people) vaccinated!" he wrote.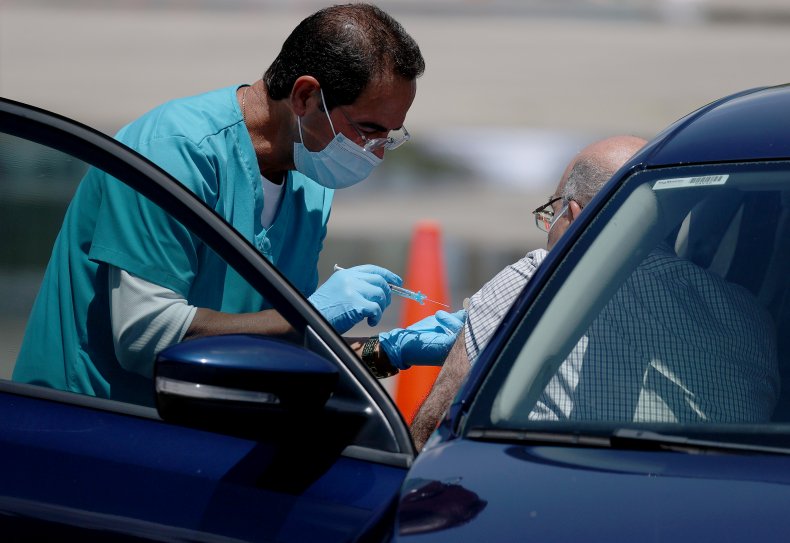 President Joe Biden celebrated the milestone in a tweet Monday afternoon.
"It's incredible progress, but we still have further to go," he tweeted. "If you haven't already, get vaccinated. Let's defeat this virus once and for all."
The country hit the 70 percent rate close to a month after a goal set by the White House. Administration officials were not bothered that the country missed the initial vaccination goal.
"Well, we don't see it exactly like something went wrong. How we see it is: We set a bold, ambitious goal—something the president has done from the very beginning—and we are expected to meet that goal just a couple of weeks after July 4th," Press Secretary Jen Psaki said.
Cases of COVID-19 have surged in recent weeks due to the highly-transmissible Delta variant. On Sunday, the 7-day-average of new cases was 79,763 across the country, a significant increase from a month earlier on July 1, when the 7-day-average was 12,183 new cases.
Amid the surge, more people have been getting vaccinated. In the last week of July, about 3 million people received their first dose of the vaccine, Ronald Klain, the White House Chief of Staff, tweeted. He described it as a "significant increase."
He said the rise in vaccinations is "particularly strong" in areas that have been hard hit by the Delta variant.
Shahpar described a "remarkable increase" in the number of newly vaccinated people in Louisiana, one state that has been heavily impacted by Delta and has reported a relatively low vaccination rate, on Monday.
As the Delta variant has taken hold in the U.S., lawmakers, medical professionals, and COVID-19 survivors have all pleaded with unvaccinated people to take the vaccine.
Some businesses have required that employees and patrons must be vaccinated. Transit and airport workers in New York City are the latest group to be put under a mandate to either take the vaccine or undergo weekly COVID testing.
"The vaccine is free, safe and effective—and our strongest weapon in this ongoing fight," New York Governor Andrew Cuomo said in a statement Sunday. "If you are still unvaccinated, you remain vulnerable, and it is critical that you get your shot as quickly as possible."
Update 8/2/21 4:20 PM - This story has been updated with the tweet from President Joe Biden.