U.S. Vaccinations Ramp Up With Shots Passing 700,000 for Four Straight Days
The United States reported four consecutive days of administering more than 700,000 shots of the coronavirus vaccine, as the country attempts to ramp up inoculation efforts to halt the spread of the COVID-19 Delta variant.
According to White House Chief of Staff Ronald Klain, roughly 3 million people received their first shot in the past week, marking a significant increase in the country's vaccination rollout.
"First time we've had four days in a row, over 700K shots, in a long stretch. About 3m people got their first shot the past seven days—also a significant increase," Klain tweeted Saturday.
In a separate tweet, Klain said more adults are getting their first vaccine dose than at "any time in the past 8-10 weeks" and that rise is "particularly strong" in areas that have been hit hard by the Delta variant.
Cyrus Shahpar, the White House COVID-19 data director, said Saturday that at least 712,000 doses were administered, among which included 473,000 first shots.
On Friday, more than 857,000 vaccine doses were administered, including among 563,000 newly vaccinated people. That number marked the highest amount of newly vaccinated Americans in four weeks, Shahpar tweeted.
"Big Friday just in: +857K doses reported administered over yesterday's total (vs. 600K last Friday)! This includes 563K newly vaccinated, highest since July 1. Over 190M Americans with at least one dose. 69.6% of adults with at least one dose. Let's do this!," Shahpar tweeted Friday.
White House deputy press secretary Karine Jean-Pierre added that Friday marked the third week in which states with the highest numbers of cases saw an increase in new vaccinations. Among those states include Alabama, Arkansas, Florida, Louisiana, Missouri and Nevada.
"Every day, Americans are making the choice to get vaccinated. This is an encouraging sign, but we need everyone across the country to have the conversation with someone they know who is unvaccinated about getting the shot. This is how we will stop the spread of the Delta variant and, as we all know, save lives," Jean-Pierre said during a press briefing.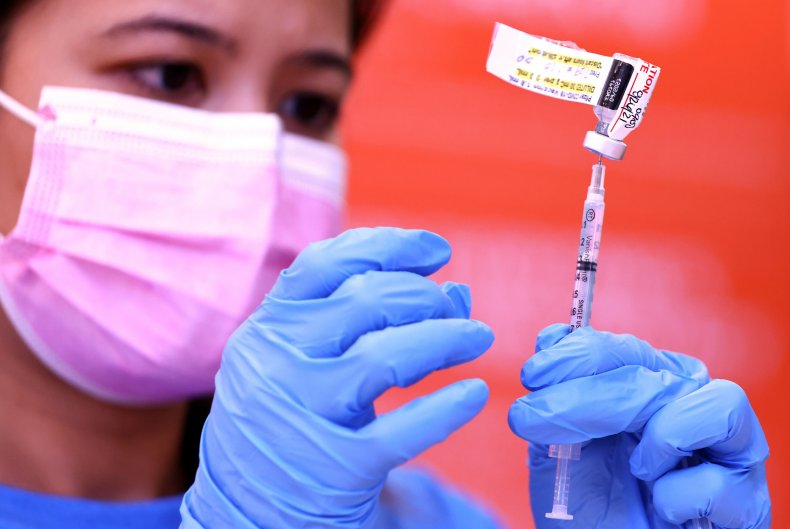 The rise in vaccination rates are coming at a time when the U.S. is experiencing an influx of new cases due to large populations of unvaccinated people and the spread of the highly virulent Delta variant. According to CDC director Rochelle Walensky, the Delta variant is now responsible for 83 percent of new coronavirus cases in the U.S.
Earlier this week, the CDC issued new guidance recommending that even fully vaccinated people wear masks indoors in areas of the country with substantial risk of transmission. That decision came after studies suggested that the Delta variant is equally contagious whether it's contracted by a vaccinated or unvaccinated person.
While there have been "breakthrough" cases of the Delta variant breaking through a vaccinated person's level of immunity and spreading to other people, the CDC maintains that mass vaccination is still the most effective method to curb the pandemic.
"The message from CDC remains clear: The best way to prevent the spread of COVID-19 variants is to prevent the spread of disease, and vaccination is the most powerful tool we have. We must continue to expand vaccine coverage by building trust and confidence in COVID-19 vaccines," Walensky said earlier this month.
As of Saturday, a total of 164.4 million people have been fully vaccinated, while 57.5 percent of the country has received at least once dose of the jab, according to the CDC.
Newsweek contacted the White House for additional comment, but did not hear back in time for publication.