House Will Fine Representatives $5,000 For Not Going Through Metal Detectors in Capitol
On Tuesday, the House instated new rules to issue a $5,000 fine to any lawmakers who refuse to go through the metal detector that was installed outside of the Congressional chamber four days after the January 6 insurrection. A second refusal will result in a $10,000 fine.
The rules were passed by House Democrats as part of a measure setting floor debate parameters for a budget resolution, according to The Hill. Democrats are expected to use a budget resolution to pass a coronavirus stimulus bill without Republican support.
The new rules require the House Ethics Committee to publicly announce any fines incurred by non-compliant lawmakers. Lawmakers won't be able to pay fines with campaign funds or congressional office budget funds, but they will be allowed to appeal the fines within 30 calendar days or five legislative days, whichever is later. The House Ethics Committee will have the same time-span to consider a appeal.
Democratic House Speaker Nancy Pelosi of California promised to instate the fines in mid-January after several Republican representatives refused to pass through the detector.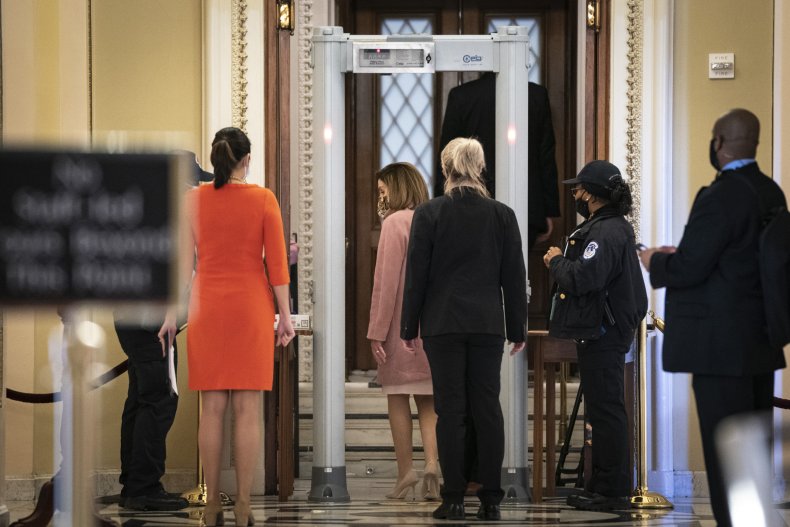 When the metal detector was installed around January 12, Republicans began criticizing it almost immediately. Republican representatives refused to take part in the new security screenings, were outspoken in denouncing them or demanded exemptions from them.
GOP legislators who denounced or refused to cooperate with the security measures included Reps. Louie Gohmert of Texas, Steve Stivers of Ohio, Lauren Boebert of Colorado, Van Taylor of Texas and Debbie Lesko of Arizona. Some pushed past the long screening lines, walked around the metal detector or ignored Capitol Police officers' commands.
Some Republicans insisted that they had the right to carry guns in the Capitol. However, laws forbid legislators from carrying loaded firearms anywhere in the Capitol except for their office. No one except law enforcement is allowed to carry a gun, whether loaded or unloaded, in the House Chamber.
"I am legally permitted to carry my firearm in Washington, D.C. and within the Capitol complex," Boebert tweeted on January 12. "Metal detectors outside of the House would not have stopped the violence we saw last week—it's just another political stunt by Speaker Pelosi."
"The metal detector policy for the House floor is unnecessary, unconstitutional, and endangers members," Rep. Chip Roy of Texas tweeted on January 12. "I did not comply tonight. I will not comply in the future."
Newsweek contacted the House Office of the Sergeant at Arms for comment.
Update (2/3/2021, 6:30 p.m.): A reference to Rep. Steve Womack has been removed.