Houston Hospital Sets up Tents Outside to Deal With Delta Variant Overflow
Lyndon B. Johnson Hospital in Houston, Texas, confirmed Monday it is so overwhelmed due to a spike in COVID-19 hospitalizations it has been forced to set up tents outside to treat the overflow of patients.
The hospital told local CBS affiliate station KHOU its intensive care unit (ICU) was at 100 percent capacity and 63 percent of those patients have COVID. Additionally, the hospital reported it doesn't currently have enough staff to fully operate the overflow tents.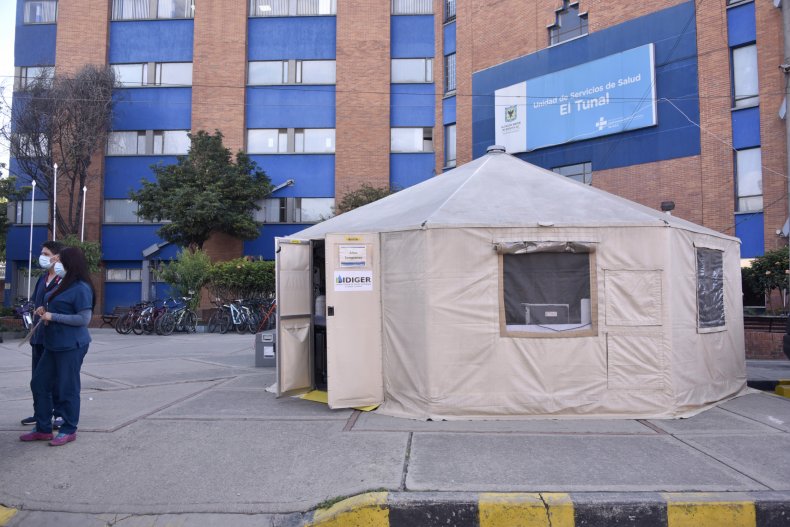 KHOU spotted the first of the tents on Monday morning, and Harris Health System—a governmental entity that owns and operates hospitals and health clinics throughout Harris County—confirmed the tent was placed outside two days earlier.
On Twitter, KHOU reporter Anayeli Ruiz shared footage the station filmed of the first tent outside of Lyndon B. Johnson Hospital.
Other tents are being set up at the location, and staff are still installing operational and diagnostic equipment in the hospital's makeshift overflow area.
Last week, President and CEO of Harris Health System Esmaeil Porsa told KHOU the area's health systems have been greatly strained by the surge in COVID cases caused by the Delta variant.
"We are not talking about a crisis a week, 10 days, 14 days from now. We are in a crisis mode today," Porsa said.
"In my LBJ [Lyndon B. Johnson] hospital, more than 50 percent of the ICU patients are now COVID positive, which is a huge burden," Porsa said.
A Harris Health System spokesperson told the Houston Chronicle that similar tents were used at the hospital to diagnose coronavirus cases last summer.
Around one in four patients have been diagnosed with COVID-19 in the Harris Health System, according to the Chronicle, and other factors, including a shortage of nurses, resulted in the Lyndon B. Johnson Hospital declaring an "internal disaster" last week.
On Sunday, Houston Congresswoman Sheila Jackson Lee called on Texas Governor Greg Abbott to provide more nurses to the area.
"We are almost right at the peak of our winter surge numbers and about two-thirds of the way to last year's summer surge," Harris Health spokesperson Bryan McLeod told the Houston Chronicle.
On Saturday, there were 9,462 hospitalizations across the state of Texas, which represents a 30 percent increase over the previous Saturday, according to the Texas Department of State Health Services. The Chronicle reported this past weekend's hospitalization figures were the highest the state has experienced since February 6.
McLeod told the Chronicle none of the people who have died recently from complications related to the virus were fully vaccinated.