Yet another monolith has mysteriously appeared seemingly out of nowhere.
However, this one is a little different than the original monoliths that people first discovered in November. For one, it appears to be made of cardboard or plastic and painted metallic, rather than being made of actual metal like the first monoliths. Then there's the fact that it's located right in the center of Houston, Texas, and not in a remote desert or on an isolated mountaintop.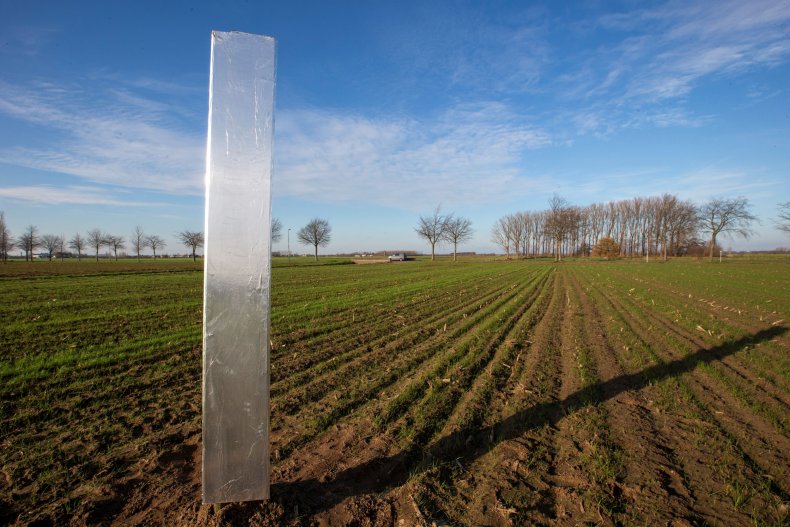 Local news station KPRC-TV, an NBC affiliate, first reported on the monolith in the central neighborhood of Houston Heights on December 30, noting that residents first reported its existence about a week earlier. Since it first turned up, visitors have been paying tribute and leaving objects by the monolith; there's reportedly a yellow ribbon tied around it and a framed photo of a Hindu god resting at its base. Someone apparently even placed a sticker that reads "weird" on it.
This monolith is part of a bizarre trend that began when a monolith was found in a Utah desert in Red Rock Country on November 18. That pillar measured approximately 10 feet in height and was made of metal sheets riveted into a triangular prism. Although it was only discovered this year, an analysis of Google Earth images show it was placed there sometime between August 2015 and October 2016, while a Dutch journalist studied further satellite images to narrow the date of its placement between July 2016 and October 2016.
The identity of the original monolith's maker(s), and their objectives, are unknown, although a popular theory is that it was the work of John McCracken. The sculptor, who passed away in 2011, made nearly identical monoliths during his lifetime, and his son Patrick didn't shoot down the theory when speaking to The New York Times recently.
Not long after its discovery, the Utah monolith was taken down on November 27. A group of recreationists later claimed responsibility, citing the destruction of the public land by sightseers as their motivation. Though the monolith was originally thought to be dismantled by the group, they later revealed that the structure was intact and that they donated it to the Bureau of Land Management to find a proper place for it.
That monolith captured the imaginations of many, especially when, in the days after the one in Utah was removed, identical ones appeared in Romania and at the summit of Pine Mountain Loop, which is located between Los Angeles and San Francisco. Soon, other monoliths followed. Some of the places they've appeared include Pennsylvania, the Netherlands, Morocco, Finland, Paraguay, Australia, Canada, France and Florida. In fact, there's an entire Wikipedia page—separate from one focused on the Utah Monolith—that's dedicated to the worldwide phenomenon, and it lists dozens of monoliths that have apparently been discovered since the original in November.
The Houston monolith isn't even the first known one to have been found in Texas. Some were found in El Paso and San Antonio, while students and staff at Austin Community College built and installed their own monolith. Keeping to the spirit of the city, the Austin college wrote on social media: "We wanted to keep things weird in ATX. So, ACC's Welding Dept made this awesome structure for you to enjoy."
Also keeping with the fun spirit was the appearance of a monolith on Christmas Day in San Francisco's Corona Heights Park. Instead of a shiny exterior, that particular monolith was made of gingerbread, complete with icing and gumdrops. Unfortunately, it wasn't exactly built for the conditions, and it crumbled by the following morning.
As for the Houston monolith, no one has yet claimed responsibility for its creation. Given the recent rush of others around the globe in recent weeks, one can reasonably assume more monoliths will turn up in the new year.