Houston Schools to Mandate Masks for All Students, Staff as Delta Variant Cases Rise
The school board for the largest district in Texas voted Thursday to support a mask mandate recommended by its superintendent before the start of the district's fall semester later this month.
The mask requirement initiated by Houston Independent School District (HISD) Superintendent Millard House came amid rising concern for the COVID-19 Delta variant, which the U.S. Centers for Disease Control and Prevention (CDC) identifies as more infectious than other variants. While the CDC recommended all students and teachers wear masks inside classrooms, Texas Governor Greg Abbott issued an executive order last month that said schools could not require individuals to wear masks.
The Houston district is one of several in Texas that have decided to implement a mask mandate in spite of Abbott's order. With 276 schools and more than 196,000 students, the HISD is the seventh largest school district in the country.
House announced his plans for a mask mandate last week. In a letter addressed to members of the district community, House wrote the health of all students and school staff was a "guiding compass" for the decisions he and other school officials were making ahead of students' return to their classrooms.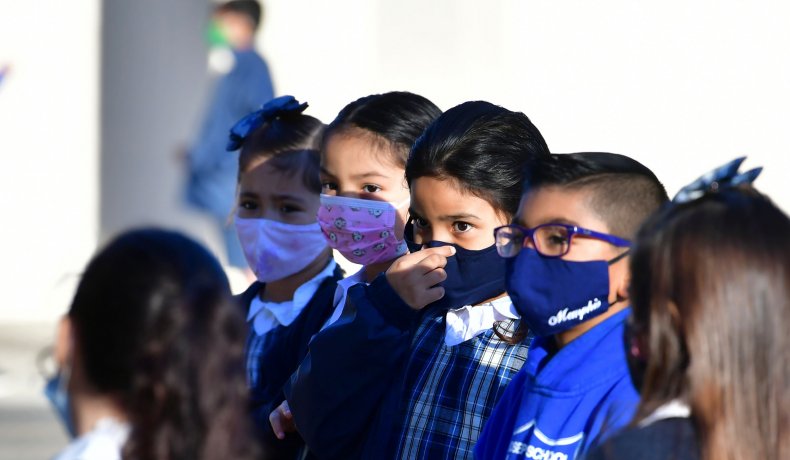 House said his proposed mandate would be applied to "students, staff and visitors at all schools, buses and facilities" in the district, regardless of each individual's vaccination status. House requested members of the school board vote in favor of supporting his proposed mandate during their next board meeting, which was held Thursday evening. Ahead of the vote, board members heard from parents, students, teachers and other members of the local community who made emotional arguments for and against the mandate, with some parents pleading the HISD to "defy" Abbott's order and others supporting the governor and telling the board, "you work for us."
Representative Sheila Jackson Lee of Texas also made a virtual appearance near the beginning of the public comment period to voice her support for House's recommended mask mandate.
"I welcome the mandate you may ultimately decide on," Jackson Lee said. "It will be the board's decision, but I hope that that will be the case. And if it is, I will say to you that you are doing the right thing."
After the public comments concluded, the board members voted in favor of supporting House's mask mandate.
In his early August letter announcing the mandate, House referenced a recent announcement by Houston's mayor elevating the city's COVID-19 threat level and said more precautions were needed to protect the district community from the virus' spread. He reiterated his concerns about the virus spread during a televised conversation with CNN's Anderson Cooper on Tuesday.
"It's extremely important to us to really make a difference and take a stand around what we feel is right," House told Cooper.
Ahead of the HISD school board vote, Abbott said school districts that ignore his executive order would face legal challenges.
"Any school district, public university, or local government official that decides to defy GA-38—which prohibits gov't entities from mandating masks—will be taken to court," Abbott tweeted. "The path forward relies on personal responsibility—not government mandates."
Renae Eze, Abbott's press secretary, reiterated the Republican governor's emphasis on personal responsibility regarding mask use when contacted for further comment.
"We are all working to protect Texas children and those most vulnerable among us, but violating the Governor's executive orders—and violating parental rights—is not the way to do it," Eze said in a statement shared with Newsweek. "Governor Abbott has been clear that the time for mask mandates is over; now is the time for personal responsibility. Parents and guardians have the right to decide whether their child will wear a mask or not, just as with any other decision in their child's life."
Eze's statement continued with a push for unvaccinated Texas residents to consider changing their vaccination status.
"Governor Abbott has spent his entire time in office fighting for the rights and freedoms of all Texans, and our office continues working with the Office of the Attorney General to do just that," she said. "The best defense against this virus is the COVID vaccines, and we continue to strongly encourage all eligible Texans to get vaccinated."