American M777 howitzers could prove a major factor in turning the tide against Russian forces in the ongoing invasion of Ukraine thanks to their precision and power.
The howitzers are field artillery pieces that Ukrainian forces are already using to shell the Russians and represent an improvement on the equipment that the country's military previously had.
The U.S. has begun sending 90 M777 Howitzers, while Australia is sending six and Canada is providing four. The M777s are the towed howitzers currently used by the U.S. Army and Marine Corps. They have a maximum range of 15 miles and require a crew of eight to 10 people.
Illia Ponomarenko, a defense reporter with The Kyiv Independent, tweeted on Tuesday: "M777s are already in Donbas, engaging Russian lines - confirmed!"
Precision-Guided Rounds
The M777 uses 155-millimeter shells - the standard size for NATO countries, according to Popular Mechanics - and this represents an improvement over Ukraine's 122 and 152-millimeter artillery pieces.
Ukraine's 23S-Akatsiya 152mm self-propelled howitzer has a range of just 10.5 miles. The country's artillery pieces are also old and were produced before the collapse of the Soviet Union in 1991.
The M777 Howitzers generally fire precision-guided Excalibur rounds that use the Global Positioning System (GPS) to home in on targets and it is expected that Ukraine will have been provided with these rounds. Canada was reportedly providing Excalibur shells, according to an AFP report on April 25.
The U.S. Army Acquisition Support Center (ASC) says the Excalibur "provides improved fire support to the maneuver force commander, increases lethality and reduces collateral damage."
"The Excalibur projectile uses a jam-resistant internal GPS receiver to update the inertial navigation system, providing precision in-flight guidance and dramatically improving accuracy to less than two meters miss distance regardless of range," ASC's website says.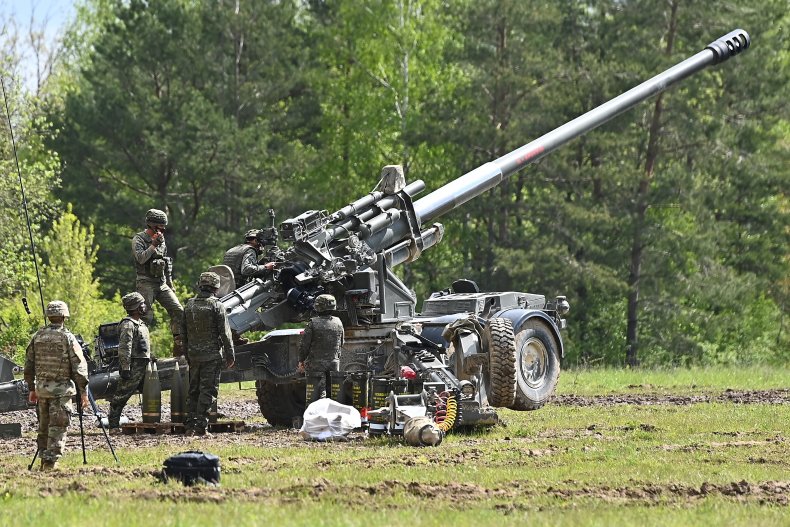 The accuracy and range of the M777 Howitzers combined with the improved 155-millimeter rounds could be of major advantage to Ukrainian forces, who are already reportedly making territorial gains in the area around Kharkiv.
Shells and Drones
The Times of London reported on Monday that Ukrainian forces were already shelling Russian positions with M777s. The newspaper reported that experts believe whichever side can fight with artillery and drones more effectively in Donbas will have the advantage.
Donbas is now the main focus of the conflict after Russian forces failed to take the capital of Kyiv during the early stages of the war. Russian President Vladimir Putin made specific reference to the fighting in Donbas during his Victory Day speech on Monday.
Ukraine has also received jammers to deal with Russian drones. The drones are used for reconnaissance and the targets they identify are then hit by artillery.
A Game Changer
Retired Major General Brian McKiernan, a former commandant of the U.S. Army's field artillery school, told Defense One on April 25 that the artillery would be effective against "light armored vehicles, support vehicles and Russian artillery."
"And I think, you know, would be a significant contributor to blunting a Russian offensive capability," the general said.
In a similar vein, a report from the U.K's Royal United Services Institute (RUSI) about the first stages of the war published on April 22 quoted a senior adviser to Ukrainian Armed Forces commander General Valerii Zaluzhnyi.
That adviser reportedly said that "anti-tank missiles slowed the Russians
down, but what killed them was our artillery. That was what broke their units."
RG Poulussen, an author who has written about World War II's Operation Market Garden, called the M777s "a game-changer" in a tweet on Tuesday.
U.S. Training
A senior at the U.S. Department of Defense said during a press briefing on Monday that "more than 310 Ukrainian soldiers now have completed M777 training" and that 85 of the promised 90 howitzers had so far been delivered.
"We've also started a two-week M777 maintainer course and we expect that the first class will begin training today - that's the plan. So that's a new development, to help them with maintenance on the howitzers, now that they're getting so many in the country," the official went on.
On April 29, a senior official at Defense Department said that they believed the M77s would be "very, very effective" in helping Ukrainians in the Donbas region.
In addition to the M777 Howitzers, Ukraine is also set to receive other 155mm artillery pieces, with the Netherlands sending six Pz2000 self-propelled howitzers and France pledging between 10 and 12 CAESAR truck-mounted 155s.
Newsweek has reached out to the Ukrainian Foreign and Defense Ministries for comment.