Putin 'Realizes He's Not Going to Win This War'—Retired Lt. General
Retired U.S. Army Lt. Gen. Keith Kellogg has said that Russian President Vladimir Putin may have realized that he will not win the ongoing war with neighboring Ukraine.
Kellogg, who is a Fox News contributor, told the network's Charles Payne on Monday that he had looked at Putin's May 9 Victory Day speech and believed the Russian president's remarks could indicate he thinks he cannot win.
May 9 is the day Russia celebrates the victory of the former Soviet Union over Nazi Germany in World War II. There had been speculation that Putin could use the day to announce an escalation of the war in Ukraine but the event was more subdued than some analysts expected. Putin did not announce any new actions, such as military mobilization.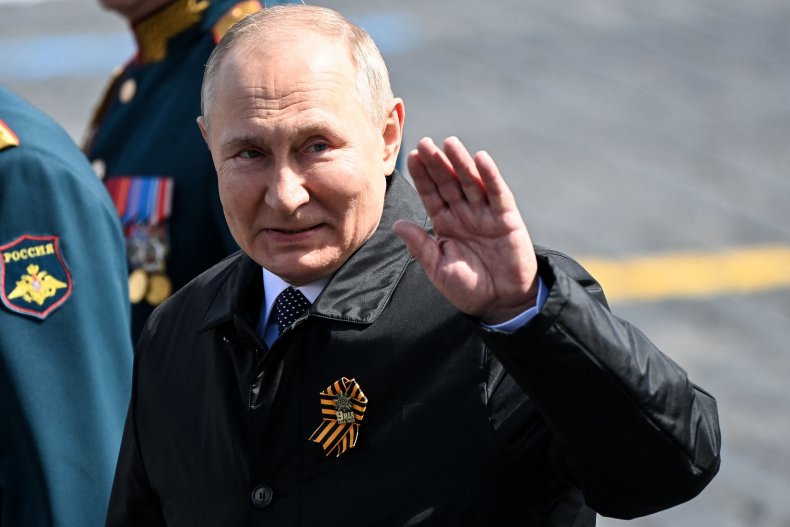 The retired general admitted he was probably in a small minority in his view but said: "I think he realizes he's not going to win this war and he's trying to look at maybe a way out of this thing and how can he do it."
Kellogg suggested that Putin may be pitching keeping Ukraine's Donbas region as his "idea of success." Putin mentioned Donbas several times during his speech on Monday. He did not once utter the word "Ukraine."
During his speech on Monday, Putin told attendees at a Russian military parade in Moscow that they were "fighting for our people in Donbas, for the security of our Motherland, for Russia."
The general pointed to a report from The New York Times that said withdrawing Russian forces had blown up three bridges about 12 miles northeast of Kharkiv.
"You don't blow up three bridges if you're advancing," Kellogg said. "You blow up bridges when you're being in retreat and somebody's chasing you."
"So maybe what we're looking at is him looking out and saying 'There's gotta be a way out of this thing and maybe we can figure a way through it including with the U.N,'" Kellogg went on.
Kellogg noted that the U.N. Security Council last week called for a "peaceful solution" to the conflict in Ukraine.
"The Russians did not veto it," Kellogg said. "That's the first time that's happened."
"So, what I would have hoped is maybe we're looking for an interlocutor who can actually get some peace talks going between the Ukrainians and the Russians," he went on.
"Because all that's gonna happen is more cities are gonna get destroyed, more civilians are gonna die and Ukraine is doing exceptionally well," the general said.
"They've got an incredibly charismatic leader in Zelensky, they're fighting exceptionally well, they're pushing the Russians back but I think maybe Putin's thinking maybe there's an end game in here and let's try to figure it out, " Kellogg said.
Former Vice President Mike Pence appointed Kellogg to serve as his national security adviser in 2018. He had previously served as chief of staff at the National Security Council and acting national security adviser under former President Donald Trump.
Newsweek has asked the Russian Ministry of Defense for comment.