White House Rejects Putin Blaming NATO for Ukraine War: That's 'Absurd'
White House Press Secretary Jen Psaki said it's "absurd" for Russian President Vladimir Putin to suggest that NATO allies were to blame for the war in Ukraine when he was the one who ordered the invasion of Russia's neighboring country.
"The suggestion that this war—that was directed by President Putin—was prompted by Western aggression or Western plans is patently false, and absurd," Psaki told reporters during Monday's press briefing.
Speaking about Putin's speech at Russia's Victory Day celebrations, she said his address at the parade in Moscow was "a version of revisionist history that took the form of disinformation, that we have seen too commonly as the Russian playbook," adding that it was fortunate that reporters around the world know to be skeptical about Putin's claims.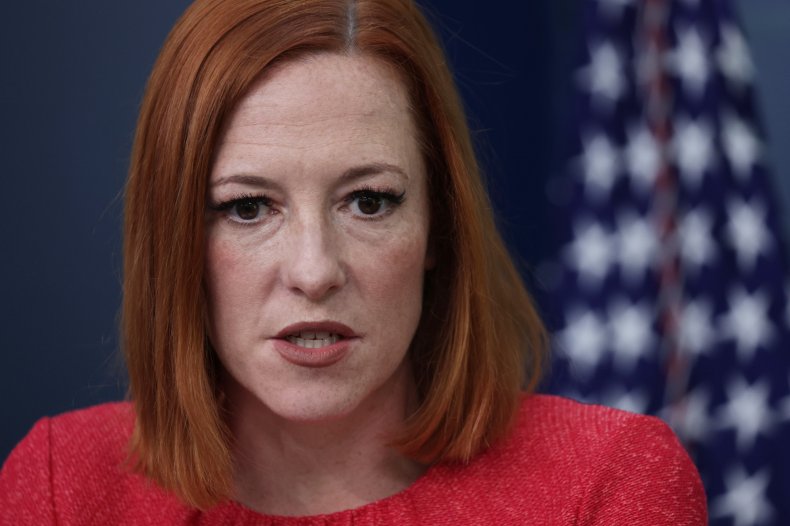 Earlier on Monday, Putin addressed the Russian nation to celebrate the country's annual holiday marking the Soviet defeat of Nazi Germany.
In his speech from the Red Square, the Russian president defended the invasion of Ukraine, saying "it was the only right solution we could take" in the face of the international threats posed against Russia.
"NATO countries did not want to listen to us. They had different plans, and we saw it. They were planning an invasion into our historic lands, including Crimea," Putin said. "It was a threat we couldn't accept, it was a threat directly to our border. Everything showed that we are dealing with Nazis and we have to do something about it."
"We will never give up our love for the country, faith, traditional values, ancestral customs and respect for all peoples and cultures," he added. "As for the West, it seems to be determined to cancel these millennia-old values."
On Monday, Psaki acknowledged Victory Day as a day "that we've all celebrated, which is the defeat of Nazis after WWII."
She said that while Russians shared those commemorations with Americans, "we're seeing Russian forces commit war crimes and atrocities in Ukraine as they engage in a brutal war that is causing so much suffering and needless destruction."
"This day supposed to be about celebrating peace and unity in Europe and the defeat of Nazis in WWII—that is what is celebrated every year in Russia, as well," Psaki said from the White House. "Instead, Putin is perverting history, changing history—or attempting to change it, I should say—to justify his unprovoked and unjustified war."
Earlier in the day, President Joe Biden signed the "Ukraine Democracy Defense Lend-Lease Act of 2022," which will give him more authority to lend military aid to Ukraine, into law.
Ukrainian President Volodymyr Zelensky thanked Biden and the American people shortly after, saying "I am convinced that we will win together again. And we will defend democracy in Ukraine. And in Europe. Like 77 years ago."