Russian President Vladimir Putin in his Victory Day speech before a military parade in Moscow's Red Square defended his ongoing invasion in Ukraine as the "only right solution," without mentioning the neighboring country by name.
Speaking at the 77th annual commemoration of the end of World War II, known in Russia as the Great Patriotic War, Putin laid out his goals in Ukraine nearly 80 days into his so-called "special military operation," where Russian forces have been unable to achieve most of their strategic objectives.
Defending his invasion, which began in February, the Russian leader said he believed the West was arming Kyiv to attack Crimea. His forces annexed the peninsula from Ukraine in 2014.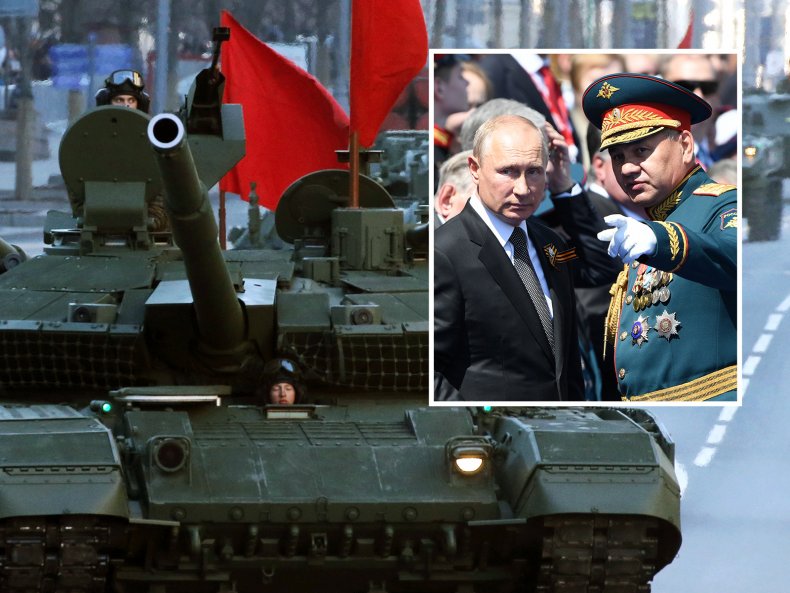 "NATO countries did not want to listen to us. They had different plans, and we saw it," Putin said. "They were planning an invasion into our historic lands, including Crimea."
"It was a threat we couldn't accept, it was a threat directly to our border. Everything showed that we are dealing with Nazis and we have to do something about it," Putin said, circling back to his rhetoric that one of the Kremlin's key goals is to "de-nazify" Ukraine.
"There was a threat that was growing day by day. We had to do something, we had to do something and we did it—it was the only right solution we could take," Putin added. "It was a decision taken by a sovereign and strong country."
The Donbas
The Russian president notably didn't mention Ukraine by name in his Victory Day speech, and instead, repeatedly made reference to Ukraine's eastern Donbas region, which is currently the focus of Russia's strategy, and where the majority of Putin's forces are stationed.
Russia was fighting for "the Motherland" in the Donbas region, "so that no one forgets the lessons of World War II," Putin said, adding that "there is no place in the world for executioners, punishers and Nazis."
Speaking to Deutsche Welle, Frank Ledwidge, a former British military intelligence officer and expert on military strategy, suggested that Putin was attempting to "de-legitimize Ukraine" by failing to mention the country by name.
He noted that in contrast, the Donbas region was mentioned five or six times during Putin's Victory Day speech. The constant mention of Donbas was focusing on Russia's campaign in the region, Ledwidge said.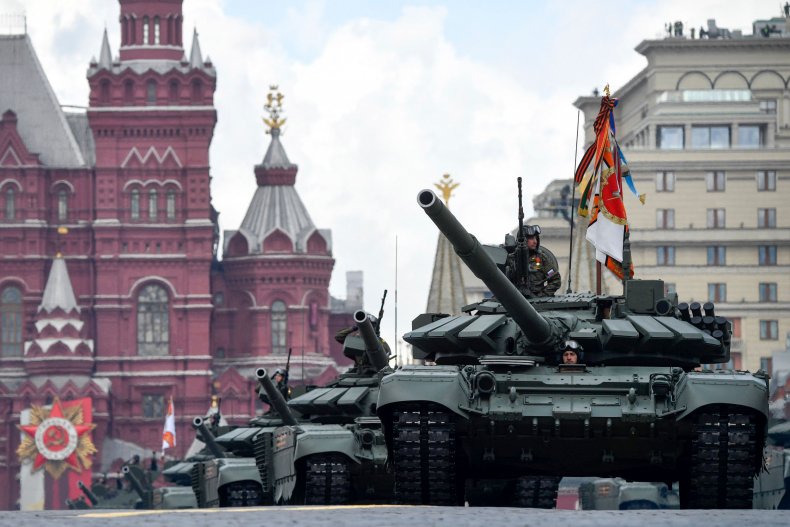 A new Russian assault began in the eastern Donbas region on April 18. Putin shifted the majority of his forces to the area after withdrawing troops from near the Ukrainian capital Kyiv.
Putin is seeking to establish full control of the region and maintain a land corridor to occupied Crimea, foreign officials have said. The battle of Donbas is likely to decide the outcome of Putin's invasion.
Putin's failure to mention Ukraine has parallels with reports by independent media outlet MediaZona that major pro-Kremlin Russian publishing house "Prosveshchenie" ordered staff to remove "inappropriate" references to Ukraine and Kyiv from textbooks, shortly after the invasion began.
'We Will Win'
In a video message released on Victory Day, Ukrainian President Volodymyr Zelensky vowed that his country would defeat Russian forces.
"We will never forget what our ancestors did in World War II, which killed more than eight million Ukrainians. Very soon there will be two Victory Days in Ukraine. And someone won't have any," he said.
"We won then. We will win now. Happy Victory over Nazism Day!"