Mysterious Fire in Kursk, Russia as Videos Show Huge Tower of Black Smoke
Another mysterious large-scale fire has broken out in Russia, this time in the city of Kursk, bordering Ukraine.
Videos circulating on social media on Thursday show a huge blaze and black plumes of smoke engulfing a building, in what appears to be the latest major unexplained fire in Russia in recent weeks.
The fire was confirmed by Russia's Ministry of Emergency Situations, Ukrainian news outlet TSN reported.
Local news outlets first reported that a residential building was on fire, but the ministry said the reports were false, and that non-residential premises were on fire.
Local media in Kursk said the fire was first reported at 1:15 p.m. local time, and that firefighters were working to tackle the blaze.
The area of the fire was at 400 square meters by 2 p.m., TSN reported, noting that an area of dry grass also caught fire near the unknown premises.
The blaze is visible from most parts of the city due to its size.
According to reports, Kursk residents did not report hearing the sound of explosions.
It wasn't immediately clear whether there were any casualties.
Some 20 firefighters and four vehicles were working to extinguish the blaze, local media reported.
There have been a number of mysterious fires and damage to oil depots and other Russian infrastructure while the war in Ukraine has raged. Russia has blamed some of the incidents on Ukraine although Kyiv has denied involvement.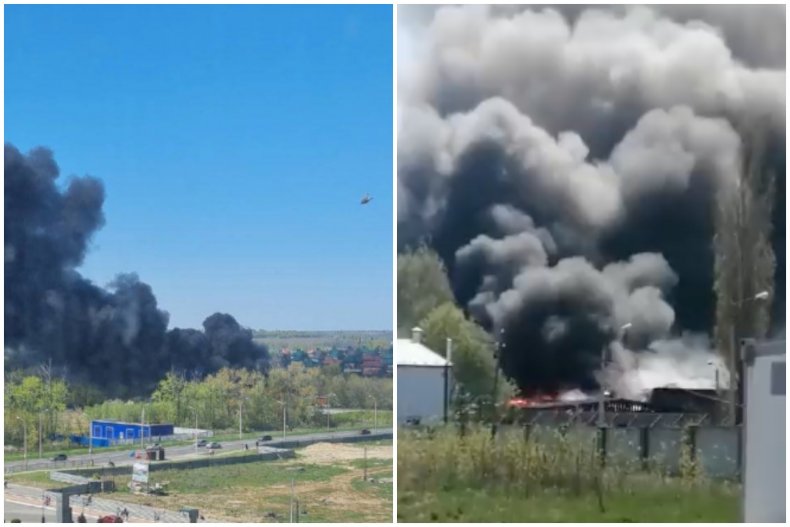 In a separate incident this week, a large fire broke out at the warehouse of a pro-Kremlin publishing house in the Bogorodsk urban district of the Moscow region. The building contained textbooks and other printed materials.
The fire occurred at the warehouse of the pro-Kremlin "Prosveshchenie" (enlightenment) publishing house at around midnight Tuesday, Belarusian news outlet Nexta first reported.
Videos circulating on social media showed massive flames engulfing the building and huge towers of smoke as firefighters worked to tackle the blaze.
After Russia's invasion of Ukraine in February, the publishing house almost immediately ordered staff to remove "inappropriate" references to Ukraine and its capital, Kyiv, from textbooks, according to independent media outlet MediaZona.
"We have a task to make it look as if Ukraine simply does not exist," one employee told the outlet on the condition of anonymity.
Numerous unexplained fires and explosions have hit sensitive facilities in recent weeks, including Russia's largest chemical plant, storage depots and a defense research site.
Russia has not elaborated on what may have caused these mysterious fires. Newsweek has contacted Russian authorities for comment.
Update 05/04/22, 11:35 a.m. EDT: This article was updated with additional details and background information.