Pro-Kremlin Publishing House Catches Fire in Moscow, Videos Show
A large fire broke out at the warehouse of a pro-Kremlin publishing house near Moscow in the early hours of Tuesday morning, videos show.
At around midnight in the Bogorodsk urban district of the Moscow region, the warehouse of the pro-Kremlin "Prosveshchenie" publishing house, where printed materials were stored, burst into flames, Belarusian news outlet Nexta reported.
The blaze is the latest major unexplained fire in Russia, including at sensitive facilities, in recent weeks. Fires and explosions have also broken out at Russia's largest chemical plant, storage depots, and a defense research site.
Russia has not commented on what has caused these mysterious blazes. Newsweek has contacted Russian authorities and Prosveshchenie for comment.
The press service of the Russian Emergencies Ministry told Russia's state-run news agency TASS that by roughly 3 a.m. local time, the area of the blaze was at almost 34,000 square meters.
"The building is on fire throughout the area," the ministry said.
Emergency services told Tass that there was a partial collapse of the warehouse and that there was a threat to the neighboring one, located some 10 meters away.
The warehouse contained textbooks and other printing products, according to TASS.
Videos published by Nexta showed flames engulfing the building and huge plumes of smoke as emergency services attempted to contain the blaze.
Firefighters eventually managed to contain the blaze, TASS reported, noting that the blaze received the third rank of complexity out of five. Over 100 people and 37 pieces of equipment were involved in putting out the fire.
It isn't yet clear whether any casualties were reported in the incident.
The warehouse was used by Russian publishing house Prosveshchenie, which mainly publishes educational books for Russian schools, according to Nexta. Prosveshchenie means "enlightenment" in Russian.
'Scandalous Publisher'
Responding to news of the blaze, Anton Gerashchenko, an adviser to Ukraine's minister of internal affairs, said on his Telegram channel that shortly after Russian President Vladimir Putin launched his invasion on February 24, the publisher's management ordered staff to minimize the mention of Kyiv and Ukraine in school textbooks.
"Russia has had a big fire again—the warehouse of the scandalous textbook publisher is on fire," wrote Gerashchenko, referring to the string of mysterious fires breaking out in Russia in recent weeks.
Employees of one of Russia's largest and oldest publishers of school textbooks were instructed to remove "inappropriate" references to Ukraine and its capital, Kyiv, from copy, three Prosveshchenie editors told Russian independent media outlet MediaZona on the condition of anonymity.
Every employee was asked to sign "a great number of non-disclosure agreements" if they wanted to keep their jobs, the editors said.
"We have a task to make it look as if Ukraine simply does not exist," an employee said.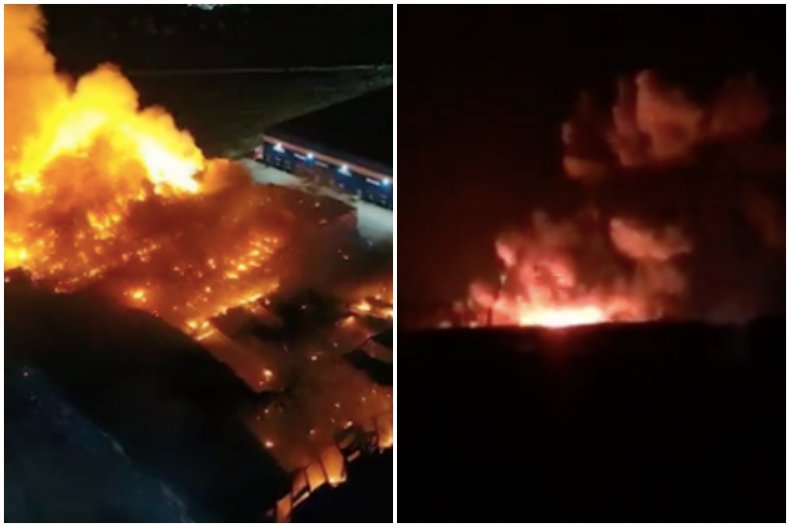 Update 05/03/22, 4:20 a.m. ET: This article was updated with additional information.