How Andrew Yang, Liz Cheney Change Biden's Chances of Winning in 2024: Poll
President Joe Biden would most likely defeat former President Donald Trump in a hypothetical head-to-head matchup, according to a new poll from Echelon Insights.
By what margin depends on who else gets into the race.
While Echelon polling shows Biden's prospects for re-election have never truly wavered in a potentially close matchup against Trump, talk of potential third-party runs by figures like ousted Republican Representative Liz Cheney and former Democratic presidential candidate Andrew Yang could make a significant difference in the race, as a growing number of Americans become interested in third-party candidacies.
Whom that ultimately helps or hinders depends on the candidate.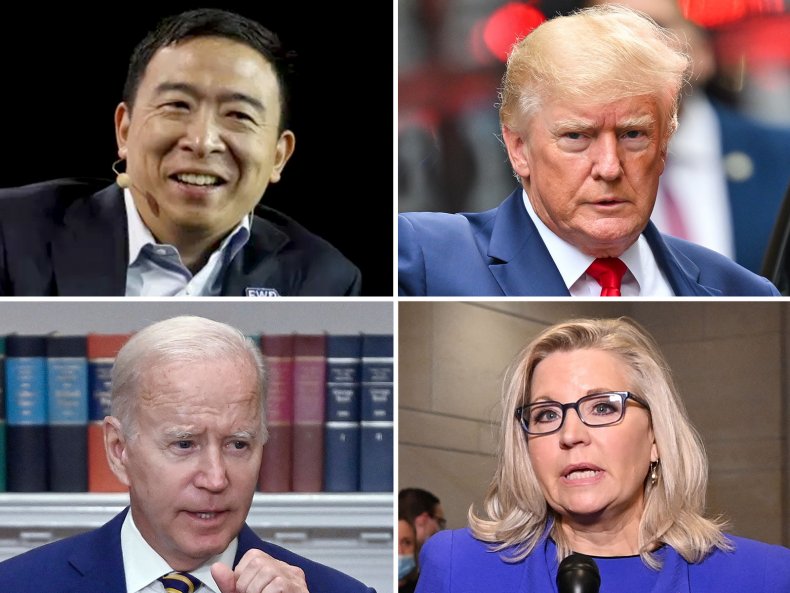 Yang entering the race as a third-party candidate would likely find his base with Republicans and Democrats alike, potentially reducing Biden's vote share from 47 percent to 43 percent, according to the Echelon poll, while Trump would see his support drop from 42 percent to 39 percent.
However, Cheney—who polls four points higher than Yang—would likely siphon support from Biden, putting Trump in a better position to win. According to the poll, Cheney's entry would cause Biden's support to fall to 38 percent, giving Trump a three-point advantage.
The results mirror similar findings in a YouGov/Yahoo News poll this week that showed an independent Cheney run would catapult Trump to an 8-point lead.
The Echelon poll has a nearly 4-point margin of error so, as things stand, a race between Trump and Biden is essentially neck-and-neck more than two years before the 2024 presidential election. However, it adds to the thesis that voter appetites for a viable third party appear to be growing.
A Suffolk University/USA Today poll this summer showed just one-quarter of voters believed the country's two major parties were adequate, while 49 percent of Trump voters and 66 percent of Biden voters expressed interest in a viable third party on the ballot.
In 2020, dozens of third-party candidates at the state and federal level earned enough votes to impact the results of their elections. In Minnesota's U.S. Senate race, Legal Marijuana Now Party candidate Kevin O'Connor received nearly 6 percent of the vote in a race that was decided by 5 percentage points, while Libertarian Shane Hazel's 2.3 percent in Georgia's Senate race that year was enough to force a runoff between Republican David Perdue and Democrat Jon Ossoff.
Now it's just a question of how Yang and Cheney plan to build their coalitions. The Forward Party, which Yang launched this year, aims to be a centrist third option with a vaguely designed platform that includes ranked-choice voting, more listening and "less talking."
While Cheney's ambitions are still not publicly known, she recently established a political action committee intended to oppose any candidates aligned with Trump's beliefs that the 2020 presidential election was stolen.
While she courted crossover Democratic support to back her in her losing effort in the Wyoming primary this month, an analysis by independent news site Cowboy State Daily shortly after the election revealed that Democrats ultimately had little impact on the final result.