How Anthony Mackie Reacted to Sebastian Stan Playing Tommy Lee
Anthony Mackie has revealed he was "horrified" when Marvel co-star Sebastian Stan told him he was going to play Tommy Lee in the upcoming Pamela Anderson biopic.
Stan is set to play the Mötley Crüe musician opposite English actress Lily James, who will take on the role of Anderson, in Hulu's Pam & Tommy.
"He sent me a video on set and a few photos and I was blown away," Mackie told Variety. "I was really surprised and impressed that he was able to do it. I was horrified. I was like, 'What are you doing?! You're playing Tommy Lee?'...It's just humbling when you see your friend and he succeeds. And he crushed it."
The Falcon and the Winter Soldier star went on to praise Stan for being a "great actor."
"Sebastian is a great actor...people being able to see him for the chameleon that he is, not just the beautifully amazing, blue-eyed god that he is, it's very refreshing to see your friend win," Mackie added.
Newsweek has contacted representatives of Mackie and Stan for comment.
Mackie's revelation comes a week after Stan shocked fans with his transformation into the Methods of Mayhem sticksman.
The official Pam & Tommy Instagram account shared a snap of a fully-tattooed Stan sporting leather trousers and Lee's signature rock-star locks.
"@imsebastianstan "'We don't stop playing because we grow old, we grow old because we stop playing.' - Tommy Lee #mightymousealwaysgetsthegirl" #PamAndTommy," the caption read.
Excited Instagram user @maxines_003 commented: "How is he real dude I can't wait."
"I have never been so excited," @saidthejoker added.
@mackenzie_kimker posted: "STOP I Cant HANDLE THIS."
"He's looking like Tommy Lee for real! I'm a big fan of Mötley Crüe and Sebastian. This is gonna be amazing," @samyrahcuri_ declared.
However, the production of Pam & Tommy wasn't met with a positive reaction from everyone.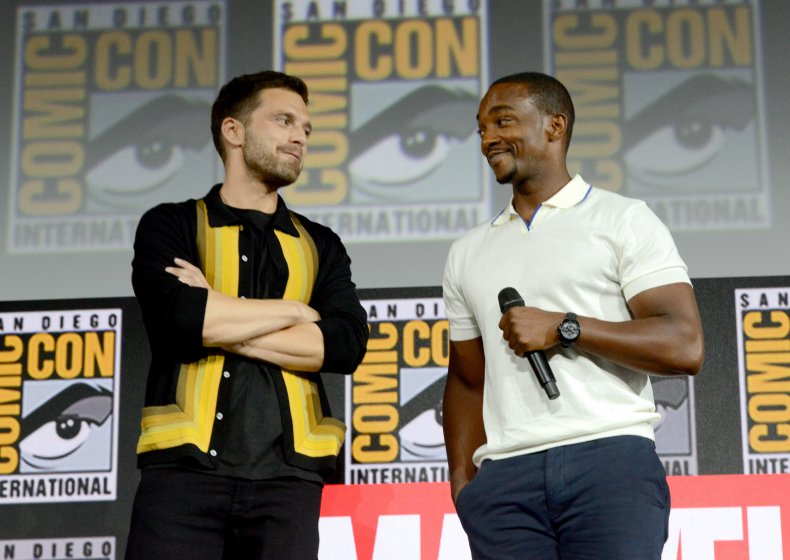 Singer-songwriter Courtney Love blasted the miniseries, which is set to explore Lee and Anderson's three-year marriage, in a now-deleted Facebook post over the weekend.
"I find this so f******* outrageous. When Pam / Tommy sex tape was out / myself @pattyschemel @xmadmx were making a record," she wrote. "And the lone women in many recording studios in LA. Where all / ALL! The staff engineers / producers / owners / were watching the sex tape with huge schadenfraude.. Guffaws, It was disgusting. I banned anyone discussing it.. It destroyed my friend Pamelas life. Utterly."
She went on to take aim at James for her role in the show.
"My heart goes out to Pammy further causing her complex trauma. And shame on Lily James whoever the f*** she is," she added.
At the time, a representative of Love told Newsweek: "Courtney has said what she wanted to on the matter. There isn't anything else to add at this stage."
Representatives of James and Hulu did not respond.