Joe Biden and Bernie Sanders are performing better than Hillary Clinton was in head-to-head polls against President Donald Trump at this point in the 2016 race, according to survey data.
Polling averages from Real Clear Politics show both Biden and Sanders were five points ahead of Trump in head-to-head surveys published prior to the Super Tuesday and South Carolina primaries, where former vice president Biden recorded crucial wins and revived his frontrunner status.
By comparison, Hillary Clinton polled just three points ahead of Trump on average in the days immediately before and after the Super Tuesday races in 2016. She was also only three points ahead of Trump after winning the South Carolina primary with a landslide 74 percent of the Democratic vote.
At the Super Tuesday primaries held on March 1, 2016, Clinton won in seven of the 11 states that went to the ballot box. The former secretary of state also beat her progressive challenger Sen. Sanders (I-VT) by significant margins in several of those races—including the Texas primary, which she won with almost two-thirds (65 percent) of the vote.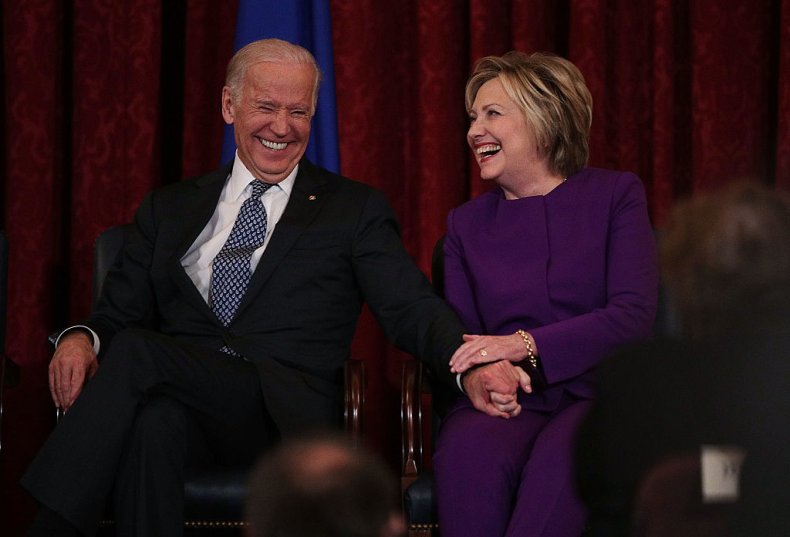 Politico reported that she had taken on "the mantle of prohibitive Democratic front-runner" after the key wins, and began focusing her attention on Trump. But despite the strength of her early Democratic primary victories, Clinton did not see her momentum reflected in head-to-head polls against the then-Republican candidate.
Between her South Carolina primary victory on February 27, 2016, and the last of her Super Tuesday victories being secured on March 2, Clinton was favored by 45 to 46 percent of voters.
Trump polled close behind the presumptive Democratic nominee, with the Real Clear Politics 2016 average showing he was backed by around 42 to 43 percent of Americans over the same period.
Clinton carried that three-point head-to-head lead over Trump into polling day on November 8, 2016, and lost to the commander-in-chief on electoral college votes.
Although national head-to-head polling averages from 2020 do not yet include surveys conducted after the South Carolina and Super Tuesday primaries, the numbers still appear to paint a rosier picture for the Democratic party.
In the Real Clear Politics averages of national head-to-head polls between February 5 and February 27, Biden was found to lead Trump by a margin of 5.4 points at a time when pundits suggested his campaign was on its last legs.
Sen. Sanders enjoyed a similar lead over the commander-in-chief, polling 4.9 percentage points ahead of him with backing from 49.4 percent of voters.
Those leads over Trump could shift when head-to-head polling that accounts for the Super Tuesday and South Carolina results is included in the averages.
Former vice president Biden picked up a lot of momentum from the contests, recording a landslide win in South Carolina after picking up 48.7 percent of the state's primary vote and the majority of African American support.
Out of the 14 states that voted in the Super Tuesday primaries yesterday, Biden had won in nine of them as of 9 a.m. ET today. He also overtook Sanders on the delegate count, thanks in part to a win in Texas—the Super Tuesday state offering the second most delegates.
Sen. Sanders had picked up 270 delegates and more than 3.5 million votes from the Tuesday races at the time of writing, and was on course to win in California: the state offering the most delegates.