When country singer Mickey Guyton learned that she made history last month as the first Black woman to perform her own music at the Academy of Country Music (ACM) Awards, the news came as a complete surprise.
"I had no idea," Guyton said in an interview with Newsweek. "I was worried about singing with Keith Urban." It wasn't until she stepped offstage after singing her new song "What Are You Gonna Tell Her?" with Urban supporting on piano that she found out about her history-making performance.
"You wait for these moments your whole life, and you never think you're going to be setting a record or making history," Guyton said. "That was never my goal. I just loved country music and wanted to sing it. It really does mean a lot that I can represent and show other people of color—Black or any other color—that they can sing country music and be accepted."
Guyton's initial career goals were fairly traditional: record some music, go on tour, establish a career and provide for her family. But as a Black woman entering a genre largely dominated by white men, Guyton quickly discovered that the path she envisioned wasn't going to be quite as straightforward. Though she heard musical elements from other genres filtering into some of country's top-performing singles, she was advised to keep her own music as close to traditional country as possible.
"I struggled. I was always told you've got to make sure your songs are super country, even though I was hearing trap beats and R&B melodies in country music, and they were shooting up the charts and getting No. 1 songs," she said. "But I wasn't country enough. And so I was spending all of this time trying to be country enough."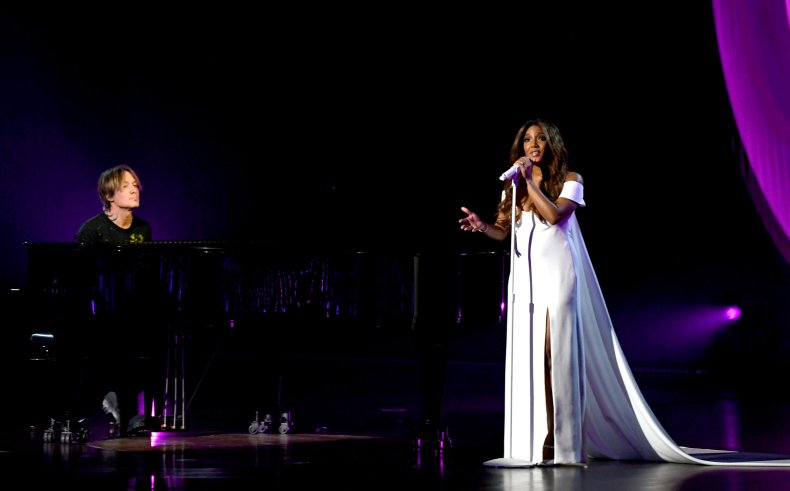 Guyton signed with Capitol Records Nashville in 2011 and celebrated her first televised performance at the White House that November. At the event, she sang as part of a star-studded concert that also included performances by Kris Kristofferson, James Taylor and Dierks Bentley, among others. Guyton's most recent EP, Bridges, dropped last month and includes the song she sang at the ACMs and "Heaven Down Here," which the CMT Music Awards announced Guyton will be performing as part of its annual show premiering on Wednesday.
In addition to marking Guyton's first EP release in five years, Bridges also serves as a turning point in Guyton's career due to its lyrical content. Guyton told Newsweek that she was told to "shut up and sing" for years and was also advised to keep her songs "light and fluffy."
"But what happens when your world isn't so light and fluffy," Guyton said. "Where is the comfort in that?"
Guyton pinpointed the change in her approach to singing and songwriting to a conversation she had with her husband roughly two years ago. "I asked him why country music wasn't working for me," she recalled. "He said, because I was running away from everything that makes me different."
That's when Guyton said she began "writing my truth," and the difference is clear on Bridges. In "What Are You Gonna Tell Her?" the lyrics raise serious questions about the real-world realities young women face after growing up in a time when children are told their opportunities for achievement are limitless. Another song on the EP, "Black Like Me," is further evidence of Guyton's new songwriting approach, and it was quick to gain traction after Guyton shared it on social media for the first time in June, just days after the death of George Floyd.
The song was inspired in part by Black Like Me, a book Guyton read in college by John Howard Griffin in which Griffin, a white journalist, attempted to reveal the experience of living in the 1960s Deep South as a Black man by darkening his skin. The song contrasts the appearance of equality in the U.S. with Guyton's own experience as a Black woman. Guyton released "Black Like Me" as the Black Lives Matter protests that continued throughout the summer were just beginning, but she said in the Instagram caption accompanying its release that she actually wrote it more than a year ago—and it was never a song she thought anyone outside her trusted circle would hear.
"I was just going off my own experiences of being a Black person in America," Guyton said. "That song was really just me singing about that, and I never thought that the song would have ever gotten to see a light of day. It was just a song that I was really passionate about."
Guyton reconsidered as debates intensified about systemic racism and as she saw how engaged young people were in the fight for change. "I was the timid country artist that didn't want to rock the boat, that didn't want to say anything to offend anybody," she said. "And here I am seeing people younger than me that are like, 'I don't care. I'm going to say how I feel.' And that has inspired me within my music to start saying how I feel."
She watched from her home in downtown Los Angeles as protesters took to the streets to demand answers after video showing Floyd's death while in Minneapolis police custody spread online. Guyton takes pains to differentiate between her work and that of the protesters and hesitates to call "Black Like Me" a contribution to the movement. "There are activists out there on the front lines that are not getting any of the attention that they truly deserve," she said. "I can't say that I'm this model activist. I'm not. I just wrote songs because people were telling me to shut up and sing, so I was writing songs about what I've seen."
Guyton posted "Black Like Me" on her Instagram account on June 1 with a caption that included, "I hope this song can give you a small glimpse into what my brothers and sisters have endured for 400+ years."
"I knew it was a polarizing song, so I thought it was just going to be something that I had with me forever, and nobody else would get a chance to hear it. But it wasn't until the deaths of Breonna Taylor and Ahmaud Arbery and George Floyd did the opportunity to release it present itself," she said. "I just put it on my social media, hoping that it could give listeners comfort in these times. It was mortifying to see a man die for eight minutes. That was horrible."
Guyton said "Black Like Me" skyrocketed after Spotify added it to its Hot Country playlist. She didn't intend to promote the song—"How do you promote something during this awful time," she said. "It was just not the time to do that," But it "took on a life of its own." Now that the song is out, Guyton said the positive reactions she got from listeners inspires her to continue writing her truth in music and pushing for diversity in her genre of choice.
As part of the ACM diversity task force, Guyton said the organization is taking steps to expand opportunities to women, people of color and members of the LGBTQ+ community. She identified hiring more people of color throughout the music industry as key to expanding representation but acknowledged that it will take time to see the results. "It's going to take a long time," Guyton said. "I don't even know if I'm going to see it in my lifetime."
While Guyton is actively working within the industry to encourage diversity, she said invitations to perform at events like the ACM Awards and the CMT Music Awards help show that change is possible.
"It means a lot that people in country music are trying to give a girl like me a platform to show diversity in their awards shows," Guyton said. "It really does mean a lot."