How Conflict Shaped Trump's New Acting Defense Secretary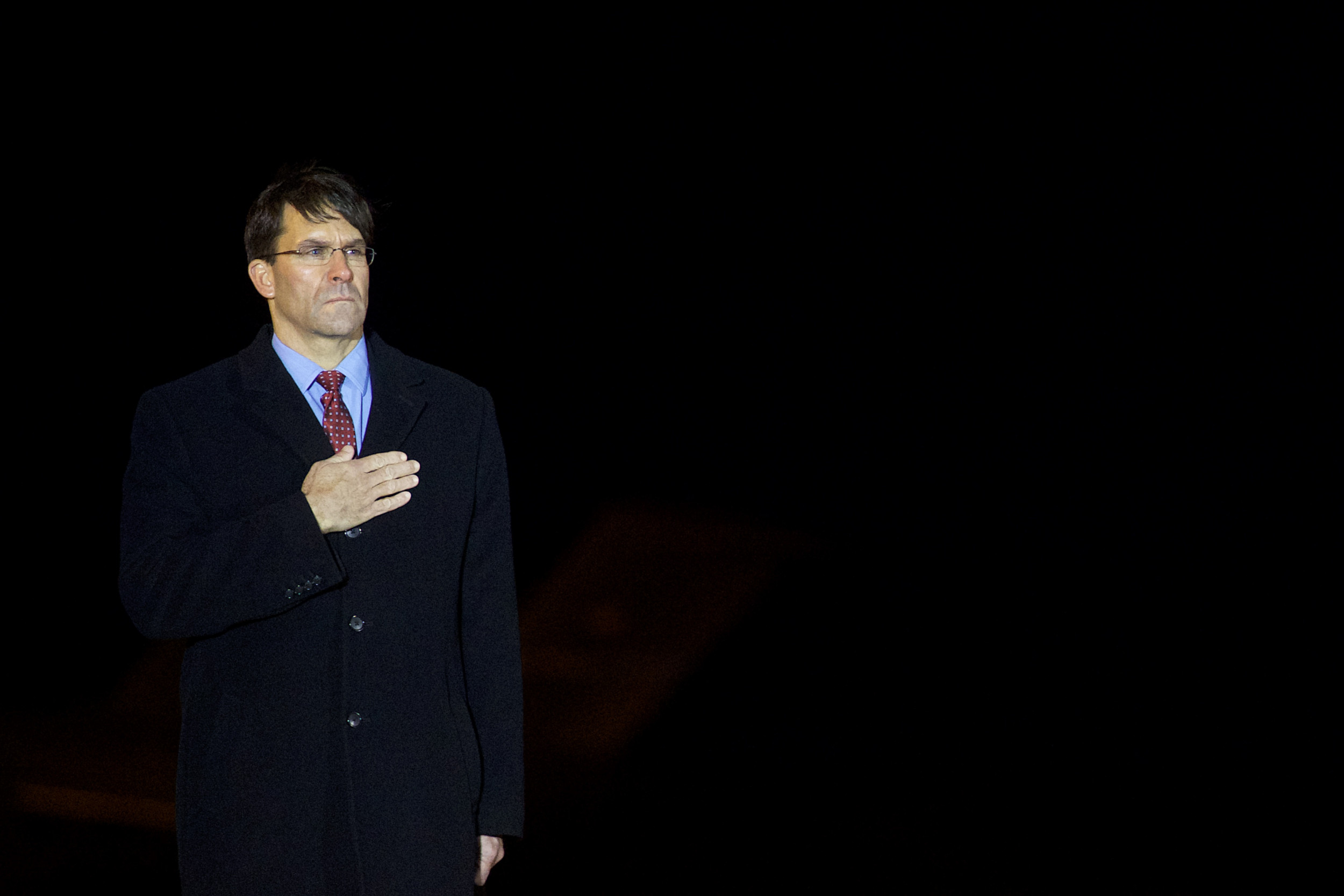 In May 1993, a group of U.S. Army soldiers traveled from their northern Italian base in Vicenza to Brindisi, a port city on the Adriatic Sea in southern Italy's Apulia region, weighed down by apprehension of pending missions that echoed bad memories of Vietnam.
War games had begun for the men of Third Battalion, 325th Airborne Infantry Regiment. Most of the soldiers were too young to remember Vietnam—a historical memory not lost among seasoned Pentagon officers and older enlisted men, who saw the military exercises for what they were: practice runs for the Balkans.

Misgivings grew over a potential mission in Bosnia, a fractured country which had descended into violent clashes along ethnic and religious lines. Political decisiveness under the Clinton administration in Washington fueled the U.S. military's trepidations of intervention in a Vietnam-like conflict at the time.
Among the soldiers participating in the war games was U.S. Army Captain Mark Esper. A West Point graduate and veteran of the Gulf War, Esper was the commander of Bravo Company and gave Florida's Sun-Sentinel an assessment of a potential Bosnia mission.
"Bosnia is a low-intensity conflict; the desert was high intensity. Here we have a lack of unity of command or objective, things that were very solid in the Gulf," said Esper. "In Bosnia, the lines are unclear, the enemy hard to identify; it is a more difficult assignment without any doubt."
Twenty-six-years later, Esper could find himself faced with a similar scenario. Except now he will be in charge.
For the past month, Defense Department personnel—most veterans of the Iraq War—some working inside the D.C. beltway and around the country at military installation have expressed to Newsweek similar hesitation about a potential ground conflict with Iran, just as Vietnam and Gulf War veterans did over Bosnia in May 1993. History repeating itself the main driver of trepidation.
The Pentagon on Monday said it was sending 1,000 more troops to the Middle East to bolster security for American forces amid accusations from the White House that Iran attacked two tankers in the Gulf of Oman last week.
And now, Captain Esper, years removed from uniform, is set to become President Donald Trump's new acting defense secretary on June 23, per Pentagon spokesman Jonathan Hoffman.
Mere hours before heading to Florida to kick off his 2020 re-election bid for the White House, Esper's appointment came when Trump announced on Twitter that Patrick Shanahan would not pursue the nomination for defense secretary left vacant by his predecessor James Mattis, the four-star general.
In the surprise, tweet-announcement on Tuesday, President Trump said Shanahan would devote more time to his family shortly after The Washington Post published an exclusive interview with the former Boeing executive detailing a violent domestic violence incident in 2011 when his son, William Shanahan, attacked his mother with a baseball bat.
In 2010, Kim Jordinson, Shanahan's ex-wife, was arrested after she was accused of drunkenly assaulting her husband, but she alleged it was Shanahan who had attacked her. USA Today first reported the news.
In a statement released Tuesday by the Pentagon, Shanahan praised the U.S. military's accomplishments during the Trump administration and said, "It has been a deep honor and privilege to serve our country alongside the men and women of the Department of Defense."
"After having been confirmed for Deputy Secretary less than two years ago, it is unfortunate that a painful and deeply personal family situation from long ago is being dredged up and painted in an incomplete and therefore misleading way in the course of this process," said Shanahan adding that the Senate's confirmation process would reopen traumatic family wounds.
"I would welcome the opportunity to be Secretary of Defense, but not at the expense of being a good father," said Shanahan.
Speaking to reporters on the South Lawn before boarding Marine One, President Trump said Shanahan was a "wonderful person" and thanked him for his service, but added, "It's a difficult time for Pat, but he's going to take a little time off for family service and for working things out."
Shanahan resigned Tuesday morning in the Oval Office, according to Trump, who said he did not ask Shanahan to withdraw his nomination for defense secretary. When asked if he had previously heard about the domestic violence allegations surrounding Shanahan's family, Trump said he learned of the news on Monday for the first time.
When asked if not having a permanent Pentagon leader complicates his foreign policy initiatives as tensions grow between Washington and Tehran, Trump suggested that Esper could land the job longterm.
"I think, frankly, this could happen very quickly for Mark Esper. He's very experienced," said Trump. "He's been around all of the things that we're talking about for a very long period of time."
With Shanahan's sudden withdrawal from the confirmation process, Pentagon leaders and Capitol Hill lawmakers are growing concerned over the lack of a Senate-confirmed Defense Department leader as the United States faces the longest period in its history without a confirmed secretary of defense.
"For the sake of our national security, we need a confirmed Secretary of Defense—not just an acting," Senate Armed Services Committee Chairman Jim Inhofe said in a statement after Shanahan's announcement Tuesday. "I hope we can get to that point as quickly as possible.
Unlike Shanahan's executive career at Boeing, Esper's ascent tends to align with President Trump's ideology behind appointing James Mattis, the former Marine four-star general as his first defense secretary.
Like Mattis, Esper being considered to be a permanent leader of the Pentagon has garnered support from both Republicans and Democrats on Capitol Hill as current and former U.S. military personnel endorse his vast experience in Washington and the Defense Department.
Retired U.S. Navy SEAL Admiral William McRaven, who led the operation that killed Osama Bin Laden in May 2011, told Ed Henry of Fox News on Tuesday that Esper is a "good pick" with a "great reputation."
"I think what you need what you need to know is that he's got a great relationship with the chief of staff with the army General Mark Milley," Said McRaven. "[If] Mark Milley is confirmed as the next chairman of the joint chief of staff, this relationship between the possible secretary of defense and the chairman of the joint staff will be important."
If confirmed, Milley would replace Marine General Joseph Dunford as the chairman of the joint chiefs of staff.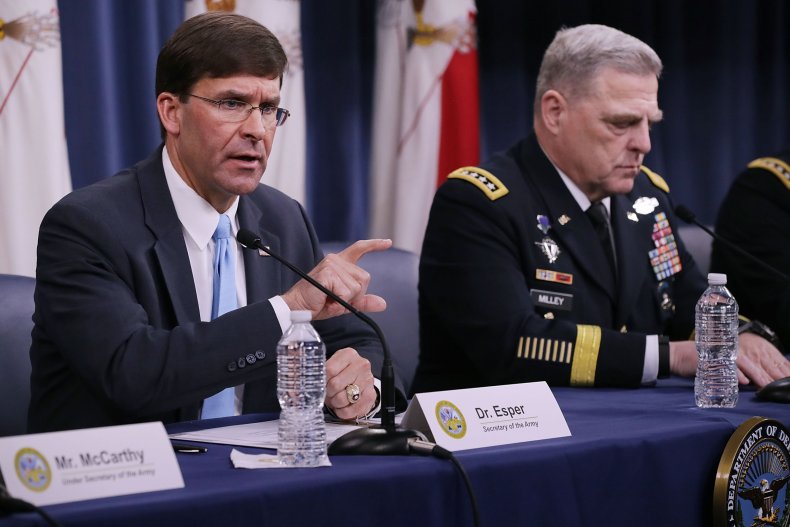 Esper, 56, graduated West Point the same year as Secretary of State Mike Pompeo and served for a decade on active duty as an infantry officer and in the 101st Airborne Division during the 1991 Persian Gulf War. He later served in the Army Reserves and National Guard units before retiring in 1997.
He holds a Master of Public Administration degree from the John F. Kennedy School of Government at Harvard, and a doctorate in Public Policy from George Washington University.
In July 2001, he joined the Republican staff of the Senate Foreign Relations Committee to handle national security issues after previously being a staffer for the Senate Governmental Affairs Committee and Republican Senator Chuck Hagel, a Vietnam veteran and former defense secretary under President Barack Obama. He also served in the Pentagon under President George W. Bush.
President Trump's political rival, the late Republican Senator John McCain of Arizona, approved of Esper's nomination to secretary of the Army. "We intend to move your nomination as quickly as possible," McCain said. "We need you to get to work."
While Esper has been an ally of President Trump's controversial use of active duty service members at the southwest border to bolster security, he seemed to part ways from Trump's policies on transgender troops serving in the U.S. military last year when he indicated U.S. soldiers were unconcerned about serving alongside transgender people.
The Democratic-controlled House passed an amendment on Tuesday night, by a 243-183 vote, to block Pentagon funding for implementing President Trump's transgender ban. The amendment is not expected to become law.
But perhaps what will be most scrutinized, if Esper obtains a nomination, is his time as a previous chief of staff at The Heritage Foundation and D.C. lobbyist for Raytheon, a top Pentagon contractor. Esper's ties to his former employer could complicate a potential defense secretary nomination like with Shanahan.
"As with Patrick Shanahan, Mark Esper's appointment as acting Secretary of Defense brings up questions regarding potential conflicts of interest," Rachel Rizzo, a fellow at the Washington D.C.-based Center for a New American Security, told Newsweek on Tuesday.
"I think it's time for Congress to look closely at whether or not it's ok for any major defense company executive to leave that company and then eventually lead the largest defense department in the world. That's a situation that could potentially be ripe for conflicts of interest and undue defense industry influence," Rizzo added.
But next week, when Esper takes the reigns of acting defense secretary, Iran will be the paramount issue in an agency where staffers for national security adviser and Iran hardliner John Bolton regularly call "Pentagon underlings and insert themselves deep into the chain of command."
He will also have to contend with Secretary of State Mike Pompeo, the former Republican congressman and CIA director, who fulfills the duties of a defense secretary by traveling to U.S. Central Command in Tampa, Florida, to meet with command leadership and "discuss regional security concerns and ongoing operations." U.S. Central Command is responsible for Middle East operations, including, Iran.
Pompeo was the first U.S. official to accuse Iran of orchestrating the attacks on two tankers in the Gulf of Oman last week. Iran had denied any involvement.
But as tensions continue to grow between Washington and Tehran, U.S. military personnel—most veterans of the Iraq War—can only watch and hope the battle order doesn't fall.
Or, or as Captain Esper, put it when pondering ground operations in May 1993: "There is nothing funny about Bosnia," he said.