How Coronavirus Could Affect The 2020 Democratic Race, Starting With Tuesday's Contests
Anxieties over the coronavirus outbreak are likely to affect the Democratic presidential primary race going forward, but the question remains: How much?
The next major test will be on March 10, when voters in six states will head to the polls to pick the candidate they want to see nominated. Fortunately, four of them—Idaho, Michigan, Mississippi and North Dakota—have no confirmed coronavirus cases.
The two states that do have confirmed coronavirus cases are Washington and Missouri. Missouri confirmed its first, and so far only, case of COVID-19 over the weekend. Washington, on the other hand, has been at the epicenter of the outbreak in the United States for the past few weeks.
In fact, Washington had the most cases in the country until Monday, when it was eclipsed by New York. The Northwestern state has 136 confirmed cases, and at least 19 people have died from COVID-19. New York state has 142 confirmed cases.
But Washington state's Democratic primary on Tuesday could see little effect from the outbreak thanks to its vote-by-mail system, which it formally adopted in 2011. The only way for residents to participate in the contest is to mail in their ballots, which means there will be no polling places or long wait lines, where the virus could be spread.
"We are more happy than ever that we are a vote-by-mail state," Kendall Hodson, chief of staff for elections in King County, told Newsweek. King County accounts for one-third of voters in Washington.
King has 83 confirmed cases of coronavirus, the most in any county in the state. But officials haven't had staffers calling in sick, and they're "confident" that they will be able to get the results out on election night, Hodson said.
Maurice Turner, an expert in election security at the Center for Democracy and Technology, said that Washington is the exception to the rule and that a majority of voters in the country are still expected to show up at the polls.
"That may be difficult if poll workers are unable to report for duty, polling locations are shut down due to restricted access to buildings, or disinformation messages spread confusion about contingency plans that voters should follow," Turner told Newsweek. He added that "this could be an interesting time to pilot digital methods of ballot delivery and return."
So far, fears about COVID-19 don't seem to have had a serious impact on voter turnout. According to Vox, Democrats came out in larger numbers in many states on Super Tuesday, compared with 2016. Though that could change if the outbreak continues to spread.
But staffing problems have already been an issue and could continue to be on March 10. On Super Tuesday, officials in California and Texas reported that some election workers didn't show up because of coronavirus concerns.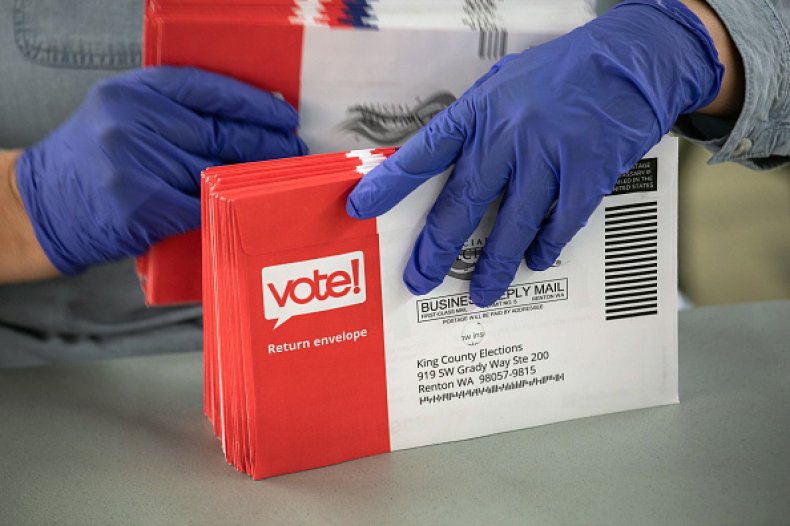 Hodson said King County officials have put several measures into place to help protect the 150 to 200 workers who will be on duty throughout the voting. Those measures include handwashing breaks and mandatory latex gloves.
According to the U.S. Centers for Disease Control and Prevention (CDC), the virus can be spread when people come into close contact or through contact with the droplets produced when an infected person coughs or sneezes. The agency also warned that it's possible to be infected from a surface that has the virus on it, but that is not "thought to be the main way the virus spreads."
State officials in Michigan have instructed polling locations to use disinfectant wipes on voting machines, touch screens, pens, pencils and any other equipment, according to a recent Reuters report. Michigan will be the largest state in play on Tuesday, with 125 delegates to allocate.
In Missouri, which recently announced its first case of COVID-19, some election officials added disinfectant wipes to the list of essential supplies for the primary. Some counties have also encouraged voters to bring their own pens and hand sanitizer to their polling site, according to the Springfield News-Leader.
The outbreak doesn't seem to have affected the campaigns of the remaining Democratic candidates. Former Vice President Joe Biden and Vermont Senator Bernie Sanders are still holding large, in-person events in primary states. Biden told NBC News this weekend that his team is "listening to the experts and the CDC" and will take "advice from them" as he campaigns. Sanders told CNN that he doesn't plan to change his approach and that "right now we're running as hard as we can."
But that could change as the outbreak spreads. A New York–based Democratic strategist told Newsweek that there's "no template for this politically" but campaigns are going to have to adjust as the health crisis goes on.
"This may be the end of rallies as we know it," Hank Sheinkopf said, noting that people "will not want to expose themselves in close quarters when they're being told to wash their hands all day long and avoid contact."
Former Democratic candidate Pete Buttigieg said the same on Monday, telling MSNBC that "I do think this is a time for rethinking what campaigning looks like" amid the outbreak.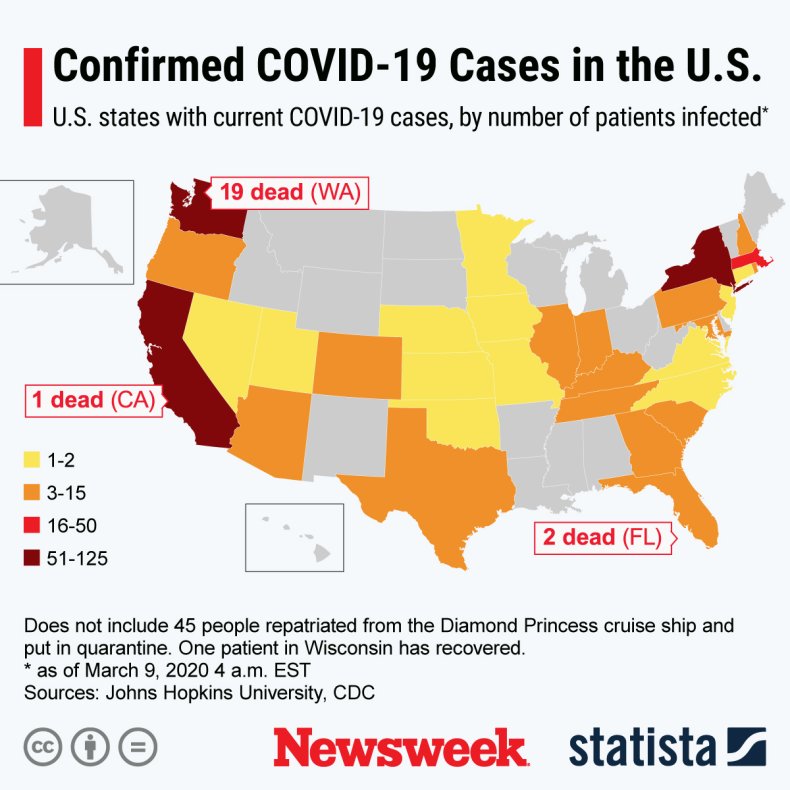 "[President Donald] Trump and some of the Democrats have made their campaigns work because they're able to get in close proximity with voters. But that might be over," Sheinkopf said.
According to a database from Johns Hopkins University's Center for Systems Science and Engineering, there have been over 600 cases of COVID-19 in the United States. The total death count, according to the database, is 22.
As the novel coronavirus continues to spread, eight states have declared a state of emergency to try to combat the outbreak: California, Florida, Kentucky, Maryland, New York, Oregon, Utah and Washington. Six of those states—Florida, Kentucky, Maryland, New York, Oregon and Washington—have yet to vote in the Democratic primary race.
Turner, the election security expert, said candidates can help by shifting focus "to virtual town halls and digital meetings" instead of in-person events. Such a move, he added, would help candidates "show that they are following the recommended practices of doctors and health officials to reduce virus exposure and transmission while still reaching voters directly."