How David Perdue and Jon Ossoff Are Spending Final Days Before Georgia Runoffs
Just days before Georgia's crucial runoff elections that will decide control of the U.S. Senate, Republican Sen. David Perdue and his Democratic challenger Jon Ossoff are campaigning in very different ways.
Ossoff has been continuing his attacks on both Republican senators as he campaigns in person on the homestretch of the race, while his rival continues to quarantine after potentially being exposed to coronavirus.
Both President Donald Trump and President-elect Joe Biden are expected to hold rallies in support of their respective parties' candidates this week.
However, in an appearance on CNN's State of the Union on Sunday, Ossoff questioned why Trump was holding a rally to back Mitch McConnell's hold on the Senate when the Senate Majority Leader was treating him like an "irrelevant lame duck president."
His remarks came after McConnell continued to block attempts, which have been championed by Trump, to give American workers a one-time $2,000 stimulus check.
At an event in Athens on Saturday, Ossoff said Perdue had opposed the first round of $1,200 stimulus checks "because David Perdue does not care about us."
He added: "All year long, David Perdue opposed direct relief for the people, he changed his tune six days before an election."
The Democratic challenger also accused both Purdue and Loeffler of seeking to profit from the pandemic, while their constituents continue to struggle financially.
"We have two United States senators who when they learned about the threat that COVID-19 posed to their own constituents, their first call was to their broker," he said. "They treated this pandemic as an opportunity to profit."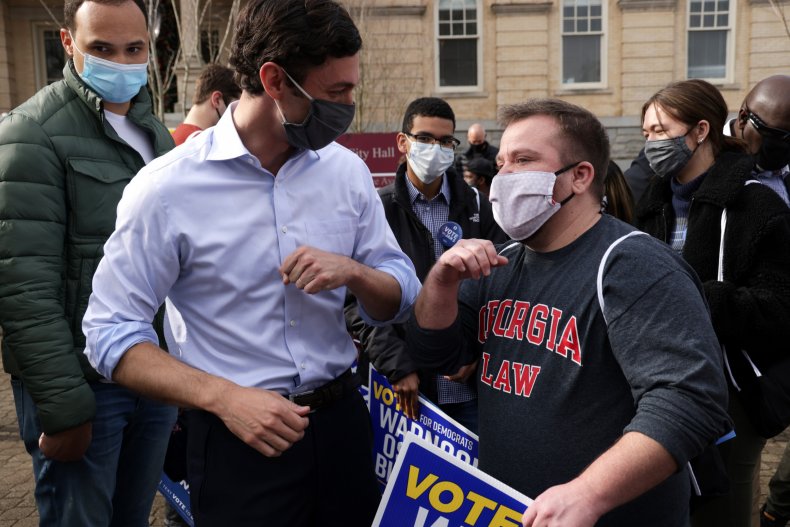 Ultimately, Ossoff told CNN on Sunday, he would accept the results of the election but said he was confident of victory.
"We are on the cusp of a historic victory that will usher in a new era in American history after four years of gross incompetence and racism and hatred and bigotry," he said.
Perdue's quarantine
Meanwhile, Senator Perdue remains in quarantine and has been forced to campaign virtually or rely on stand-ins in recent days after being potentially being exposed to the coronavirus.
In a statement on Thursday, Perdue's campaign said the senator and his wife learned that morning they had been in close contact with a staffer who had tested positive for COVID-19 and the couple were entering quarantine as a result.
"It's terrible timing, but we are not going to miss a step," Perdue said of the decision to quarantine in an appearance on Fox News. "We're going to participate in all these events as if I were there."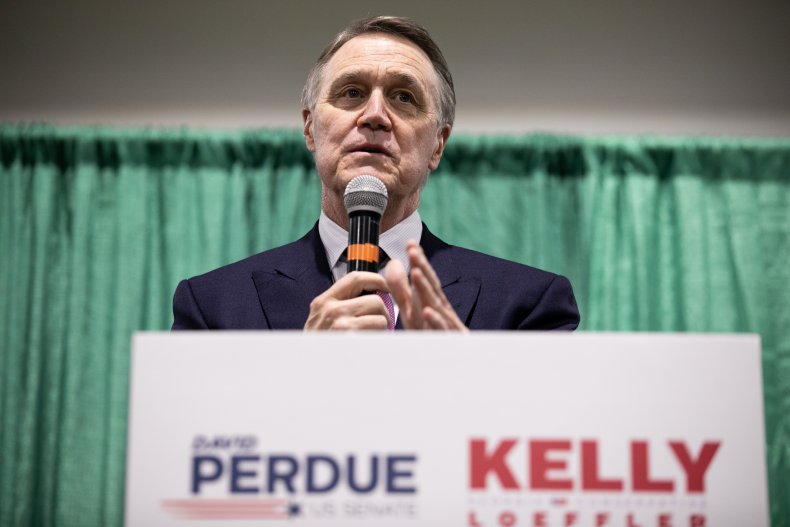 Both Perdue and Loeffler are on the ballot on Tuesday after failing to win more than 50 percent of the vote in November's election.
In an op-ed for Fox News on Saturday, Perdue branded Loeffler's opponent Raphael Warnock "a radical extremist" and called Ossoff "his far-left sidekick."
"The stakes could not be higher to make certain that the road to socialism never runs through Georgia," he wrote.
Trump and Biden rallies
Perdue is expected to miss a rally President Donald Trump has scheduled for him and Republican Sen. Kelly Loeffler on Monday evening, just hours before polls in the state open.
President-elect Joe Biden is expected to appear in Atlanta to stump for the Democratic candidates on the same day.
As the end of the race approaches, Democrats are set to pull out all the stops in a bid to turn out voters. Vice President-elect Kamala Harris will reportedly campaign on behalf of Ossoff and Warnock in Savannah on Sunday, followed by Biden—the first Democrat to carry Georgia in a presidential election since 1992—in Atlanta on Monday.