Pataki, Graham, Jindal and Santorum Exchange Barbs at GOP 'Kids Table' Debate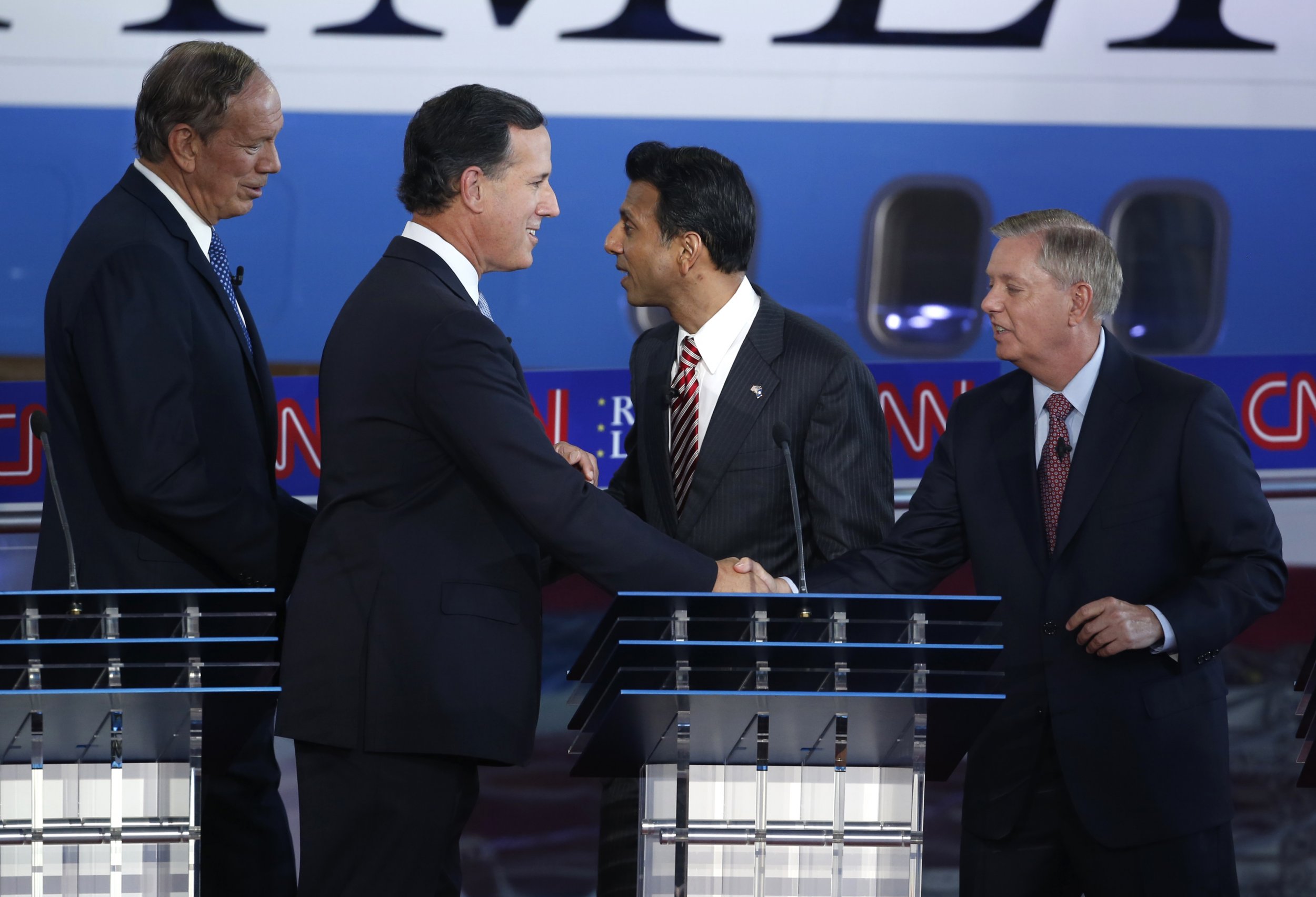 A genuine debate broke out Wednesday evening among the four Republican presidential candidates who did not qualify for the party's prime-time forum, providing a lively warm-up act ahead of the main event at the Ronald Reagan Library in Simi Valley, California.
Senator Lindsey Graham, former Senator Rick Santorum, Governor Bobby Jindal and former Governor George Pataki all have presidential campaigns that are teetering on the edge of obsolescence, with poll numbers too low to qualify for the real debate. But despite (or perhaps because of) their dire political straits, the four candidates took on one another with gusto, dueling over policy differences on immigration, foreign policy and whether or not they should criticize GOP front-runner Donald Trump.
Trump's presence loomed large over the whole affair. CNN anchors Jake Tapper and Dana Bash and Salem Radio Network host Hugh Hewitt focused the first four questions of the night on the bombastic real estate tycoon and his dominance in the primary polls. Pataki, the former governor of New York, finally balked. "This is an important election with an enormous consequences," he objected. But Hewitt reiterated his question, pressing Pataki as to whether he was going back on his promise to support the ultimate Republican nominee when he said he would not vote for Trump.
"Donald Trump is unfit to be president of the United States," Pataki finally declared, while also maintaining that it was "impossible" Trump would be the final nominee.
Related: Read Newsweek's live coverage of the 'undercard' debate.
Compared to the 11 candidates in the main debate, the small number of debaters onstage for the preliminary round allowed for extended back-and-forth, with the candidates engaging each other directly. Graham, South Carolina's loquacious senator, spurred many of those exchanges, challenging his opponents to say whether they supported putting U.S. military boots on the ground in Iraq and Syria, and probing Santorum's claims that he came up with a plan to solve illegal immigration.
"How many Democrats co-sponsored your bill?" Graham asked Santorum. When his former Senate colleague demurred, he interjected, "I can tell you, zero."
At another point, Graham interrupted Santorum as he complained that Hispanic immigrants were driving down American wages. "Hispanics are Americans!" he exclaimed.
Graham also had what was probably the best line of the night as he defended his past praise of Hillary Clinton, Democrats' presidential front-runner and another former Senate colleague. Noting that Ronald Reagan used to sit down and share a drink with liberal House Speaker Tip O'Neill, Graham declared, "That's the first thing I'm going to do as president: We're going to drink more."
Jindal was the only one during the hour-plus forum to successfully throw Graham off his rhythm—momentarily. Jindal pressed the senator on congressional Republicans' failure to reject President Obama's nuclear deal with Iran or defund Planned Parenthood. "I'm angrier at the Republicans in D.C. than I am at the president," the Louisiana governor thundered.
Graham stumbled over his words as he tried to formulate a response, but quickly gathered himself. Suggesting it would be a lie to promise Congress can block the Iran deal or defund the abortion provider with Obama in office, Graham then pivoted: "The one thing I'm not going to do going into 2016 is shut the government down and hurt our ability to win."