How a Disney Performer Turned 'Rocky' Interaction Into Wholesome Moment
A former Disneyland employee has gone viral for recalling a time he turned a "rocky" guest interaction into an unforgettable moment.
Posting under the name @youthpastorryan, Ryan Kelly shared his story with TikTok on Wednesday in a video that has since been viewed more than 1 million times. His post has also received thousands of comments from viewers who said the wholesome story caused them to burst into tears.
At the beginning of his video, Kelly explains that he previously worked as a host at "princess dining"—a meet-and-greet dining experience offered inside Disney's Grand Californian Hotel & Spa, according to Disney's website.
While working as a host one day, a woman approached Kelly and started speaking to him in Portuguese. When it was obvious Kelly couldn't understand her, however, she started yelling at him.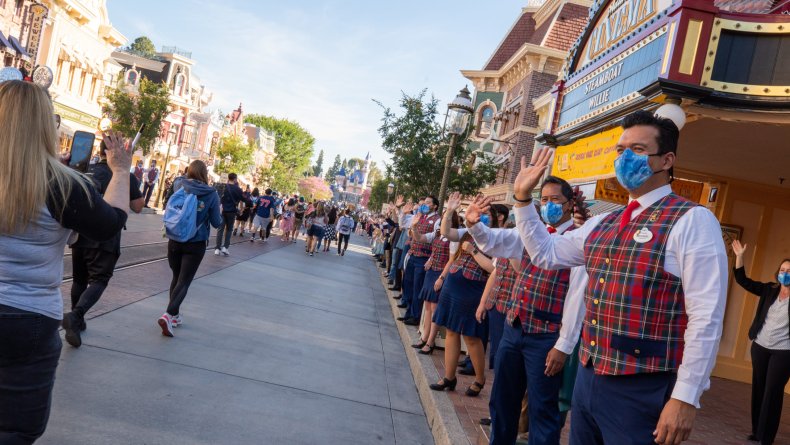 Shortly after the interaction, Kelly was asked to do character meet-and-greets dressed as Spider-Man. But as he left princess dining, he couldn't stop thinking about what had just transpired.
"As I go over to start getting dressed as Spider-Man...I start Googling words and phrases that are important to know for basic Portuguese because I never want that to happen again," he said.
Lo and behold, when he enters the park, the woman who'd just yelled at him is first in line to meet Spider-Man. Not knowing Kelly is the one wearing the mask, the woman approaches Kelly and explains that her four-year-old son doesn't speak English.
"I can tell he's nervous," he said. "I realize in that moment the reason why he's nervous is because he doesn't speak English and he doesn't know how to talk to Spider-Man."
Having just committed a few basic phrases to memory, Kelly says, "No problem," drops to one knee and greets the boy in Portuguese. As a result, the boy lit up "because Spider-Man speaks what he speaks," said Kelly.
"So, in the end, I was really thankful that I got yelled at in Portuguese," Kelly concluded.
According to The Orange County Register, Disneyland California expects to see a huge spike in international guests this year.
"The percentage of international visitors by country planning to visit Anaheim in the next 12 months: Mexico (52 percent), China (38 percent), Canada (26 percent), France (21 percent) and United Kingdom (20 percent)," said the paper in November, adding that "pent-up demand for California theme parks was a top reason for international travelers to visit the United States."
Viewers flooded the comments section to say they were touched by the story.
"I loved this story! So wonderful!!" exclaimed Jessica V.
"That is a beautiful way to turn around a situation," wrote K.M. Robinson.
"Not the ending I expected, but sir you made that child's day and you are so good for that," wrote Patchu.
"Ryan over here making me tear up," commented Luis Laboy.
Jacquelyn Simon added: "Don't mind me, as a mom, I'm just over here SOBBING."
In a statement to Newsweek, Kelly said: "A lot of my interactions as Spider-Man were as wholesome and wonderful as described in that video...from learning that a kid goes by his 'superhero name' and it turned out to be John Cena, to using my memory to convince a mom that I really was Spider-Man.
"People forget that the real magic doesn't come from Disney but it's the love of each other that families bring when they enter the parks that makes the place and the job so special," he continued.
Kelly isn't the first former Disney performer to go viral. In December, a former performer named Jessica Tremmel went viral for revealing that actors are only allowed to speak English while in character.
Last summer, a former cast member posting under the name @magicalgirlmelanie garnered a lot of attention when she shared she once made an adult guest cry. And, also last summer, former Disney World employee Tom Cruz went sparked a debate after sharing how Disney handles guest deaths.
Update 04/08/22, 4:40 p.m. EST: This article has been updated to include a statement from Ryan Kelly.