A government shutdown likely would not impact Donald Trump's legal cases unless it extends for a historically unprecedented period of time, legal experts told Newsweek.
The trial date for the former president, who has been indicted four times this year, is scheduled to begin in March 2024. The legal team for Trump, who has pleaded not guilty in all four of his cases, had requested that the trial commence in 2026, after the 2024 presidential election in which Trump is running, but their efforts were rejected by Judge Tanya Chutkan.
House Republicans have threatened to shut down the federal government if 12 appropriation bills, including defense, aren't passed by September 30. The fractured caucus, pitting hardline conservatives against more moderate GOP lawmakers, continue to clash over spending numbers. If attempts fail, a shutdown will begin October 1.
The House GOP, led by Speaker Kevin McCarthy, could not reach a consensus on defense spending after a planned vote went awry and no procedural vote occurred. Hardline conservatives have pushed for bigger spending cuts that likely would not pass the Senate, while others like Representative Marjorie Taylor Greene said she would not vote to fund the government if President Joe Biden's impeachment is not part of the discussion.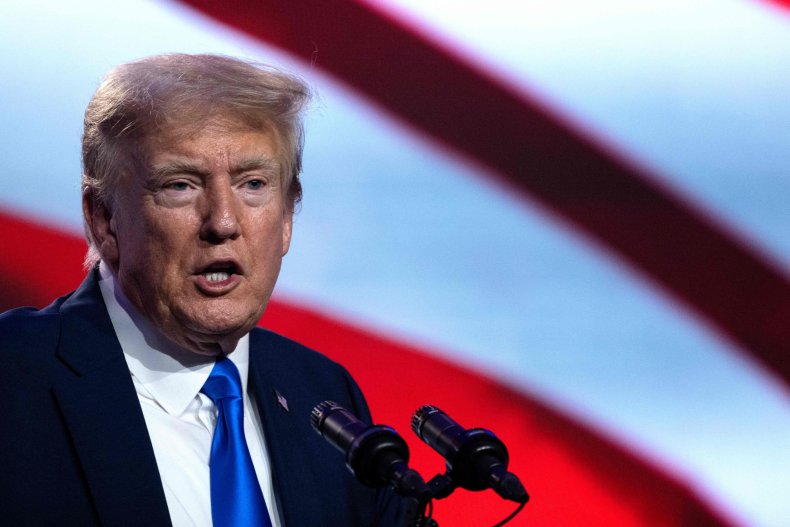 Government shutdowns typically refer to the executive branch and can make life more difficult for the Department of Justice (DOJ) and its lawyers because their jobs have been shut down but they still have to file briefs in federal court, Tara Grove, a law professor at the University of Texas at Austin, told Newsweek via phone.
"They kind of work for free for a little while and then typically what happens is after past government shutdowns, the executive branch people who did not get paid during the government shutdown get back pay," Grove said. "So that's typically how it works.
"Now, obviously, past is not necessarily prologue and something could be different at any point....Things could be different, but typically the judiciary does not shut down."
Shutdown would have 'neutral' effect on Trump
Aram Gavoor, a law professor at George Washington University who specializes in federal courts and constitutional law, experienced government shutdowns as a former DOJ employee.
He told Newsweek via phone that most noncritical functions of the executive branch are affected by shutdowns and that most employees are required under the Antideficiency Act to file motions for time extensions and delays.
The Act allows essential work to continue while prohibiting federal agencies from obligating or expending federal funds in advance or more than an appropriation, and from accepting voluntary services.
"The administration of justice at least within the Justice Department certainly slows down," Gavoor said. "The courts do their very best to stay open, using the different revenue streams that are not appropriated at their disposal."
During the partial shutdown that began on December 22, 2018, the website maintained by the Administrative Office of the U.S. Courts on behalf of the Federal Judiciary posted that the judiciary remained open and could continue operations for about three weeks by using court fee balances and other funds not dependent on a new appropriation.
Aside from potential rescheduling because of an attorney from the Executive Branch potentially not working directly during the shutdown, hearing and filing dates may have been rescheduled, but most proceedings and deadlines were predicted to occur as scheduled.
An update posted on January 7, 2019, said that the judiciary continued to operate by using court fee balances and other no-year funds.
"In terms of what this means for the Trump cases, I think it'll have no impact on the Trump cases unless the shutdown extends for a historically unprecedented period of time," Gavoor said.
When asked if there will be minimal to no impact and whether it is because the defendant is Trump, he said it goes beyond just one individual—even a former president.
"I don't think the fact that the [former] president is in the federal prosecution has any impact," he said. "It really is about the court staying in operation, the courts looking at the criminal docket, the courts looking at their civil dockets, and essentially treating all cases consistently within the dispensement of justice.
"I don't think the [former] president gets an advantage or disadvantage from this. I think it's neutral."
There's also the question of whether a shutdown could affect Special Counsel Jack Smith and his office. Smith has helmed investigations leading to two of Trump's four indictments, for allegedly misusing and storing classified documents at his Mar-a-Lago residence and for his role pertaining to the January 6, 2021, Capitol riot.
A statement of expenditures published by the DOJ notes that the special counsel's office operates on a separate funding mechanism "through a permanent, indefinite appropriation for independent counsels," so it would not be affected.
Peter Carr, a spokesperson for the office, told Newsweek via email that the Antideficiency Act restricts the federal government's ability to obligate funds in advance of appropriations or beyond appropriated levels.
During a lapse in appropriations, the DOJ would continue only the following categories of activities:
Those funded by a source that has not lapsed, such as permanent indefinite appropriations and carryover of no-year funds appropriated in a prior year.
Those for which there is express authority to continue during an appropriations lapse.
Those for which authority to continue during an appropriations lapse arises by necessary implication.
Those related to the discharge of the president's constitutional duties and powers.
Those related to "emergencies involving the safety of human life or the protection of property," such as "a reasonable likelihood" that the safety of human life or the protection of property would be compromised in some significant degree by a delay.