With the potential for a government shutdown growing as House Republicans struggle to unite around spending numbers, Democrats believe their 2024 case for control of the House is only becoming stronger.
Last week, the House GOP failed to move forward on a planned vote to advance the nation's defense spending bill after the party could not unify behind the procedural vote needed to take the measure to the House floor.
This failure comes as hardline conservatives and more moderate Republicans continue to clash over spending numbers. So far, the House has passed just one of the 12 spending bills that must move forward to avoid a government shutdown in less than two weeks.
Additionally, conservatives and members of the hard-right Freedom Caucus say they would rather see a shutdown than not have their calls for deeper spending cuts and other conservative policy demands met, despite those items having virtually no chance of passing the Senate.
Democratic Congressman Pat Ryan of New York, who kept a competitive swing district blue during a 2022 special election, believes a shutdown will not fare well with voters, particularly in his state, where Democrats are targeting five Republicans who represent districts won by President Joe Biden. Flipping those districts from red to blue could provide the margin necessary for Democrats to regain control of the House.
"At the end of the day we all have to look our constituents in the eyes and explain how we delivered," Ryan told Newsweek. "I'm not sure how these MAGA extremists can say that with a straight face when they chose to stop paying our troops and shut down our Social Security offices. The American people are smart. They can see right through that BS."
Ninety percent of voters believe Congress should unite to avoid a shutdown, and 77 percent think a shutdown will harm the economy. But Speaker Kevin McCarthy faces an uphill battle to get the job done as he struggles to pull together the Republican Conference.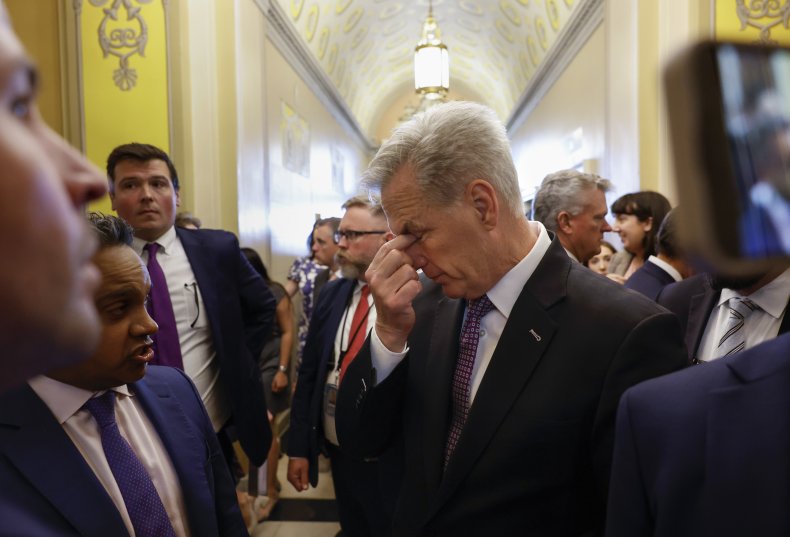 To win the Speaker's gavel, McCarthy made concessions to his party's hard-right flank that included commitments to pass 12 individual spending bills rather than one large bill lumping them together. He also committed to cut federal spending, appoint Freedom Caucus members to powerful committees, and increase the floor power of rank-and-file members, among other things.
As part his commitment to increase the power of rank-and-file members, McCarthy agreed to resurrect a provision allowing for a "motion to vacate," a procedure where members can call a vote on whether to oust the speaker, which can pass with just a simple majority.
This has allowed Freedom Caucus members and hardline conservatives like Florida Congressman Matt Gaetz to exercise immense power over legislation and procedure.
On Tuesday, Gaetz said if McCarthy moves forward on a stopgap spending bill that would avoid a shutdown while buying more time to pass the 12 spending bills, he would proceed with a motion to vacate. He also laid out other demands tied to the deal McCarthy made to become speaker, threatening that if they were not met as well it would lead him to call a motion to vacate.
Democrats say this is proof that House Republicans are not equipped to govern.
"Despite what MAGA extremists have said, a government shutdown—manufactured by House Republicans—would be incredibly harmful for working families and small businesses across the country," Viet Shelton, spokesperson for the Democratic Congressional Campaign Committee, told Newsweek.
"In the event of a shutdown, the DCCC will make sure voters know that the pain and loss of services they experience was entirely avoidable," he added, "but Kevin McCarthy opted to play politics instead of building up the middle class."
Newsweek contacted the National Republican Congressional Committee for comment but did not receive a response in time for publication.
According to the nonpartisan Brookings Institution, brief shutdowns lasting a few days do not have serious consequences on the economy, but prolonged shutdowns can. The nonessential federal workforce is furloughed during these periods, creating government processing disruptions that can affect small business loans, federal benefits, passport applications, and other services.
The five-week partial shutdown—partial because five of the 12 spending bills were passed—that lasted from the end of December 2018 into the end of January 2019 lowered GDP growth by 0.1 percent for the fourth quarter of 2018 and by 0.2 percent for the first quarter of 2019. Those figures, which were calculated by the nonpartisan Congressional Budget Office, cost the U.S. $11 billion, $3 billion of which would likely not ever be recovered.
Molly Reynolds, a senior fellow in Governance Studies at Brookings, said the length of the shutdown will play a significant role in shaping perceptions of the shutdown. She believes that, like the 2018 shutdown over the border wall and the 2013 shutdown over Obamacare, responsibility for a 2023 shutdown would largely fall on Republicans whose members have been the most vocal in their support of shutting down the government if their demands are not met.
However, just how significantly a 2023 shutdown will impact the decisions of voters a year later remains to be seen. With 2024 being a presidential year, Reynolds said that many issues will affect down-ballot races, and that the weight of a shutdown may lessen as other events unfold in the coming months.
"We are still more than a year out from the next election, and there are lots of things that will happen between now and then that will affect voters' perceptions of who they think they should vote for in 2024," Reynolds told Newsweek. "The consequences of having a government shutdown are not good, but I wouldn't want to overstate the direct electoral consequences of a shutdown."