Representative Matt Gaetz gave an ultimatum to House Speaker Kevin McCarthy in the wake of his endorsement of an impeachment inquiry against President Joe Biden.
During a Tuesday press conference, McCarthy announced that he was "directing our House committees to open a formal impeachment inquiry into" the president following months of GOP-led investigations into allegations of corruption against Biden.
The investigations have yet to yield any direct evidence of wrongdoing by the president, but McCarthy has continued to receive pressure from the further-right flank of the House GOP to push for impeachment proceedings anyway.
Some of these House members were still not satisfied by McCarthy's announcement, with Gaetz, a Republican who has represented Florida's 1st Congressional District since 2017, calling it a baby step and threatening to try to vacate McCarthy from the speakership if he did not come into full compliance on a number of other issues.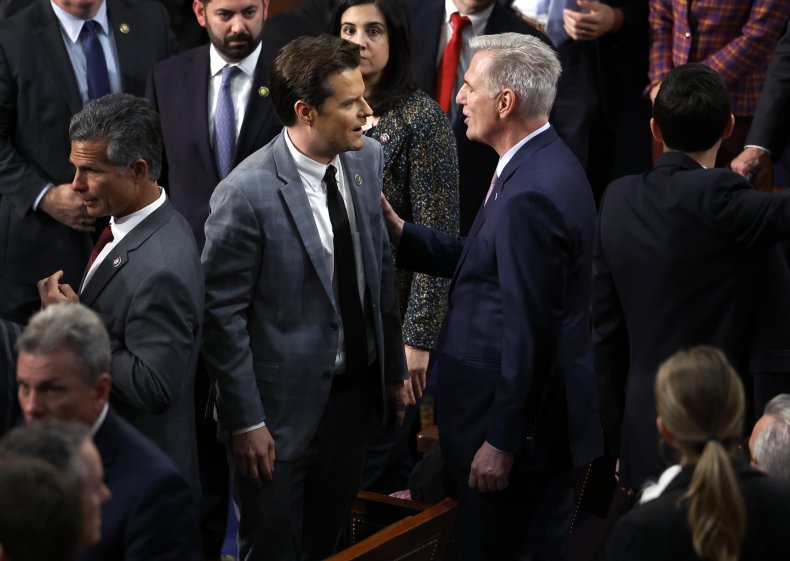 "I rise today to serve notice: Mr. Speaker, you are out of compliance with the agreement that allowed you to assume this role," Gaetz said, later adding: "The path forward for the House of Representatives is to either bring you into immediate, total compliance or remove you pursuant to a motion to vacate the chair."
Among the issues Gaetz cited besides McCarthy not pursuing an impeachment fast enough were calling out the speaker for January 6, 2021, Capital riot security tapes not being released, votes not being held on term limits and balanced budgets, and subpoenas not being issued for the president's son, Hunter Biden. Gaetz further threatened to bring daily motions to vacate against McCarthy until he met the demands.
"So we're either going to get compliance or we're going to start having votes on motions to vacate, and we're gonna have them regularly," Gaetz added. "I don't anticipate them passing immediately. But I think that, you know, if we have to begin every single day in Congress with the prayer, the pledge and the motion to vacate, so be it."
Newsweek reached out to McCarthy's office via email for comment.
McCarthy on Tuesday dismissed any worries that Gaetz's ultimatums would lead to him losing the speakership.
"The one thing I make very clear, he can threaten all he wants, I will not inject the speaker into the independent ethics committee to influence in any way at all," McCarthy said, according to Axios.
A motion to vacate the speakership would require a majority of the House members to vote in favor of it, a possibility that is uncertain given the razor-thin margin Republicans have over Democrats.