How to Download the Free Splatoon 3 Splatfest World Premiere Demo
Splatoon 3 may not be out until September, but that doesn't mean you have to wait an entire month to try it out. As announced during Wednesday's Splatoon 3 Nintendo Direct, a free Splatoon 3 Splatfest World Premiere demo event is coming near the end of the month. That means you can try the game before it launches while competing in a multiplayer event.
The Splatfest World Premiere Demo event will offer a slice of Splatoon 3's 4 vs. 4 Turf War battles as well as new 3-way Tricolor Turf Wars. It'll also feature some of the new weapons that will be seen in the game, and give you a side to fight for: Team Rock, Team Paper or Team Scissors. Splatfests often find players registering for a certain "side" of an argument or choice they want to proclaim is better, like ketchup versus mayo or peanut butter versus jelly. In this case, Rock Paper Scissors won out.
The free Splatoon 3 demo is available to download now on Nintendo Switch. Unfortunately, though it's available to preload so you can get ready for the event, you can't actually play it right now. You'll have to wait until the event's designated time to do so at the end of the month.
Looking for a way to download the Splatoon 3 demo and get ready for the new Splatfest? Here's how you can get the new Splatfest demo and when you can expect to be able to play.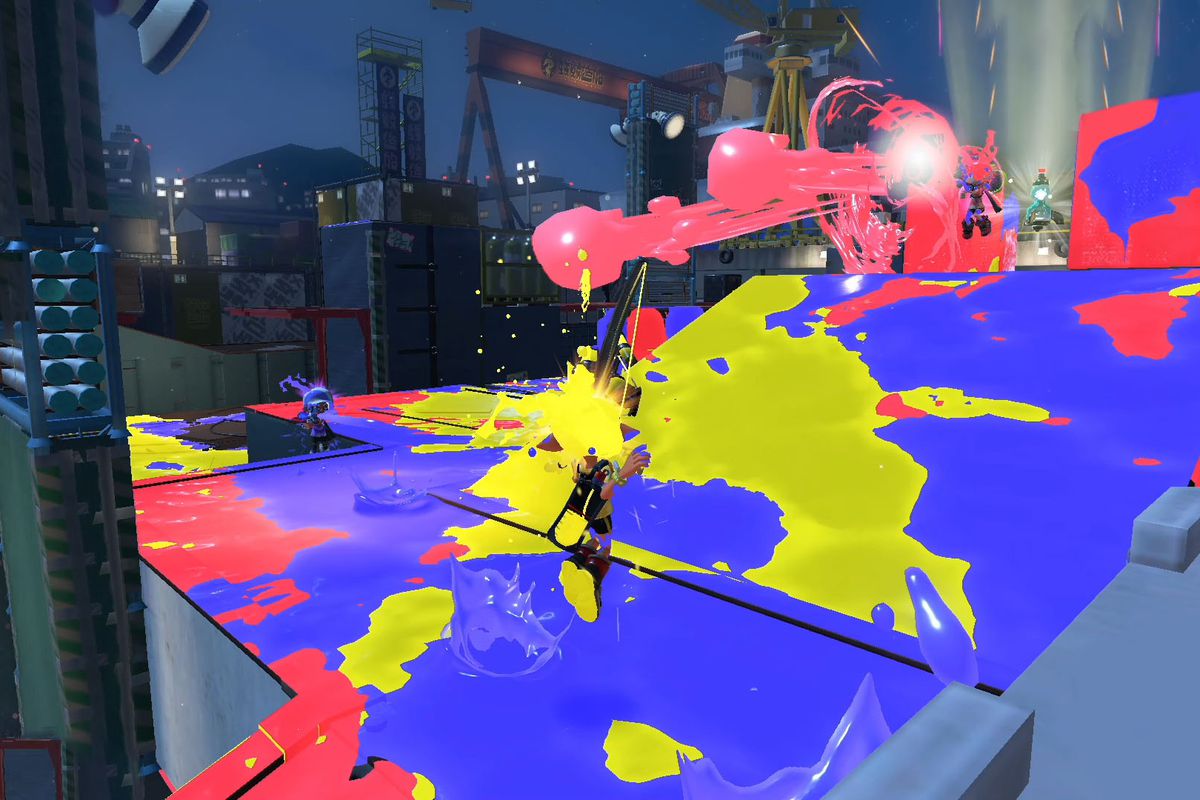 Splatoon 3: How to Download Splatfest Demo
First, download the free Splatoon 3 demo on the Nintendo Switch eShop. You can do this by visiting the official Nintendo eShop website or straight from your Switch. Once the demo is completed, you'll have to wait until August 25 to play. The demo will be available with a special tutorial to complete and a small part of the hub world, Splatsville, to explore.
You will need a subscription to Nintendo Switch Online to play online with the demo. There will be a special code emailed to your Nintendo Switch account with a seven-day free trial for Nintendo Switch Online. That way, you can try out the online festivities before committing to a subscription. You can redeem your code into the Nintendo eShop to activate your free trial. You are eligible to participate even if you've previously activated a different free trial.
When the demo finally activates and you're in Splatsville on August 25, be sure to choose your side in the Splatfest: Rock, Paper or Scissors. This is all the prep work you need to do to ensure you're a part of the Splatfest when it begins.
Then, when August 27 rolls around, you can jump into the online festivities and play with other Splatoon 3 fans around the world. Do your best and fight for your chosen cause. That's all you need to do!
Splatoon 3: When Does the Splatfest World Premiere Demo Start?
The Splatoon 3 Splatfest World Premiere Demo begins on August 27 at 9 a.m. PT and runs through 3 p.m. PT. At that time, you'll play with 1 vs. 1 Turf Wars. From 3 to 9 p.m. PT, the new Splatfest Tricolor Turf War battles will take place. The event runs for 12 hours in total.
To recap, you may only participate in the Splatfest during these times:
First half (Splatfest Battles Begin) - August 27 (Saturday) 9 a.m. to 3 p.m. PT
Second half (Tricolor Turf War Battles Begin) - August 27 (Saturday) 3 to 9 p.m. PT
Splatoon 3 will release exclusively on Nintendo Switch on September 9.