How Evergrande Could Disrupt the Global Economy if Fall Hits China Harder Than Predicted
As the nerves of Chinese creditors started to heighten as property giant Evergrande's financial standing continues to teeter, Beijing injected over $18 billion into the banking system in a move set to provide some relief.
Evergrande stands as the world's most indebted company, facing loans of over $300 billion. While some feared the company's failure could precipitate an event similar to the crash of Lehman Brothers in 2008 that played a role in opening America's Great Recession, recent projections have shown less pessimism.
Brad McMillan, chief investment officer for Commonwealth Financial Network, issued a statement saying he expected China's government to use its vast tools to prevent major global economic disaster. Scott Kennedy with the Center for Strategic and International Studies (CSIS) affirmed this assessment in an interview with Newsweek, predicting the effects of an Evergrande collapse would extend limitedly beyond those most closely associated with it.
Despite this consensus, investors are preparing and offering predictions around the alternative. Capital Economics, which expects the fallout of an Evergrande collapse to be limited, released a report entitled "Thinking through how we could be wrong on Evergrande." In it, the company offered predictions on how the situation could spiral into a global economic disaster.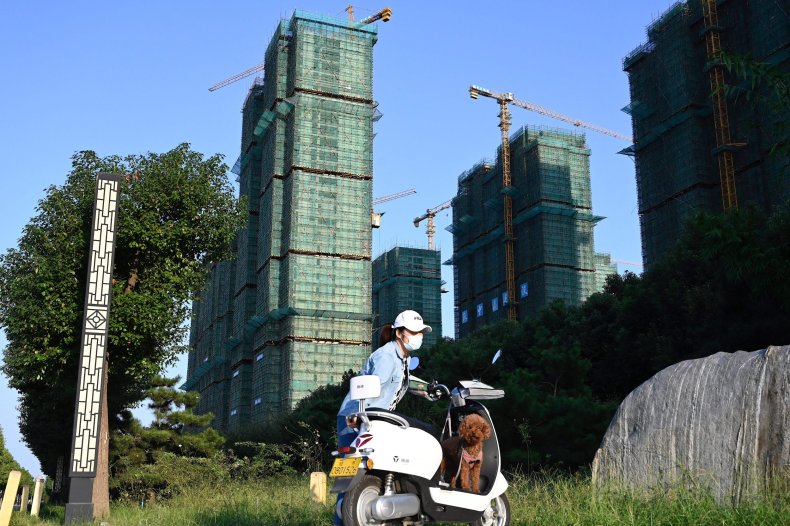 One way in which the institution predicted the situation could lead to a greater fallout is if China decides to take a hardline approach and aims to punish its private sector. Such a situation, Capital Economics wrote, would see those institutions close to Evergrande exposed to significant economic damages. It said in this situation that there'd be a "widespread reassessment of counterparty risk and asset valuations that is difficult to reverse."
In this situation, Capital said, specific sectors and creditors tied to Evergrande would face major losses which could hurt foreign institutions operating in China. Recently, Chinese President Xi Jinping has been harsh on the private sector, instating regulatory crackdowns on tech companies, gaming businesses and others. Evergrande's immense scope and ties to other Chinese sectors mean many could be hurt without Beijing's support. Ultimately, Capital Economics expected Xi's administration to act.
The second, and more likely scenario, would be that that construction in China gets hit harder than expectations and property sales decline, Capital wrote. The firm also deemed this unlikely, but if it were to happen, it said countries like Chile, Australia, and South Africa, which supply commodities to the construction sector, could suffer. Capital Economics stated this would impact specific countries with greater funds tied to the supply of commodities to China.
"If any of these risks do materialize, we would be most concerned about the demand spillovers from a big decline in Chinese construction activity," Capital Economics said. "Not only have past financial and commodity market selloffs had limited macro effects, but foreign linkages with China today are still much larger via trade than finance."
Correction 9/23/21, 9 a.m. ET: This article was updated to correct the spelling of Capital Economics.