How to Follow Voting Results in Kentucky, Oregon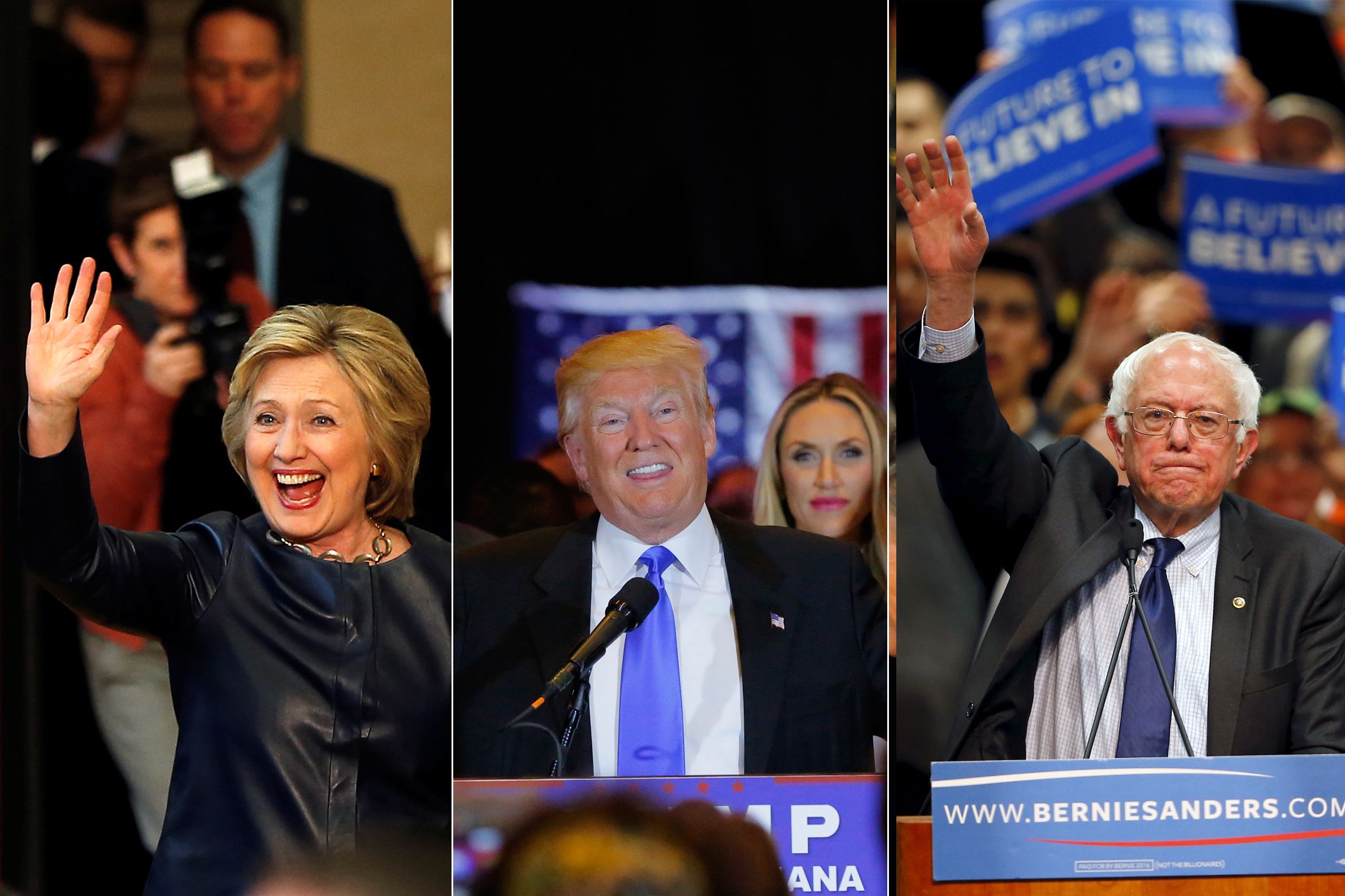 Another Tuesday means another round of primaries, this time in Kentucky (just for the Democrats) and in Oregon (for both parties).
Recent polls indicate Hillary Clinton could defeat opponent Bernie Sanders in both states. She is likely to win her party's nomination and proceed to the November election, but she must first prevail in the battle against the Vermont senator. On Tuesday, Sanders is looking to build on his recent victories in West Virginia and Indiana. But the former secretary of state, who beat then-Senator Barack Obama in Kentucky during the 2008 primary, leads Sanders by almost 300 pledged delegates. There are 55 delegates at stake in Kentucky for the Democrats and 61 in Oregon.
Both states have closed primaries, which means only registered members of the Democratic and Republican parties are allowed to cast their votes. Such elections could harm Sanders, who typically has prevailed in states where independents can participate.
Meanwhile, Donald Trump is the only remaining candidate in the Republican race. He previously won the Kentucky Republican caucus in March. On Tuesday in Oregon, he is looking to move even closer to clinching his party's nomination, after being declared the presumptive nominee by Republican National Committee Chairman Reince Priebus. The billionaire is only about 100 delegates short of clinching the nomination. Ted Cruz and John Kasich, who both dropped out of the Republican race after weak results in the Indiana primary earlier this month, both remain on the GOP ballot.
There are 28 delegates up for grabs in Tuesday's Republican contest, which comes as Trump is somewhat on the defensive. A report published Saturday in The New York Times accused him of treating women employees as sexual objects, which he has denied. Also Tuesday, Trump's one-on-one interview with anchor Megyn Kelly will air on the Fox broadcast network at 8 p.m. ET. The much-anticipated interview comes more than nine months after Kelly challenged the real estate tycoon on derogatory comments he made toward women, at the first GOP debate in August.
Trump faces criticism from within his own party, as several prominent Republicans have said they won't support him in the general election. And on the international level, he is firing back at British Prime Minister David Cameron and London Mayor Sadiq Khan, who have spoken out against his proposal to ban Muslims from entering the United States.
Polls in Kentucky close Tuesday at 6 p.m. local time (the state is split between the Eastern and Central time zones); in Oregon, where residents vote entirely by mail, clerk offices must receive ballots by 8 p.m. local. After polls close, voters can follow unofficial, real-time results on the Kentucky State Board of Elections website and on the Oregon secretary of state's website. Oregon's mail-in system slows ballot counting.
Since county elections offices have been receiving ballots by mail, the secretary of state's office has noticed Oregon is on track to cast more than 1 million votes in a primary for only the second time in its history, The Oregonian reported. Its first record was set in 2008, when Obama beat Clinton.
With less than a month left until the end of the primary season, Washington, California, Montana, New Jersey, New Mexico, North Dakota and South Dakota are the only remaining states to hold primaries or caucuses by June 7. Washington, D.C., will host its Democratic primary on June 14; the Republican contest was on March 12.