How Georgia Could Give Democrats Control of the Senate With Kamala Harris as VP
To be sure, it's a long shot. But there is a narrow path in Georgia by which Democrats could still capture the Senate, despite their bleak performance this election.
If both of the Peach State's Senate races head toward a runoff—one of which already is—and Democrats gain both seats, control of the upper chamber would likely be tied at 50-50. And if Joe Biden emerges victorious over President Donald Trump—which appeared likely on Wednesday night—that gives control to Democrats, with a Vice President Kamala Harris having the power to settle tie-breaker votes.
Other than being the president's successor in times of death, resignation or removal from office, a vice president's only other constitutional power is to preside over the Senate. The ability to break ties in a split Senate would allow Harris to wield enormous amounts of power. But it would also offer any one member a massive amount of influence.
It would be an uphill climb for Democrats to win one, let alone two, of the Georgia Senate seats. Notably, Biden has performed considerably well in a state that has not been won by a Democratic presidential candidate since Bill Clinton's first term. Biden Thursday morning continued to close his deficit in Georgia, trailing Trump by roughly 0.4 percent, or 18,590 votes, with 96 percent of the vote reported.
The last Democratic senator to win in the state was Zell Miller in 2000.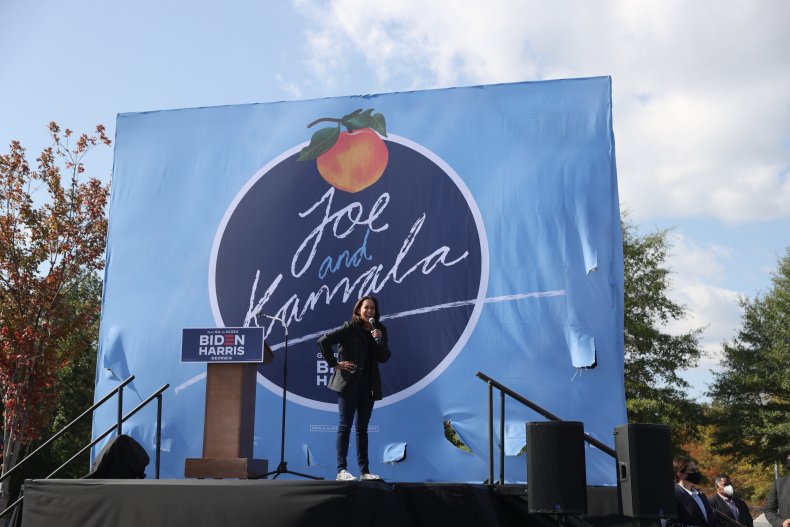 Senator Kelly Loeffler (R-Ga.) and Democratic challenger Raphael Warnock will head to a runoff because neither secured a majority of the vote. As of Thursday morning, Loeffler received 26.1 percent and Warnock had 32.7 percent. Representative Doug Collins (R-Ga.) siphoned a sizeable chunk of the conservative vote in the state away from Loeffler—20.1 percent—but the incumbent would have still fallen short of the 50 percent threshold.
Senator David Perdue (R-Ga.) and his battle against Democratic challenger Jon Ossoff is on the cusp of headed toward a runoff. Perdue had 50.0 percent of the vote compared to Ossoff's 47.6 percent. A little more than 117,000 votes separated the two.
Perdue was just 0.1 percent shy of going to a runoff.
The fate of the Senate could remain in limbo for months: runoff elections for federal office in Georgia will occur on January 5, two days after the new Congress will be sworn into office.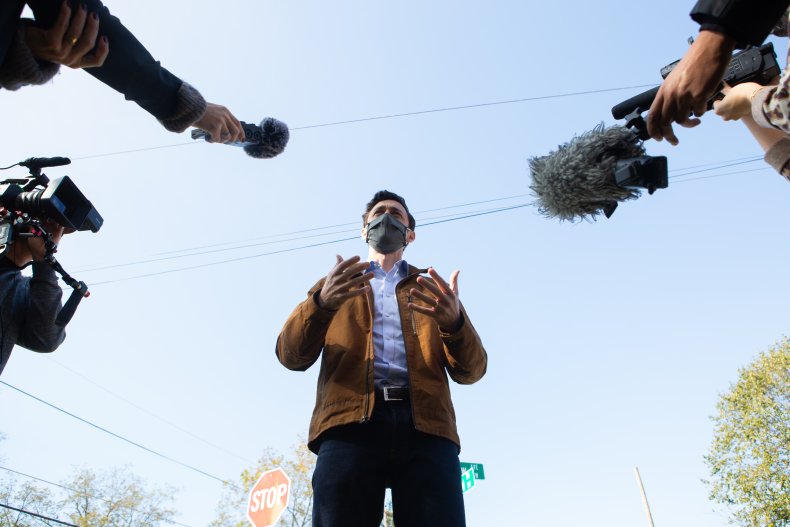 As the number of outstanding votes diminished in the past day, so too did Democrats chances of making Majority Leader Mitch McConnell (R-Ky.) become the minority leader. Democrats need a net gain of four seats for a 51-50 majority, or a net gain of three for a 50-50 split.
As of Wednesday night, Democrats flipped two seats but only had a net gain of one, as Republicans also flipped a seat. Democrats Mark Kelly in Arizona and former Gov. John Hickenlooper in Colorado ousted GOP Senators Martha McSally and Cory Gardner, respectively. Republican Tommy Tuberville unseated Democratic Senator Doug Jones in Alabama.
It was a lackluster performance, given the mountains of cash that poured in for Democrats. The party appears poised to lose every other seat that was believed to be potential pickups. Republican Senators Susan Collins in Maine, Steve Daines in Montana, Lindsey Graham in South Carolina, John Cornyn in Texas and Joni Ernst in Iowa all successfully staved off their Democratic challengers.
The races in North Carolina and Alaska had yet to be called. However, the Republican incumbents in both states—Thom Tillis and Dan Sullivan, respectively—held leads against the Democrats running against them.
McConnell, whose seat some Democrats considered to be in play but a longshot, crushed his Democratic opponent.
Admittedly, the Kentucky Republican told reporters Wednesday in his home state that the upper chamber's fate remained unclear.
"I don't know if I'm going to be the defensive coordinator or the offensive coordinator," McConnell said, noting that Maine and North Carolina would be pivotal.
This story was updated with the most recent vote tallies in Georgia.