How Good Is LSU? Here's the Buzz Surrounding the Tigers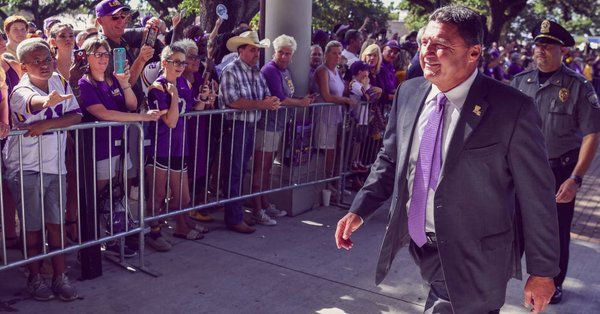 LSU has one of the most impressive résumés in college football through its first seven games. The Tigers are 6-1 (3-1 SEC) with wins against three ranked opponents—No. 8 Miami, No. 7 Auburn and No. 2 Georgia—which helped them jump to No. 5 overall in this week's AP Poll.
The perception has changed for a team many wrote off prior to the beginning of the regular season. Head coach Ed Orgeron was believed to be one of the most likely candidates in the hot seat in 2018, and few picked the Tigers as a contender behind reigning national champion Alabama in the SEC West.
LSU, once an annual powerhouse, had experienced several mediocre seasons and had no longer been viewed as a legitimate national contender. At best, the Tigers were expected to be a mediocre team and at worst fall down the SEC West standings.
Read more: College Football Coaches in the Hot Seat Midway Through 2018 Season
Instead, Orgeron and company made an immediate statement with a 33-17 rout of Miami in Week 1 and rallied from behind to upset Auburn, 22-21, on the road two weeks later.
LSU also managed to bounce back from a disappointing upset loss to Florida with Saturday's 36-16 thrashing of Georgia, once again turning doubters into believers.
Here's what college football pundits are saying about Orgeron and the Tigers midway through the season:
The biggest difference for LSU has been the play of graduate transfer quarterback Joe Burrow. The Tigers' Achilles' heel has long been inconsistent play from the quarterback position. However, Burrow, one of the nation's most sought after graduate transfers this past offseason, has managed to exceed expectations through his first seven games in Baton Rogue.
The former Ohio State backup has thrown for 1,415 yards, six touchdowns and two interceptions on 104 of 195 passing, while also rushing for 242 yards and four touchdowns and 58 attempts.
LSU's talent at other positions has never been questioned, which is why the need for a quarterback was so glaring. It's also why Orgeron, despite having a winning record as both an interim and full-time head coach, faced possible scrutiny for winning, but not "winning enough."
The Tigers have earned the right to challenge for the "DB U" moniker by producing several NFL defensive backs over the past decade, as well as running backs, wide receivers, defensive lineman and linebackers.
But the missing piece was always the quarterback position. That's what made the Tigers a very good team, but not quite an elite team.
This LSU team, however, looks to be a legitimate threat. Of course, the upcoming matchup against top-ranked Alabama next month will be the biggest test for the Tigers so far.
But LSU has already managed to exceed expectations and should be credited for its early success midway through the 2018 season.