How to Help Children Separated From Their Families at the Border
America is in the grip of a moral crisis over the treatment of undocumented migrant children and their families turning up at the southern border, where President Trump wants to build a wall as part of his crackdown on illegal immigration.
Border officials are separating children from their parents, holding them at different facilities and in conditions critics of the Trump administration's policy call cruel.
Related: Here's What Ivanka Trump's Rabbi Thinks About Families Being Separated at the Border
Images from a U.S. Customs and Border Protection detention facility in south Texas show young children huddled in large cages and sleeping under space blankets. In an audio recording from the center released by ProPublica, traumatized children are heard crying and calling out for their parents after being separated from their families.
Increasing numbers of children are separated from their parents or other adult family members after a recent policy change by the Trump administration, announced in April under its "zero tolerance" regime on illegal immigration.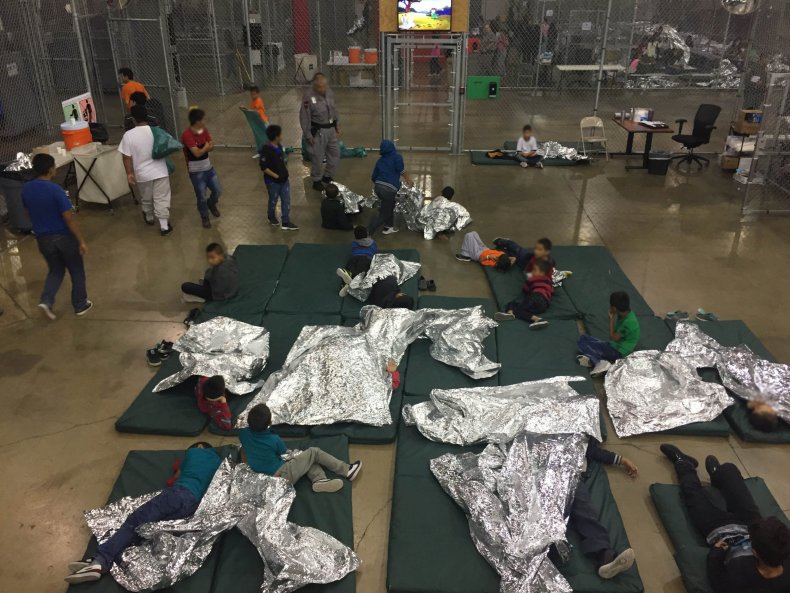 Attorney General Jeff Sessions ordered the Department for Homeland Security to refer all cases of illegal entry immediately for prosecution, where those convicted can face up to six months in jail—longer for repeat offenders.
Families are broken up in this process while adults are taken away to be prosecuted and their children put in a detention center. Around 2,000 children have so far been separated from their families since Sessions announced a tightening of policy.
President Trump is accused of holding the children to ransom. He blames the Democrats for blocking his immigration reforms in Congress—in particular, his proposed border wall—and is trying to shift the blame onto them for the current crisis.
But Democrats point out it was a change in policy by the Trump administration that created the current separation issue, and say he is exploiting the plight of these children to try to force through his own controversial and punitive legislation against illegal immigration.
According to Google, Americans are now searching in increasing numbers for how to help these children. So here are a number of ways you can support them and those who might find themselves in a similar situation in the future.
Support the Legal Fight
The following organizations all offer free or low-cost legal support to undocumented families and children separated from their parents at the border. You can help them by donating or offering up your own skills, such as translation or legal training, pro bono.
South Texas Pro Bono Asylum Representation Project
If you would rather donate to multiple organizations in one go, ActBlue is taking donations and dividing them out equally to a number of groups supporting undocumented child migrants in America.
Fostering
For undocumented children caught up in complex or lengthy immigration cases, a stable and caring home for the duration can help ease the trauma of their experience.
If you are able to offer a foster home to an undocumented child caught up in this process, find out from your state authorities about how to become licensed to do so.
"If you are not already licensed, you could begin by contacting one of the foster care providers for unaccompanied alien children, such as United States Conference of Catholic Bishops and Lutheran Immigration and Refugee Services, which have provided foster care to unaccompanied refugee and immigrant children for many years," recommends the Office of Refugee Resettlement.
Talk to Your Politicians
Get on the phone to your representatives in Congress, Republican and Democrat, to let them know how you feel about what is happening at America's border. Send emails. Send letters. Hold rallies and protests.
Lobby Congress to change the law so the Trump administration cannot separate undocumented children from their families. The time to do this is now, when the public is focused on the issue and politicians are at their most sensitive to it.