How to Help the People of Ukraine
Ukrainians have been plunged into a crisis after Russia launched a "full-scale" attack on its neighbor early Thursday.
Panic set in as Russian troops crossed the border into Ukraine and missiles rained down on cities across the country.
Air raid sirens rang out in Kyiv, with videos showing gridlocked streets as Ukrainians attempted to flee the capital.
The assault prompted international condemnation, but Vladimir Putin warned other nations that any attempt to interfere would see "consequences like you have never seen."
Those who want to help the people of Ukraine can donate to several fundraisers, charities and organizations, including ones that help equip Ukrainian troops, provide supplies for medics on the front line, and support children affected by the conflict.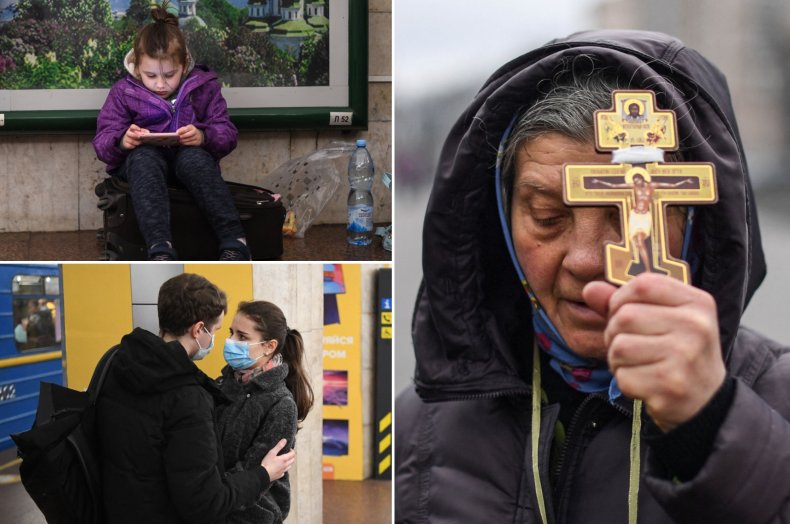 Come Back Alive
Come Back Alive is a Kyiv-based non-governmental organization and charitable foundation that conducts fundraising to provide equipment such as thermal imaging cameras for Ukraine's military.
Instructions on how to donate from abroad can be found here.
Army SOS
Army SOS uses donations to help purchase supplies for the Ukrainian soldiers, including ammunition, shields, uniforms and food.
Instructions on how to donate can be found on the website.
Hospitallers
Hospitallers is a medical battalion working to save the lives of soldiers on the front lines. They fundraise for vehicle repairs, fuel and medical supplies.
Information on how to donate can be found on the battalion's Facebook page.
Voices of Children
Voices of Children provides psychological and psychosocial support to children affected by the war in eastern Ukraine.
Instructions on how to donate can be found on the charity's website.
Razom for Ukraine
Razom for Ukraine says its emergency response will use donations to purchase and deliver essential equipment and goods, translate important documents and sources, share vital information, and put volunteers on the ground.
Information on how to donate can be found on its website.
Sunflower of Peace
Sunflower of Peace has launched a fundraiser to prepare first aid medical backpacks for paramedics and doctors on the front lines.
"Each backpack has the ability to save up to 10 lives: Ukrainian soldiers, civilians, volunteers, and children," according to the fundraising page on Facebook.
Revived Soldiers of Ukraine
Revived Soldiers of Ukraine is a non-profit organization dedicated to providing humanitarian aid to the people of Ukraine and medical rehabilitation to Ukrainian soldiers.
Details on how to donate can be found on its website.
Save the Children
Save the Children "is ready to provide life-saving assistance such as food, water, cash transfers, and safe places for children as people flee the conflict amid freezing temperatures and brutal conditions, and to scale-up our operations to ensure children impacted by this crisis have the support they need," a spokesperson told Newsweek.
Donate to Save the Children's Ukraine crisis fund here.
GoFundMe
GoFundMe has established a Ukraine Humanitarian Fund.
"All donations raised will be distributed to verified non-profit organizations supporting vulnerable communities to obtain access to shelter, food, medical services, education, and psychosocial support, as well as other people impacted," the fundraiser says.
Donate to GoFundMe's Ukraine Humanitarian Fund here.
Mercy Corps
Mercy Corps is mobilizing a team to the region to assess where help is most needed.
"We anticipate providing emergency cash assistance as well as supporting local organizations that know their community needs best," the organization says.
Donate to Mercy Corps' Humanitarian Response Fund here.
World Vision
World Vision staff are "on the ground in Eastern Europe preparing to meet the needs of vulnerable children and families who have been forcibly displaced due to the escalating crisis in Ukraine," according to its website.
Donations will help provide children and families searching for a safe haven with protection and psychosocial support.
Donate to World Vision's Ukraine Crisis Fund here.
The Salvation Army
The Salvation Army is working to help those who have been impacted and displaced by the crisis in Ukraine with offers of food, shelter, and spiritual care.
"All donations will go directly to efforts on the ground in Ukraine, Poland, and other surrounding countries taking in refugees," a spokesperson told Newsweek.
Donate to The Salvation Army's Ukraine fund here.
Medical Teams International
Medical Teams International provides life-saving medical care for people in crisis, including survivors of natural disasters and refugees.
"We are currently working with our partners to determine an immediate response in Ukraine," a spokesperson told Newsweek.
"As the humanitarian needs in the region become clearer in the coming days and weeks, Medical Teams will communicate the nature of its initial response and how people can help."
Donate to Medical Teams International's Ukraine fund here.
UNICEF
UNICEF is working across eastern Ukraine to scale up life-saving programs for children, including by trucking safe water to area affected by the conflict and providing emergency education supplies.
The charity says it is also working with municipalities to ensure there is immediate help for children and families in need.
Donate to UNICEF here.
CARE
CARE is working to help Ukrainians with immediate aid and recovery including by providing food, hygiene kits, water, cash assistance and psychosocial services.
Donate to CARE's Ukraine Crisis Fund here.
USA for UNHCR
The agency is working to provide immediate shelter, protection and safety to those fleeing the conflict in Ukraine.
"UNHCR is on the ground. Your compassionate support can help provide emergency supplies, lifesaving care and protection the moment Ukrainian families are forced to flee for their lives," the agency's donation site says.
Donate to USA for UNHCR's Ukraine fund here.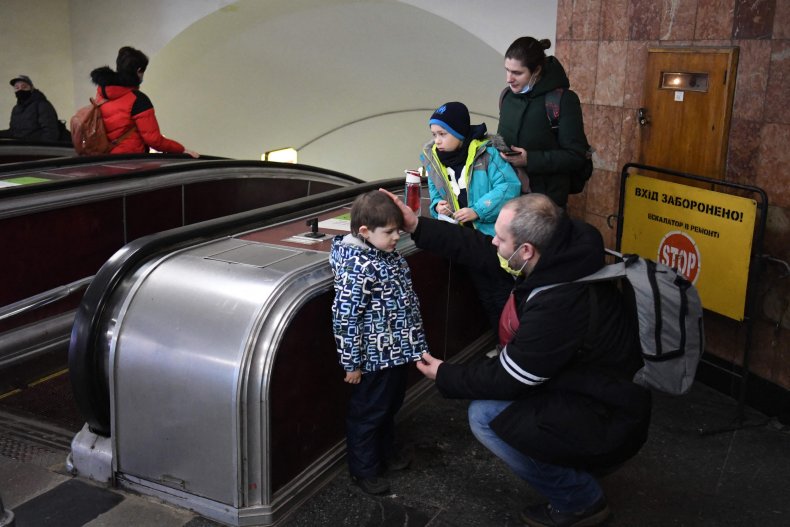 Update 2/24/22, 10:20 a.m. ET: This article has been updated to add pictures.
Update 2/27/22, 8:25 a.m. ET: This article has been updated to add additional sources.