How to Help the Victims of the Deadly Bronx Fire
As deadly fire and thick smoke tore through a Bronx apartment building on Sunday, at least 17 people were left dead and dozens more injured in the worst New York City blaze in decades.
New York City Mayor Eric Adams corrected original death total estimates from 19 to 17 on Monday, including nine adults and eight children. At least 60 more people suffered from smoke-related injuries while dozens are being treated in nearby hospitals in critical condition. Authorities have so far determined that the blaze at the Twin Parks North West busing on East 181st Street was likely caused by a malfunctioning space heater.
"It is going to show our resiliency as we help the families through this," Adams said as recovery efforts continued on Monday. "In the middle of such pain, we have witnessed such a high level of heroism from our hospital staff, the doctors, the nurses, the administrators, who are already going through a crisis with the pandemic."
Here are some ways to help as communities come together to offer their support to the victims of the disaster: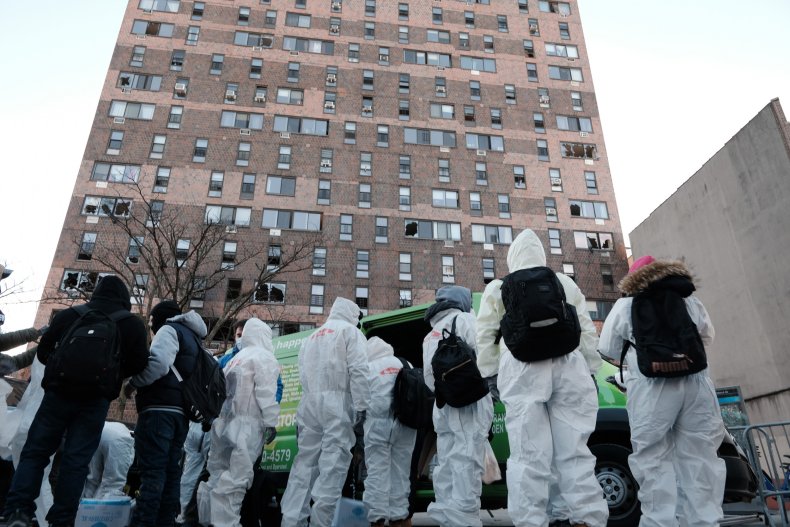 Ways to Donate:
The Bronx Democratic Party: The party on Monday said it is collecting donations and relief supplies, including clothes, gift cards, baby items, and toiletries, at various locations until January 14.
Mayor's Fund to Advance New York City:
Mayor Adams set up an online page for people to send in financial donations. Money donated will be used to distribute "emergency relief supplies and provide support for the victims and their families."
Gambian Youth Organization:
A local nonprofit community organization started a GoFundMe page to raise money to support families and victims. The organization said some of its members had been affected by the fire and had raised over $450,000 by Monday morning. The organization is also collecting food and clothing donations at its community center at 214 East 181st Street in the Bronx.
American Red Cross
The American Red Cross is collecting water bottles, blankets, pillows, personal hygiene items and personal protective equipment at P.S. 391 on 2190 Folin Street in the Bronx, according to New York State Senator Alessandra Biagi.
The Global Empowerment Mission
The Global Empowerment Mission has set up an online fundraiser to collect money for victims of the fire. The non-profit has so far committed $100,000 in cash cards for all the displaced apartment residents. They will also be providing kits of necessary items, such as food, water, and clothing, for each family.