'How I Met Your Father': Every Clue That Points to Who the Daddy Is
Season 2 of How I Met Your Father is well underway and has teased even more possibilities for the future of Sophie Tompkins' (Hilary Duff) love life.
The Hulu series is a spin-off of How I Met Your Mother (HIMYM) and, like Ted Mosby before her, Older Sophie (Kim Cattrall) is explaining to her son the story of how she came to meet his father, with several characters already in the running.
Episode 3 of the show premiered on the streaming platform on February 7 and gave some new clues as to who the father could be.
Warning: This article contains some spoilers for How I Met Your Father Season 2 Episode 3.
Every Clue That Points to Who the Daddy Is in How I Met Your Father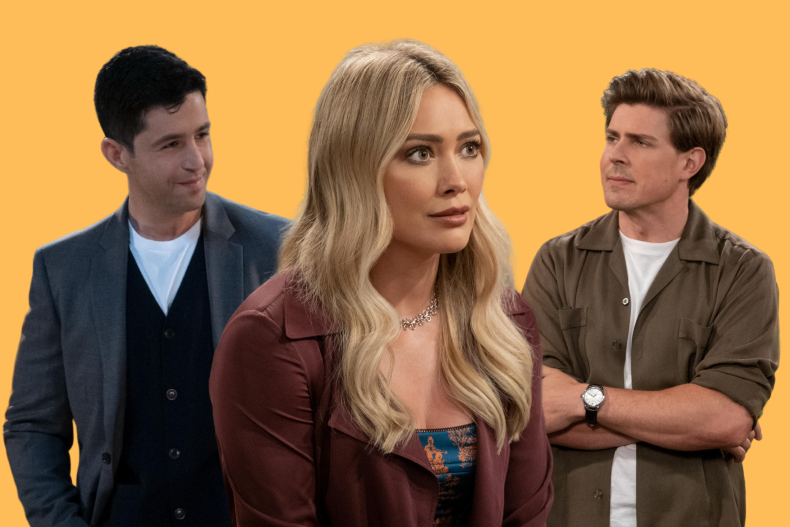 Season 1 of How I Met Your Father saw Sophie reveal that she met her son's dad at Sid and Hannah's engagement party, giving viewers the chance to speculate which potential suitor could be her endgame.
Several proved to be in the running during the first season, and Season 2 has suggested that others may well also come into play.
Here's how all the candidates measure up and what clues have been given to suggest they could end up being Sophie's one true love.
1. Jesse
Jesse (Chris Lowell) has huge potential to end up being Sophie's baby daddy, especially because Season 1 saw her admit to Robin Scherbatsky (Cobie Smulders) that she was in love with him.
Sophie went so far as to break up with Drew (Josh Peck) because she had kissed Jesse and felt she wanted to take things further. The pair did end up going on a date and sleeping together, but Sophie got scared when Jesse said "I love you" while asleep.
It proved too soon for things to work out for the pair, though, as Jesse kissed his ex-girlfriend Meredith (Leighton Meester). But Season 2 suggests that there is potential for them to get back together.
In Episode 3, titled "The Reset Button," Sophie explains to her son how she and Jesse were able to start their friendship over, and it is revealed that in 2050 she still has a picture of Jesse hanging in her home.
Jesse and Sophie are the most like HIMYM's Ted and Robin, who ended up being endgame in the original series. However, there was some backlash from fans over this decision, so things might potentially not pan out in the same way in the sequel.
2. Drew
Drew and Sophie's romance may have met an abrupt end in Season 1 of How I Met Your Father, but things aren't over between the two.
The characters are currently friends, though Drew told Sophie how he was still upset about their break up in the first episode of Season 2.
So far, Sophie's romance with Drew is the most serious relationship she's had, so there is potential for them to get back together in future.
3. Ian
Ian (Daniel Augustin) was Sophie's Tinder date who ended up going to Australia for work at the start of Season 1, but he made a return in the finale and premiere episode of Season 2.
The character admitted to Sophie that he was still interested in her and would love to give their romance another try, however Sophie said that she wasn't ready for another relationship.
Despite this rejection, Ian is still a potential candidate as the father of Sophie's son.
4. Charlie
In Season 1, Charlie (Tom Ainsley) and Sophie's roommate Valentina (Francia Raisa) are in a relationship, but they broke up by the finale.
Valentina proves she's ready to move on from Charlie in Episode 3 of Season 2 as she goes on a date with a person Sophie described as being so boring they only remember him as "rando."
By the end of the episode, Valentina admits to Sophie that she thinks she and Charlie will get back together. when Sophie comments on if her friend is not worried about him finding "someone new," Valentina says she thinks she has time because Charlie won't go on the dating scene for a while.
However, the episode ends with Charlie making the decision to get back out there, romantically speaking, meaning that he could potentially end up in a relationship with Sophie. This would certainly make for an interesting love triangle in the show.
5. Sid
Sid (Suraj Sharma) currently seems to be the least likely candidate to be the father of Sophie's child, due to his relationship with Hannah (Ashley Reyes).
The pair ended up eloping at the end of Season 1, and Season 2 sees the couple try to navigate their long-distance relationship while married.
At the moment, Sid and Sophie seem to only have a platonic interest in each other, so unless something dramatic happens to put them together it is unlikely that Sid will end up being the father.
6. Barney
The premiere episode of Season 2 saw Neil Patrick Harris return as Barney Stinson, a role he originally played in HIMYM.
Barney was driving a car that Sophie had crashed into while on the phone to her mother, where she explains that she is potentially dating her father.
Whether Barney ends up being a future romantic partner to Sophie will be revealed in later episodes, though he is not going to be the father she accidentally dates according to the show's creators.
Co-creator Isaac Aptaker told TVLine that Barney will instead "have a major impact on the trajectory, and main narrative, of our season," so... watch this space.
How I Met Your Father airs Tuesdays on Hulu.