Tracing Jon Stewart's Trail of Destruction and Evisceration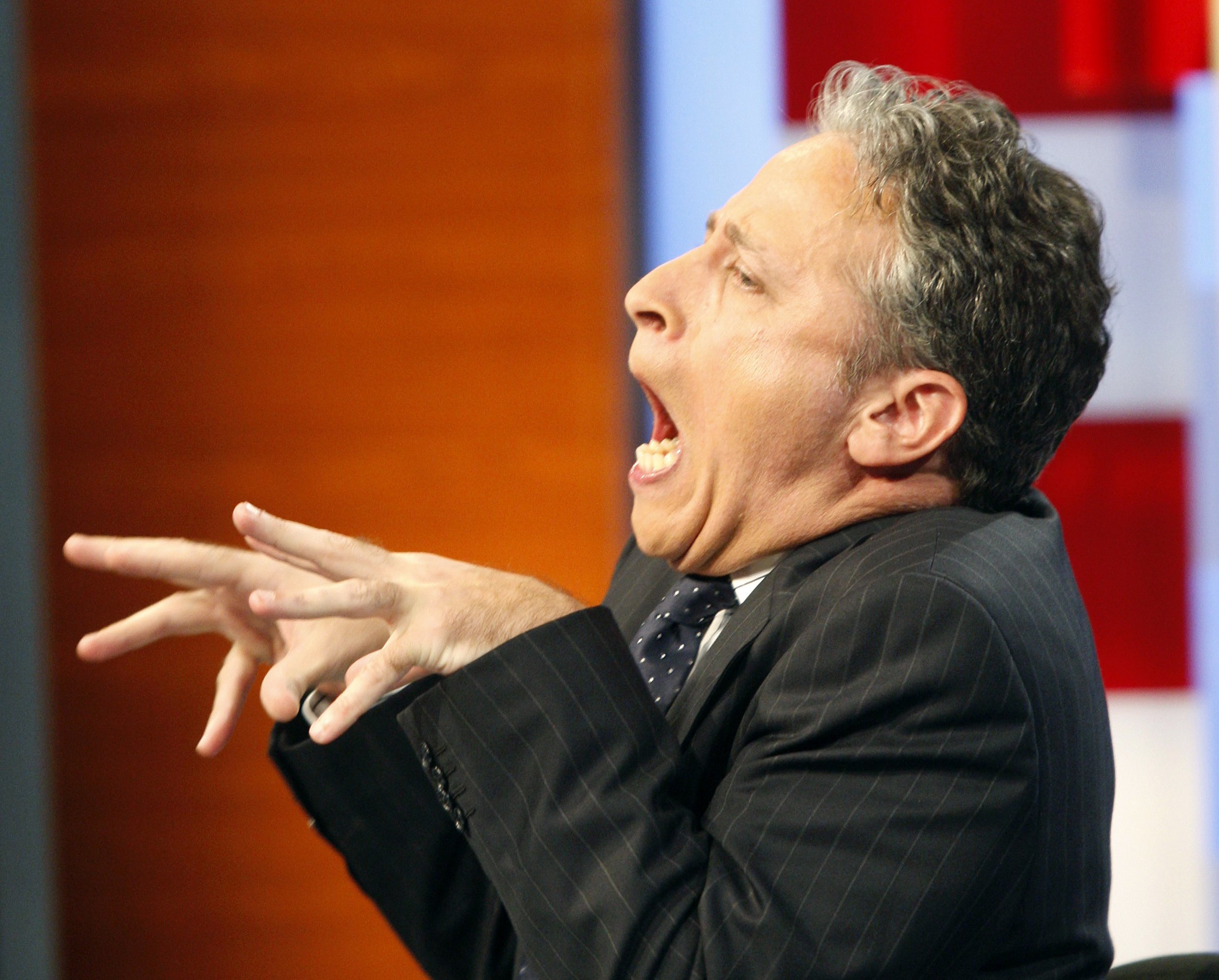 This week, Jon Stewart will finally stop destroying things.
He will stop annihilating, disemboweling, smashing, demolishing and eviscerating things too. At last, after Thursday night's episode, the long-serving Daily Show host's reign of violence and terror comes to a close.
If you've browsed the Internet any weekday since, let's say, 2009, you might know what I'm referring to. The rise of Stewart's Daily Show has also been the rise of a curious—and curiously obnoxious—headline trope. The format is pretty simple: (1) Jon Stewart, (2) aggressive verb, (3) proper noun, (4) brief explanation.
In other words, start with Stewart (occasionally, one of his correspondents will be substituted), choose a ludicrously violent verb for attention-grabbing effect (have you used blowtorch recently?), give the object of Stewart's liberal ire (frequently Fox News) and then provide pocket-sized context. You can practice this at home, and probably should, if you want to know how to generate lots of Web traffic in a content-producing capacity.
Salon.com is a pioneer of the literary genre, as we noted in the 2014 roundup "Jon Stewart Is a Violent Sociopath Who Must Be Stopped." Two tweet examples:
When did this start? I don't mean Stewart's hosting tenure—that's easy to trace (first show: January 11, 1999). But when did he start destroying and obliterating and annihilating and generally engaging in the sort of nominally violent behavior any good pacifist liberal can get behind?
First, some media background. When Stewart began hosting The Daily Show in early 1999, TV recaps (and easily embeddable videos) were not yet part of the Internet news metabolism. Search Google News for Jon Stewart posts from those early years and you'll instead find reported pieces about "comedy darling" Stewart and lengthy magazine profiles, like a 5,000-word New Yorker account of The Daily Show's reaction to September 11.
But the latter half of Stewart's tenure as Daily Show host has neatly coincided with the rise of viral media, in both video and written form. During this period, Internet media giants like The Huffington Post and BuzzFeed have mastered the art of exaggerating a headline as strategically as possible so as to maximize traffic and social media shares. BuzzFeed does not post images of puppies that are OK to look at; it posts images of puppies "who are so cute they will make you mad." Upworthy doesn't share speeches that are thoughtful and amusing; it shares speeches that are "earth-shatteringly amazing" enough to "change the way you think about adulthood."
So where does Stewart fit into this? He is the first late-night host to create incisive, bite-sized segments that seem in some ways custom-made for the viral Web. They're short, they're funny, and they express a smart, topical political statement (or, OK, an "amazing point" that "nobody's talking about") that's liberal-minded but not too lefty. At best, they illustrate some mind-numbing hypocrisy. Consider Stewart's 2013 bit reporting on gun violence the way the media was reporting on "the knockout game," or look at Jessica Williams's brilliant 2014 segment on stop-and-frisk. These types of segments have helped revolutionize the relationship between late-night TV and the Internet. They translate into tight, can't-lose viral content, so it's no wonder that dozens of websites feverishly rush to post Daily Show clips the morning after.
It helps that Stewart is more than a comedian—he's a widely trusted news source among the millennial audience that so many "real news" publications are desperate to tap. (In other words, millennials, it would seem, trust Stewart more than they trust some of the news sources that are delivering Stewart clips to them in blog-post form because millennials don't have cable.) And since hyperbolic headlines are believed to be the best way to reach this generation, it's necessary to recast Stewart as a violent yet ultimately noble crusader. What a previous era might have called a thoughtful critique is now merely another instance of Jon Stewart "destroying," "eviscerating" and so on.
Let's trace the phenomenon. Early Daily Show recaps had pretty literal-minded headlines: "Laughing at Saddam's Expense," "John Kerry's Comic Interlude." Worse, these articles don't contain video embeds—hardly very shareable. (I'm not sure when easily embeddable video clips became the norm on the Daily Show's website, but they're not new; a glimpse at the archived site shows at least one video link highlighted at the top of the page as early as 2001.)
Then came the autumn of 2004. That year's election was a watershed moment for Stewart's coverage. It was also a particularly shrill and divisive moment for national political rhetoric. The era produced one of Stewart's most iconic television moments, but it came outside the confines of The Daily Show: It was the host's October15, 2004, appearance on CNN's Crossfire. Stewart was ostensibly going on the show to promote his new book, America (The Book): A Citizen's Guide to Democracy Inaction. But he surprised hosts Tucker Carlson and Paul Begala with a heated plea to "Stop, stop, stop, stop hurting America." Over the course of a lengthy exchange, Stewart told the hosts what he really thought: that they're a bunch of partisan hacks.
Was this Patient Zero for Stewart's record of destruction? Consider the headline of a post that appeared the same day on MTV.com: "Jon Stewart Bitchslaps CNN's 'Crossfire' Show." The next day, a site called All-Encompassingly pioneered the first known appearance of the "Jon Stewart Destroys" headline trope. CBS used "Jon Stewart Roasts Real News" the following week, while the liberal blog OpEdNews chose a particularly eye-grabbing verb: "Jon Stewart Castrates CNN's 'Crossfire.'"
Stewart did not, to Newsweek's knowledge, literally castrate anyone in 2004, but he did realize that he is good at Destroying Things (read: issuing takedowns), and somewhere along the way the online media establishment realized it is good at telling readers about What Jon Stewart Destroyed. In 2006, Stewart "blasted" CNN, "slammed" coverage of the Lebanon War and "blasted" Congress's hearing on video game ratings.
And so it caught on. In the late 2000s and early 2010s, Daily Show recaps simply became a routine morning task for low-level bloggers, interns and content producers. (The Huffington Post, which began running regular Stewart posts in 2008, seems to have been a pioneer.) Young reporters don't get their start covering school board meetings for a hometown paper anymore. They get their start writing Daily Show recaps. It's lazy but innocuous—and guaranteed to drive some traffic.
As sites fought to grab your attention from competitors that were posting the same exact clips, headlines became more and more grotesque. At best, the headline trope highlighted Stewart's rare penchant for channeling unadulterated rage. Here are some sample headlines from 2009, a big year for the blossoming Jon Stewart cottage industry:
In 2010, Jon Stewart finally noticed the trend. "I was surprised the [Bill] O'Reilly interview took place at all," he joked on the show, "because I thought Fox News was gone, seeing as I myself had destroyed it just last week." A Huffington Post headline flashed on screen: "Jon Stewart Destroys Fox News for Reveling in Scott Brown."
Stewart boasted of even more violence: "I have disemboweled, I have mauled, I have hammered, I have destroyed, I have ripped, I have slammed, and...I bitchslapped?"
It didn't go away. The headline cliché grew more and more ubiquitous between 2010 and 2014. Stewart pulverized and annihilated and ripped apart and destroyed and destroyed yet again. While The Huffington Post led the pack, Salon.com took the art form to new limits, tweeting absurdities like "Jon Stewart makes ground beef of Open Carry nuts who want to bring rifles into Chipotle" and "Jon Stewart firebombs GM for its corporate greed." Others on Twitter mocked the trope.
Just as the headline style started outside of the confines of The Daily Show, it expanded to other shows in 2014...or one in particular. Former Daily Show correspondent John Oliver debuted as host of HBO's Last Week Tonight in April of that year. Suddenly, it wasn't just Stewart who was eviscerating and murdering and ripping left and right for the benefit of the early-morning content grind—he had a rival. "That John Oliver's weekly video(s) will go viral is, at this time, a given," The Awl's John Herrman noted in October. "Whether or not the posts that embed those videos will go viral is another matter altogether." A nice grabby headline, like "John Oliver obliterates fashion industry: Your skinny jeans are made by child laborers," presumably helps. Fusion's Jason O. Gilbert even constructed a surprisingly lovely found poem from verbs used in these headlines.
Stewart confronted his history of destruction and evisceration again on Wednesday night's penultimate show. Assuming mock horror, the host noticed something startling: the terrible people and institutions he has "eviscerated" are still alive and well.
"What the fuck is going on here?" Stewart demanded. "The world is demonstrably worse than when I started!"
Bloggy headline constructions are worse too. Here's wishing Jon Stewart years of fruitful destruction and evisceration in his retirement years.