How 'Law and Order' Became 2020's 'Build the Wall'
Some campaign slogans never quite catch on. Others go viral.
President Donald Trump has firmly cemented himself in the latter category ever since "Make America Great Again" was printed across the front of thousands of red baseball caps during the 2016 race.
It was also in his first run for the White House that Trump gave his supporters the rallying cry "Build the Wall," a reference to expanding the barrier along the U.S. southern border to prevent the crossing of illegal immigrants. Then-candidate Trump once told the New York Times that whenever rally crowds started to lose interest all he had to do was mention the wall and they'd "go nuts!"
Now, four years later, the president is looking to recreate that energy with another three-letter mantra: "Law and Order."
"They do echo each other," Peter Levy, a historian at York College in Pennsylvania, said of the two phrases. "They're essentially two halves of the same coin."
Law and order became Trump's 2020 mantra in the wake of nationwide unrest over police brutality and racial injustice following the death of George Floyd in late May. While an overwhelming majority of protests this summer were peaceful—one study found that 93 percent of 7,750 demonstrations this summer remained nondestructive—Trump used the violence in areas such as Kenosha, Wisconsin and Portland, Oregon to revive the decades-old motto that helped Richard Nixon ascend to the presidency.
Both slogans are grounded in an "us versus them" mentality, experts say. With "Build the Wall," it's Americans versus foreigners. "Law and Order" pits families and homeowners against protesters and extremists.
"'Law and Order' appeals to a very similar demographic to those who would be responsive to 'Build the Wall,'" said Ciara Torres-Spelliscy, a professor at Stetson University's College of Law. "The whole idea is that you are appealing to people's fears."
Torres-Spelliscy, who was inspired to write the book Political Brands following Trump's win in 2016, called the former reality television star and real estate mogul the "most extreme version" of an on-brand president.
"He has enormous message discipline," she said. "He knows from his many decades as a commercial brander that the best way to get a message into the mind of the public and have it stick is to be repetitive."
Since the beginning of June, Trump has used the phrase "law and order" on Twitter at least 30 times. The mantra was a centerpiece of the Republican National Convention and was used in speeches by Trump, Vice President Mike Pence, campaign adviser Kimberly Guilfoyle and others. In a roundtable discussion with Latinos for Trump in Nevada earlier this week, the president used the phrase "law and order" no less than nine times in just 40 minutes.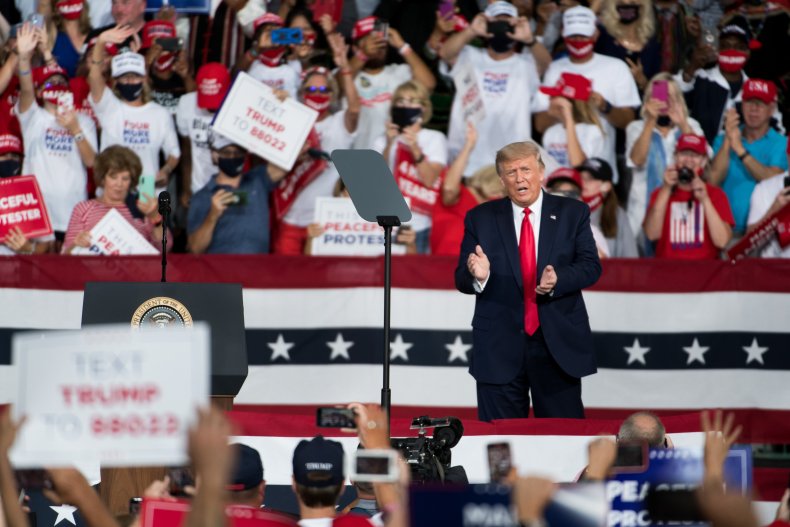 Even the Trump campaign store is filled with themed merchandise such as T-shirts with "Peaceful Protester" written across the front and bumper stickers that read "Build the Wall and Crime Will Fall."
"Donald Trump is nothing if not a good marketer," said Timothy Calkins, a marketing professor at Northwestern University's Kellogg School of Management. "He proved that in the first election, and you can see him doing the same thing heading into this election."
Part of Trump's success, Calkins said, is his ability to break through the clutter with concise messaging. He sets up a very clear choice for voters: you either support law and order or you're a proponent of anarchy.
In a campaign advertisement unveiled last Thursday, Trump again positioned himself as the "law and order" candidate. The one-minute clip shows footage from recent demonstrations, including protestors clashing with police in riot gear and engaging in vandalism. The title of the ad is "This Is Joe Biden's America" and it has been viewed at least 2.8 million times.
Biden, in an effort to not let Trump control the narrative, has repeatedly pushed back and condemned violence and looting of any kind. But Calkins said the former vice president hasn't managed to simplify his campaign message as effectively as Trump so far this cycle.
Nearly two-thirds of Americans are concerned about the issue of law and order, according to a Monmouth University poll released Monday. The survey, which was conducted in early September from among 867 U.S. adults, found that people were split on whether Trump or Biden was better suited to address the problem.
"The world has changed and so Trump has changed his message," the professor said. "Illegal immigration is not a top-of-mind issue for people right now. He needed to reframe the question, and that is exactly what he's doing."