How Long Will It Take to Rebuild Notre Dame? Local Experts Say Restoration Will Not Be Quick
One expert warned that restoring Notre Dame Cathedral following the damage caused by yesterday's fire could take as long as two decades.
French President Emmanuel Macron, addressing the nation shortly before midnight on Monday, vowed that the iconic cathedral would be rebuilt. Millions of euros have already been pledged from people around the world to restore the 850-year-old building, including around $330 million from two French billionaires.
But the fruits of such an outpouring of largesse may not be realized for quite some time.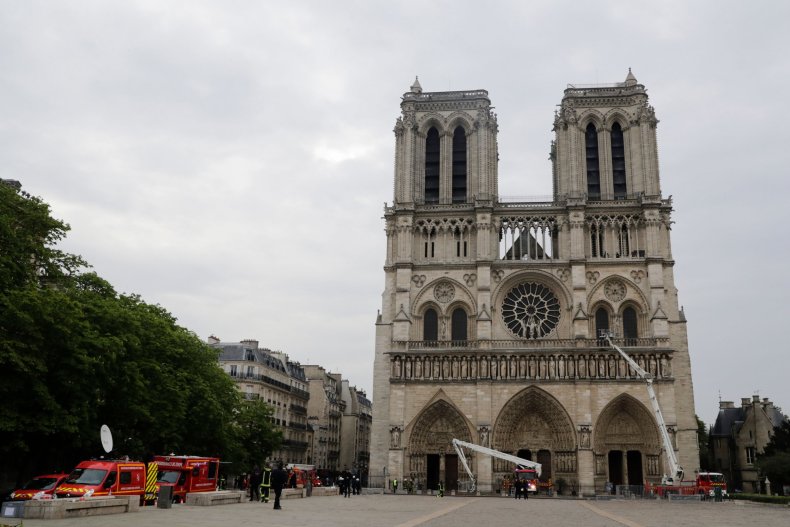 Heritage expert Stéphane Bern told Agence France-Presse that the job of reconstruction would be daunting and could "take a minimum of 10 to 20 years." He pointed to the length of time needed to restore the Cathedral at Reims following bomb damage during World War I.
Bern said: "There is no lack of money, but everything will take time. The frame, the vault, all need to be assessed as to how we should stabilize and secure them."
"Bear in mind that this kind of work on the Cathedral of Reims took 40 years," he said, Libération reported.
Bern was optimistic that the expertise existed within France to make the necessary repairs but insisted that wood, rather than a nonflammable substance like metal or concrete, should be used for the frame.
"Fortunately in France, we have the craftsmen, the stonemasons who have the required know-how. We will have to rebuild the vault, and of course, we must redo it identically. We must respect the [original] builders of the cathedral," he said.
He was in tears when he described to TV network France 2 how the destruction of the cathedral was unbearable and something that "affected us deeply." "It is more than a symbol. We feel bruised and hurt," he said.
It is too early to fully measure the extent of the damage, but the fire, which reached up to 800 degrees, is expected to have badly damaged the stone fixtures. Also, the large quantities of water needed to extinguish the blaze would have damaged the treasures contained in the cathedral's enclosure, Le Monde noted.
Le Télégramme pointed out that unlike cathedrals in other countries, Notre Dame belongs to the state, and so its restoration will have to follow complex rules surrounding state contracts.
This means that companies will submit bids for the work, and there will be a time-consuming process of subcontractors and other parties all vying to restore the world-famous monument. This will follow a lengthy process of preparatory work, including sanitizing and drying the soaked site. The investigation into the cause of the fire will determine insurance liabilities.
The news outlet added that certain parts of the cathedral could not be retrieved. Frameworks, in particular of the choir and the nave that date back to the 12th century, were lost in the blaze.