How Los Angeles Descended Into Neo-Feudalism—and How to Fix It | Opinion
For most of the last century, Los Angeles loomed as the next great American city, a burgeoning paradise riding the shift of world power west. It seemed posed to leave New York and London in the dust, the engines of growth inexorable. There was the city's dominance of the entertainment and aerospace industries, which incited migration from both the rest of the country and abroad, and all this promise was symbolized by a spread of suburban single-family houses that seemed to embody the ideal American dreamscape.
But today, it's clear that the Big Orange was not ready for its closeup. These days, Los Angeles is clearly on the decline, a fact that stems from a persistent lack of leadership, policy stumbles and growing competition from a whole rash of "new L.A.s," from Dallas-Ft. Worth to Nashville, Las Vegas and Phoenix.
The pandemic provides the most recent snapshot of L.A.'s troubled future. While the COVID-19 pandemic was driving people around the country to less dense places, the leaders of the city that invented the multi-polar urban model remain determined to continue their failing efforts to convert L.A. into a dense, transit-oriented Pacific Rim New York. Little consideration has been given to the the fact that Los Angeles had one-third fewer COVID-19 deaths than the New York metropolitan area—in part due to a relative lack of transit riders, warm weather, and the primacy of single-family homes.
Rather than seizing on the crisis to promote these elements, L.A. has managed to all but match New York's pandemic paralysis. Last year, it suffered a population outflow among the highest in country, basically matching New York's. It also has suffered the highest unemployment rate of the nation's top ten metro areas, higher even than New York, The Seidman Institute at Arizona State University found.
But the COVID-19 failures are part of a much bigger problem. Persistently weak leadership stands at the root of L.A.'s decline.
For much of the 20th Century, Los Angeles was led by aggressive business leaders. Many were self-made, often somewhat nasty moguls, men like Jack Warner, Walt Disney, Lew Wasserman, Mark Taper, Howard Ahmanson Sr, Donald Douglas, Jerry Buss. They faced derision from eastern elites but they didn't care; they consistently pushed for all the things that made for L.A.'s ascendency, from roads and bridges to arts institutions and glittering office parks to housing tracts.
Today there are few such figures. Once a beacon for up-and-coming companies, L.A.'s corporate community is diminishing, and the person who had the most potential, Elon Musk, recently announced his departure for Texas. Southern California is home to just 19 Fortune 500 companies today, equal to Denver and Seattle and roughly half the number in the Bay Area, Dallas and Houston, not to mention New York and Chicago. This year, a long time corporate power, the real estate firm CBRE, decided to move from its downtown L.A. office to Dallas.
The city's power vacuum has been evident for years. Even the Chandlers, widely considered the foundational geniuses or villains behind the "old L.A.," have abandoned their vehicle, the Los Angeles Times, to other owners. Local business organizations increasingly are led not by entrepreneurs with a large stake in the city, but by regional managers, lawyers, consultants, and professional meeting goers.
And you can see the demise of the city in the fate of Mayor Eric Garcetti, who started the last election season dreaming of becoming President. Garcetti has been reeling from his often-inept handling of the homeless crisis as well as the pandemic, which has been widely linked to the massive bankruptcies of small businesses.
More troubling still has been the decline in L.A.'s signature industry: entertainment. The increasingly woke nature of Hollywood may satisfy the glitterati's seemingly inexhaustible craving for respectability and acclaim, but the declining audience at the Oscars—down 58 percent from last year's disastrous showing—suggests that Hollywood is losing its place as the dominant cultural capital.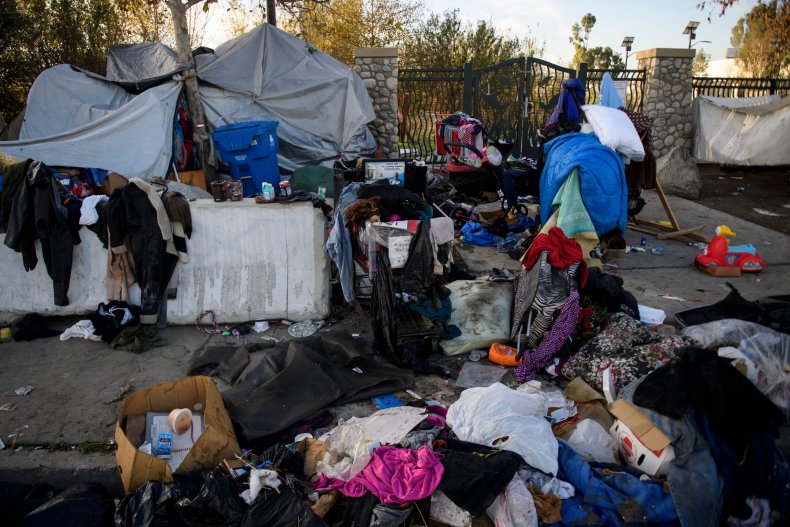 Today, most of the studios are owned by outsiders and increasingly take marching orders from Netflix and Amazon; the one company rooted here, Disney, is now considering moving more of their operations to the Lake Nona community in Orlando, while Tyler Perry, among the most creative minds in "Hollywood," now works out of a massive studio complex in Atlanta.
Rather than the middle-class utopia imagined in the last century, L.A. has become sadly more dystopic. It suffers from rising violent crime and a radically left-wing district attorney, George Gascon, who seems determined to lessen enforcement for non-violent crime and has even gone so far as to call for dismantling the county's gang unit (he settled for reducing it in size). LA County, half of which is made up by city residents, home to the top three most unsafe neighborhoods in the country.
The city is likewise beset by rampant inequality, visible in the festering, seemingly unresolvable homeless problem, whose population has risen to over 60,000 souls during the pandemic. A 2016 bond measure to the tune of $1.2 billion has been plagued by corruption, poor planning, and runaway costs, and done little to address the problem. In some inner city areas like Hollywood and Venice, the divergence between luxury developments and homeless encampments is as jarring as is the income gap separating them small.
The extent of homeless is so severe that some have raised concerns of a comeback of the bubonic plague associated with the Middle Ages; the city ranks second in rat infestation, just edged out by Chicago.
Los Angeles, of course remains a favored locale for the uber rich; a new report by data firm Wealth-X suggests that there were 16,295 homeowners with a net worth of over $30 million in LA as of December 2020. It's the second largest concentration in the world, just behind New York, and most of them are part-time residents. Meanwhile, among its full-time residents, Los Angeles ranks among the highest poverty rates for major U.S. metros.
The vast barrios of L.A. also suffer the highest rates of overcrowding, something that proved particularly devastating during the pandemic, where, according to Los Angeles County Department of Public Health data, the fatality rates in south central Los Angeles are ten times or more than what they were in affluent, less crowded Westside neighborhoods.
At root of this neo-feudal reality is an economy that no longer provides much opportunity for most residents. Over the past decade, according to research by Chapman University's Marshall Toplansky, the vast majority of L.A.'s new jobs in the area paid below the median income, many of them under $40,000. In contrast, creation of high wage positions has lagged the national average.
Upward mobility is also stymied by growing "energy poverty" linked to green policies as are the extraordinarily high home prices. L.A., according to a recent American Enterprise Institute study, ranks 48th out of 50 for the worst places for first time homebuyers. So it's not surprising that the region vies with New York for the highest percentage of people in their 20s and early 30s still stuck at home with their parents.
So how do we fix Los Angeles's new neo-feudalism?
The most important solution to the city's dystopic class divides is also the most obvious: creating more middle class and good blue-collar jobs for Angelinos and prospective newcomers. Green pietism, curbs on the enforcement of non-violent crime, density policies to peripheral growth as well as the massive spending on transit may sound good to the media claque, but they undermine the very fluidity and sense of personal freedom that made L.A., well, L.A.
To revive, L.A. must change direction. Pouring more money into transit, where $20 billion in spending has resulted in a smaller share of commuters than thirty years ago, is far less important than more prosaic things like fixing roads, filling potholes, enhancing telecommuting, reducing crime and working on new, innovative transportation like autonomous taxis.
The insane downtown fixation, the core priority of Garcetti and much of the media, has to end; it's now more the center of homelessness, crime, and overbuilt residential towers than a lure to either corporations or entrepreneurs.
In an era of increased telecommuting, it may prove more strategic to keep neighborhoods—including those areas with concentrations of talent—clean, safe, and appealing. New investment can be steered to working class neighborhoods where there's a willing workforce as well as the adjacent more blue collar Inland Empire, the one part of the region still gaining population, and, before the pandemic, new jobs.
Trying to force growth to a largely dysfunctional urban core or into dense "transit" nodes won't create a sun-drenched Paris or New York, but something closer to Mexico City, Mumbai, or Johannesburg.
But decline is not inevitable. L.A. still has great assets—lovely neighborhoods, the nation's dominant port, Hollywood and legacy industries, notably Space, that still lead the global market. The weather remains unsurpassed, the beaches alluring and the topography still spectacular.
Los Angeles may never achieve the dreams of Huntington, or pass New York as a world capital, but the prospect of a livable, and attractive future, a beacon to a new generation, is possible if we can only make an exit from political dogma and create it.
Joel Kotkin is the Presidential Fellow in Urban Futures at Chapman University and executive director of the Urban Reform Institute. His new book, The Coming of Neo-Feudalism, is now out from Encounter. You can follow him on Twitter: @joelkotkin.
The views expressed in this article are the author's own.