How Many People Should I Invite to My Wedding? How to Estimate Costs
Among the most stressful aspects of planning a wedding is determining costs and the guest list. Both can be a headache to work out but budgeting and deciding who to invite actually run parallel to each other.
Working with a wedding planner will help you navigate costs and work around a budget, which will ultimately help narrow down your guest list.
How Many People Should I Invite to My Wedding?
Your overall budget and the capacity limits of venues you're considering will help determine the guest list.
Speaking to Newsweek, celebrity wedding planner Colin Cowie—who boasts a star-studded list of private clients from Jennifer Anniston, Jennifer Lopez and Oprah to Tom Cruise, Michael Jordan and a host of other A-list celebrity names—said your guest list should be based on two factors.
They include: "How many people do you need to have (both sides of the family and mutual friends) and how much you can afford to spend. Your budget usually dictates how many people you can have," he said.
Liz Pruitt, a planner from Mavinhouse Events, told Newsweek your budget and guest list "go hand in hand" and "will help shape the venues and vendors you procure" as well as how many people to invite.
Determining who exactly to invite can be a whole other nightmare but "ruthless editing starts with your guest list," said Cowie, who suggested making two preliminary guest lists—one for people that have to be invited and another for the people you would like to include depending on your budget.
Kristina Kuusik, another planner at Mavinhouse Events, also told Newsweek, creating two separate guest lists—"A/VIP" list and "B" list—can be a good place to start.
She explained: "When deciding who to invite, think about the last time you saw/spoke with that person. If they have no idea what has been going on in your life over the last year, or you wouldn't consider inviting them to another personal event, you may want to consider cutting them."
Speaking to Newsweek, wedding planner Alison Laesser-Keck from Alison Bryan Destinations, said the guest count also depends on your personality.
"Are you the kind of person who gets overwhelmed with too many people around you, or do you do well in big groups? Most people don't realize that being introverted or extroverted can really impact the kind of experience you have on your wedding day," she explained, so you should carefully consider what type of experience would make you most comfortable.
Sometimes having a large number of guests can really limit your interaction with them individually. "So if you want to see everyone and spend quality time, either create a weekend of experiences or keep your list to VIP's," she advised.
The venue and destination you choose for the wedding will also help determine your guest count. "You should also be considering access to transportation and hotel rooms before you send a save-the-date [notice]," she said.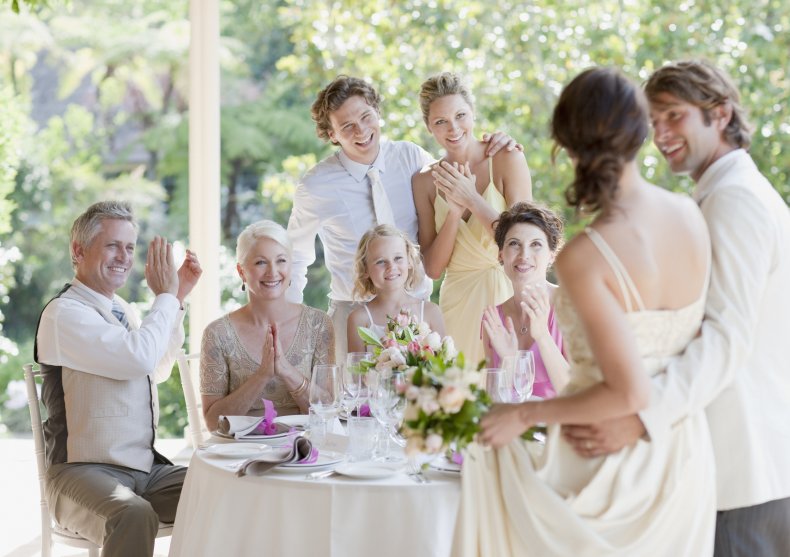 How to Estimate Costs for a Wedding
Cowie said: "Planning a wedding is like building a house. You need to have a strong plan and a comprehensive budget in place before getting started."
There are a lot more expenses to bear in mind, including food, beverage, florals, equipment rentals, venue hires and entertainment. Be sure to consider additional costs, such as dresses, tuxedos, gifts and insurance, he added.
"A wedding is not a single expense. It's the culmination of everything. With that said, venue and catering usually takes the biggest portion of the allocation," according to the celebrity wedding planner.
Don't forget to factor in other expenses such as gratuity, overtime for musicians or the venue, transportation for the wedding party, rehearsal dinner costs and gifts for out-of-town guests, he said.
Choose Your 'Wow' Moment
Cowie said: "I always advise couples to have a 'wow' moment at the ceremony and reception. You want guests to walk and say 'Wow, I can't believe they did that.'
"Your 'wow' factor does not have to cost a lot of money; it just needs to make a statement. I always advise couples to cut the coat according to the cloth," he added.
For example, if you can't afford a seated dinner, go for a lounge environment with tray-passed appetizers and food stations. This way you spend less on equipment, florals and service, Cowie explained.
Prioritize What's Most Important to You
Pruitt and Kuusik from Mavinhouse Events said: "Prioritizing what is most important to you as a couple is our strategy. These decisions and 'key aspects' are different for everyone."
For example, some people may really want a live music band and are happy to cut back on flowers to balance their budget. Others may have their heart set on a certain venue and may be willing to sacrifice a Saturday wedding in September for a Friday wedding in July just to secure their dream location.
Laesser-Keck also said it's best to "sit down and think about your needs, goals, and priorities. If you are on a fixed budget, you should be focusing on guest count as your number one strategy."
She advised putting all the different requirements for your wedding into a spreadsheet and allocating the budget accordingly from there. "While you may not know the difference in cost between a 3-star or 5-star vendor or company, for example, you can then at least begin to do your research and see how different fees might impact your overall budget."
You will always have to make concessions and will never be able to have the best of everything but "that's okay...not everyone wants to spend that amount of money, so the best thing to do is to determine your 'must haves'...that's how you stay on budget," she said.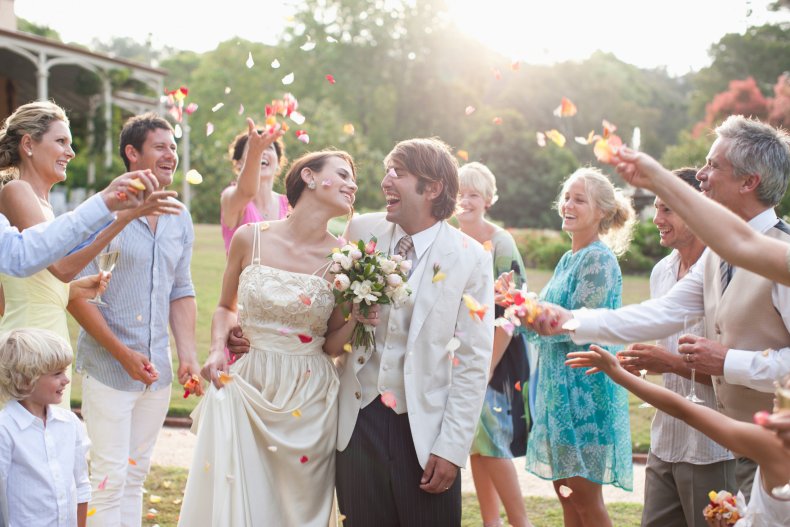 What's Worth Spending Money on for a Wedding?
Quality of Service
One of the most expensive parts of a wedding is definitely the venue and/or catering, which can take up as much as 40 to 50 percent of your budget, while the proportion of the cost for everything else varies according to people's priorities, Laesser-Keck explained.
"Some people will spend more money on flowers, and some on entertainment—there is really no wrong answer here. The biggest thing to be aware of is that cost is entirely associated with quality of service. It is a huge misconception that spending a lot of money on the wedding equals more 'stuff,' when in reality, it usually means a higher quality of service," she noted.
Your wedding budget should be viewed in the same way you would compare a 3-star hotel with a 5-star hotel, in terms of what you get for your money. "A 5-star hotel is always better than a 3-star in terms of service and therefore it costs more," she said.
Napkins
Pruitt said anything "guests will touch and feel, like a napkin," is worth spending your money on. Choose a napkin that has a texture or color that adds to its overall design.
She explained: "A napkin is a detail you know won't have a chance of being overlooked. Every guest will interact with it and if it has an elevated feeling it can add a richness to their dining experience.
"Depending on what you choose, this does impact your budget, but is much less costly than upgrading your linens," she added.
Invitation Suites
Pruitt said: "If you are looking to set the tone for your wedding up front, send an impressive invitation suite." Custom suites allow you to reflect your style and be more creative than any typical invite.
Since you need these pieces for every guest, invitation suites can become costly. But you're "giving your guests an experience" with invitation suites, as "they'll anticipate all of the spectacular details you have planned for the big day," Pruitt noted.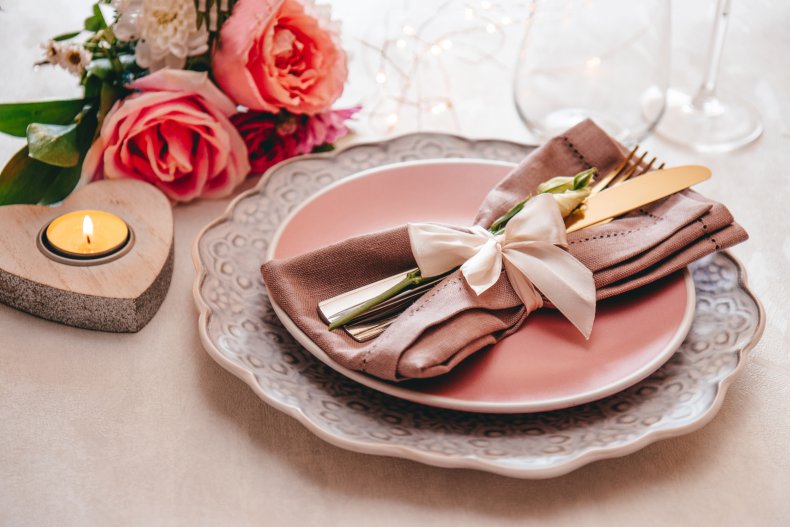 Lighting
While lighting may seem like a minor detail, "neglecting it can make that beautiful design you've spent months creating look lackluster," Pruitt said.
"Whether it is simple uplighting, a ceiling of chandeliers, or moving dance floor lights, skimping here can really impact the mood you are looking to create," she added.
Photography and Videography
Photos and videos of your wedding will last a lifetime as memories you'll want to reminisce on, so it's worth the money you spend on it, according to Kuusik.
"You also spend most of your day with these vendors, so investing in good, personable ones will help you enjoy your day that much more," she said.
Food and entertainment are also important aspects to spend your budget on, as both of these will be something that you all remember as "the best part" of the wedding day, she added.
What's Not Worth the Splurge?
'Save the Date' Wedding Cards
Contrary to splurging on invitation suites, "save the date" cards are one area where going digital can be a real budget saver, according to Kuusik and Pruitt.
"The job of notifying guests of a date is so small, and you can easily reallocate that budget towards a velvet tie or a beautiful response card for that custom watercolor invitation suite," they said.
Wedding Favors
There are many ways by which you can give guests a thoughtful takeaway from your wedding without breaking the bank, such as "a unique escort display—like a small jar of honey made on site-that doubles as a favor—will knock out two budget line items," said Kuusik and Pruitt.
Or simply go without any wedding favors. "If you show guests you have thought of them and are thankful for their support throughout the day, they will hardly be missing that miniature succulent when they leave," the planners noted.
Wedding Ceremony Programs
Ceremony programs can be a wonderful detail if you're hosting a traditional cultural wedding service, with which many guests may not be familiar. Otherwise, wedding programs are used for such a small amount of time that they won't be appreciated the same way your other paper details may be, said Kuusik and Pruitt.
Other Key Factors to Bear in Mind
Not knowing the true value of your wedding venue, and what it includes, can impact your wedding budget more than you can imagine, warned Laesser-Keck.
For example, if a wedding venue is a blank slate, you have the opportunity to personalize it in the way that you'd like. But this means you also are responsible for bringing in everything needed to make your guests comfortable. "Something so simple as air conditioning can be $25,000 in certain locations," she noted.
"Really try to weigh the pros and cons of every decision you make. Weather can impact your budget more than you can even imagine. There are cost-savings strategies all over the place, but you have to be knowledgeable about the full picture in the very beginning, and ideally before you sign a single contract," Laesser-Keck said.
Below are some other key points to consider when planning a wedding, as explained by Kuusik and Pruitt:
Peak wedding season is June to October. So generally, the minimum spend will be set higher during this period.
Venues often have reduced rates and lower food and beverage minimums for the winter and spring.
Remember that you don't know your final guest count until a few weeks out, so a large piece of your budget (i.e. catering) can quickly change.
Keep in mind the more vendors you have (i.e. band vs. DJ), the more vendor meals you'll have to account for.
Like seasonality, day of the week often changes pricing as well (Friday/Sunday vs. Saturday).
Update/Correction 1/27/22, 10:30 a.m. ET: This article was updated with comment from Alison Bryan Destinations.