How Matt Amodio's Final 'Jeopardy!' Cash Total Stacks up Against the Greats
While Matt Amodio's Jeopardy! win streak came to an end on Monday night's episode, his name will forever be etched in the show's history books.
The artificial intelligence researcher, who is a Ph.D. candidate at Yale, walked away from with an impressive 38 consecutive wins in his pocket, after he was defeated by actor Jonathan Fisher.
Amodio's win total places him firmly in second place in the Jeopardy! hall of fame, sitting far behind all-time champ Ken Jennings with 74 victories, and a few steps ahead of James Holzhauer's third-place record of 32 games.
But the Ohio native will also return to his Connecticut campus with handsomely lined pockets, after bagging himself a total of $1,518,601.
The jaw-dropping haul means that he is now in third place when it comes to most money earned in Jeopardy! regular-season play.
Unsurprisingly, Jennings also dominates that section of the table, thanks to his $2,520,700 earned from his 2004 stint, closely followed by Holzhauer, who clocked up $2,462,216 with a series of big wagers when he appeared on the show in 2019.
Though his earnings are significantly less than what The Chase stars Jennings and Holzhauer pulled in during their time on the show, Amodio still stands in rarefied company, as the three men are the only contestants to have crossed the $1 million mark during regular season play in Jeopardy! history.
To show how far away Amodio sits on the table from the other contestants, Jason Zuffranieri sits in fourth place on regular-season play cash earned with a total of $532,496 from the 19 games he won back in 2019.
Julia Collins, who stands in fourth place in the win streak leagues with a total of 20 consecutive victories, takes the sixth spot in the cash leagues with $428,100.
Last week, Amodio was seen hitting a milestone, when he earned $83,000 in one episode—his most in a single outing.
However, he did little to dent the Jeopardy! all-time table, as Holzhauer holds the top 10 spots in most cash earned in a single episode of regular play on the show.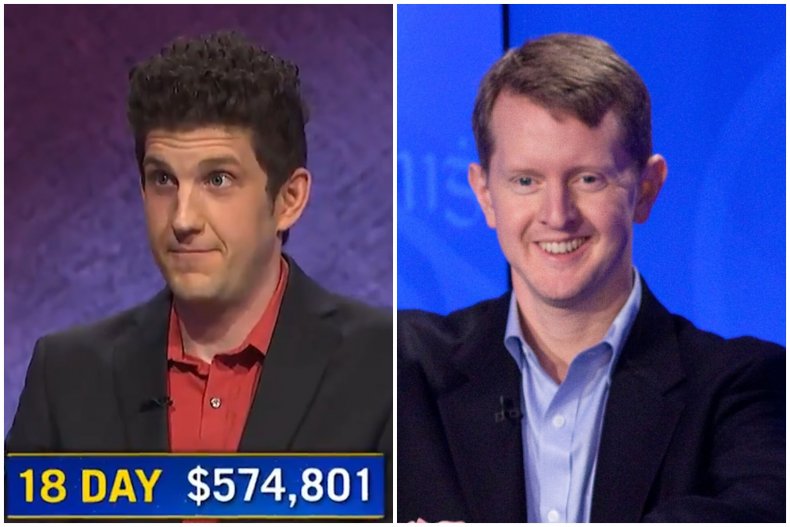 Holzhauer's highest single episode earnings stand at an awe-inspiring $131,127, while the lowest of his top 10 entries is $89,229.
Since Amodio's defeat on Monday night's Jeopardy! it has been announced that he will be returning to screens in the "Tournament of Champions."
His participation in the tournament, which likely won't hit screens until next year, will give him the opportunity to boost his overall earnings considerably.
On the Jeopardy! table of all-time winnings including tournaments, Brad Rutter sits at the top spot with $4,938,436, followed by Jennings' $4,370,700 and Holzhauer's $2,962,216. Without having yet participated, Amodio sits in fourth place for overall cash earned.
In a recent interview with Newsweek, Amodio revealed that he doesn't plan to do anything particularly extravagant with the money he has earned on the show.
"I know it's a boring answer, but I'm going to save and invest it," he said. "The future is full of uncertainties, and I am going to be fortunate enough to have security going forward.
"My friends and family have all commented that they do not know anybody who would change their lifestyle less than me after a life-changing influx of money."