How Much Less Will Hearing Aids Cost With Over-the-Counter Option?
The Food and Drug Administration (FDA) announced Tuesday that some hearing aids will now be available over the counter, which will lower the cost by thousands of dollars.
In a statement, President Joe Biden said that the new ruling will deliver "nearly $3,000 in savings to American families for a pair of hearing aids."
Similarly, Brian Deese, the White House director of the National Economic Council, tweeted: "By Oct, people can buy many hearing aids OTC, saving an avg $2,876/pair."
In a report from 2016, the National Academies of Sciences, Engineering and Medicine said that "the average retail price for a pair of hearing aids in 2013 was $4,700, which reflected the cost of both the hearing aids and professional services."
The announcement by the FDA on Tuesday comes after Congress passed the Over-the-Counter Hearing Aid Act in 2017, which called on the agency to allow for the over-the-counter sale of hearing aids. Biden issued a similar executive order in 2021.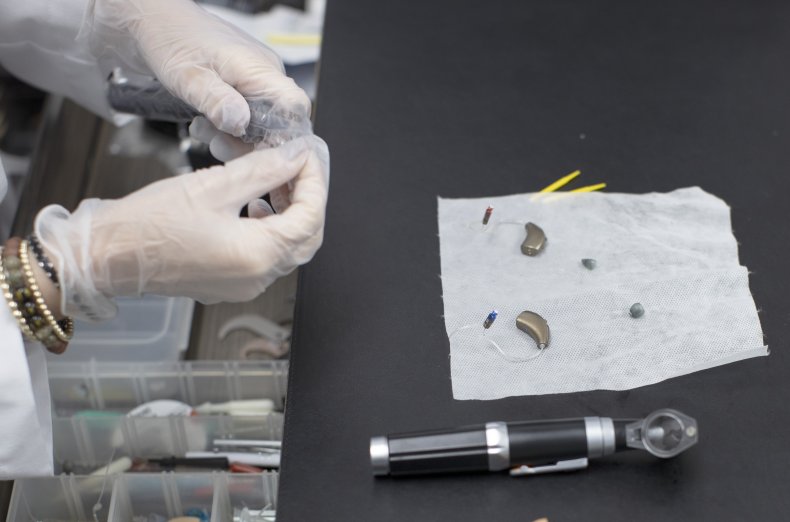 In a press release on Tuesday, the FDA said: "The rule is expected to lower the cost of hearings aids, furthering the Biden-Harris Administration's goal of expanding access to high-quality health care and lowering health care costs for the American public."
The statement added that over-the-counter hearing aids should be available for sale "in traditional retail and drug stores as soon as mid-October when the rule takes effect."
Newsweek reached out to the FDA for comment.
In the press release, FDA Commissioner Robert M. Califf said: "Establishing this new regulatory category will allow people with perceived mild to moderate hearing loss to have convenient access to an array of safe, effective and affordable hearing aids from their neighborhood store or online."
He added: "Hearing loss is a critical public health issue that affects the ability of millions of Americans to effectively communicate in their daily social interactions."
During a media call following the ruling, Health and Human Services Secretary Xavier Becerra said, "Today is a stand-out day," adding that the ruling provides Americans with better health care "for less costs."
"Over-the-counter hearing aids, get ready folks, you're gonna get to save a lot of money and we're all gonna benefit," Becerra said.
Newsweek was directed to the media call after reaching out to the FDA for further comment.
According to the FDA's press release, Tuesday's new ruling could potentially help nearly 30 million Americans that are in need of a hearing aid. It also noted that this will apply to "certain air-conduction hearing aids intended for people 18 years of age and older who have perceived mild to moderate hearing impairment."
"Hearing aids that do not meet the requirements for the OTC category (for example, because they are intended for severe hearing impairment or users younger than age 18) are prescription devices," per the FDA statement.
Update 8/16/22, 2:05 PM ET: This story has been updated with additional information.