As cases of monkeypox continue to spread around the world, officials continue to stress the need for people to receive a vaccine, however, the U.S. currently has a stockpile of vaccines that are not being used.
According to data from the U.S. Centers for Disease Control and Prevention (CDC), there are currently over 25,000 confirmed monkeypox cases across the globe, including over 6,000 reported in the U.S.
"Monkeypox is a rare disease caused by infection with the monkeypox virus. Monkeypox virus is part of the same family of viruses as variola virus, the virus that causes smallpox. Monkeypox symptoms are similar to smallpox symptoms, but milder, and monkeypox is rarely fatal," the CDC said in a frequently asked questions page on the current monkeypox outbreak.
The CDC also states that vaccines previously used to treat smallpox can be used for monkeypox. "The U.S. government has two stockpiled vaccines—JYNNEOS and ACAM2000—that can prevent monkeypox in people who are exposed to the virus. Vaccines may be recommended for people who have had or may have contact with someone who has monkeypox, or for healthcare and public health workers who may be exposed to the virus," the CDC said.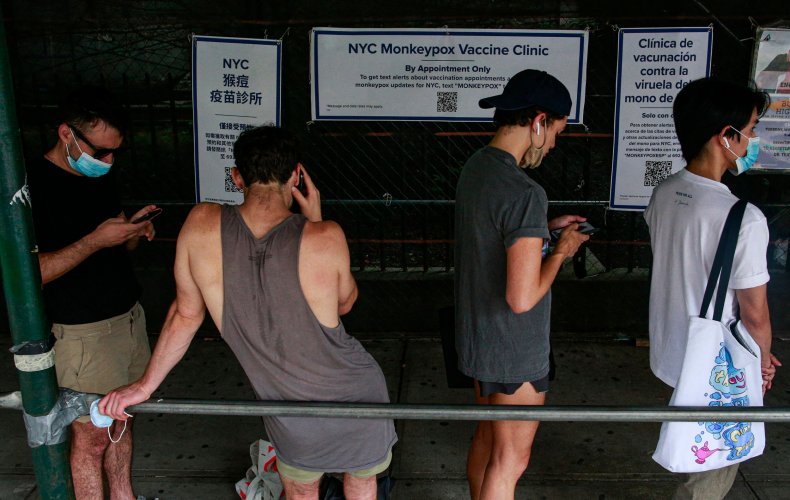 As the CDC noted, the U.S. currently has a stockpile of over 100 million doses of the ACAM2000 vaccine, however, according to the FDA, the CDC "currently has an expanded access Investigational New Drug protocol, which allows use of ACAM2000 for monkeypox," indicating that it is not being as widely used as the JYNNEOS vaccine.
The FDA states that "ACAM2000 is administered differently than the typical "shot" associated with most vaccinations. A two-pronged stainless steel (or bifurcated) needle is dipped into the vaccine solution and the skin is pricked several times in the upper arm with a droplet of the vaccine."
Officials with the FDA and CDC have encouraged caution when administering or receiving the ACAM2000 vaccine, as it could cause "myocarditis and pericarditis."
In a statement sent to NewsNationNow, CDC spokesperson Kristen Nordlund said, "If there are requests from states or territories requesting the ACAM2000 vaccine, CDC will work to ensure that individuals are fully informed on the benefits and the risks before receiving the vaccine."
Nordlund continued, "ACAM2000 carries greater risk of certain serious side effects than Jynneos and cannot be provided to individuals who are immunocompromised or who have heart disease."
In response to Newsweek's request for comment, Nordlund said that to date, none of the individuals part of the current monkeypox outbreak have been inoculated with the ACAM2000 vaccine.
In addition to the two vaccines, the CDC also said that it has a stockpile of an antiviral treatment called TPOXX.
"CDC currently has an expanded access Investigational New Drug protocol which allows its use for monkeypox," the CDC said.