This Is How Many Monkeypox Vaccines Have Been Sent to Each State
As monkeypox continues to spread around the world, countries are buying millions of vaccine doses to protect at-risk populations.
As of July 20, there were more than 15,300 confirmed monkeypox cases globally in the current outbreak, according to the U.S. Centers for Disease Control and Prevention (CDC)—almost all of which had occurred in countries that have not historically reported monkeypox. Of that total, over 2,300 were reported from the United States.
On July 15, the U.S. Department of Health and Human Services (HHS) announced that the government had ordered an additional 2.5 million doses of the Jynneos vaccine that can be used to protect against monkeypox, bringing the eventual national stockpile to nearly 7 million by mid-2023.
Of those, only a fraction have been made available to states since late May, with 191,372 distributed by the HHS Office of the Assistant Secretary for Preparedness and Response as of Wednesday. Essentially all states in the country have now received doses, though the amount differs widely.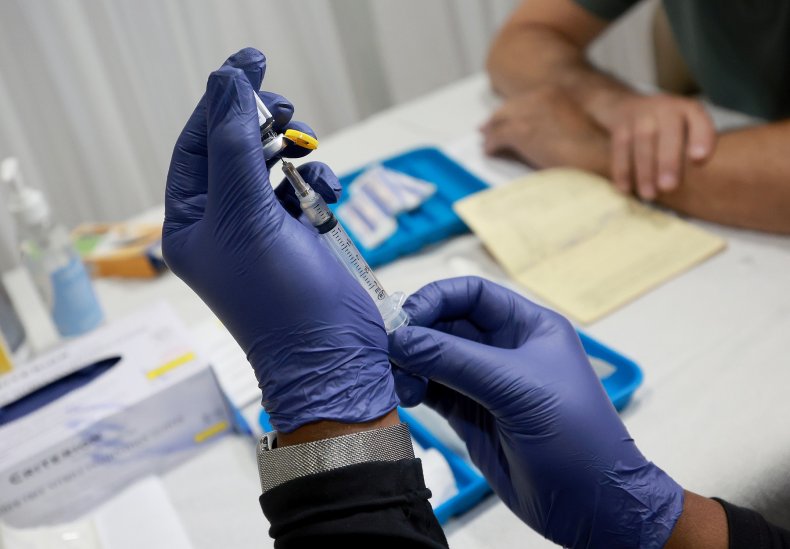 Eligibility information may also differ between states, and people should contact their local health department for information that might be relevant to them.
In New York City for example, where the vaccine has faced high demand, the shot is only available to men who have sex with men (MSM), including trans men, who are aged 18 or older and have had multiple or anonymous sex partners within the past 14 days.
Eligibility in D.C. is similar, with sex workers of any gender and staff at establishments where sexual activity occurs also eligible and encouraged to pre-register for an appointment.
In Georgia only people considered to be at high risk of the disease can get it, including MSM in the metro Atlanta area and men who have had multiple partners in the past two weeks, according to Georgia Public Broadcasting.
In New Jersey, rules are similar to New York City and individuals that attended an event where known monkeypox exposure occurred can also get it.
Another example is Los Angeles, where the vaccine is available to MSM who were diagnosed with gonorrhea or early syphilis within the past 12 months, are on HIV pre-exposure prophylaxis, or attended or worked at a commercial sex venue or other venue where they had anonymous sex or sex with multiple partners within the past 21 days. People in L.A. may also get invited to get the shot by the public health department if they are identified as high-risk via contact tracing.
Below is a comprehensive list of how many monkeypox vaccines have been distributed to U.S. states and/or jurisdictions according to the HHS Office of the Assistant Secretary for Preparedness and Response as of Wednesday.
Case numbers are according to the CDC as of July 20. Please note that an absence of case numbers in any of the below regions does not necessarily mean there are no cases in that region—only that case data there was not included in the CDC data table.
Alabama
Cases: 4
Vaccines: 12
Alaska
Cases: -
Vaccines: 102
Arizona
Cases: 22
Vaccines: 2,109
Arkans​as
Cases: 1
Vaccines: 100
California
Cases: 356
Vaccines: 26,990
Chicago
Cases: -
Vaccines: 8,013
Colorado
Cases: 38
Vaccines: 4,523
​Connecticut
Cases: 15
Vaccines: 230
Delaware
Cases: 1
Vaccines: 415
District of Columbia
Cases: 110
Vaccines: 8,848
Florida
Cases: 208
Vaccines: 26,091
Georgia
Cases: 158
Vaccines: 3,290
Hawaii
Cases: 8
Vaccines: 1,512
Houston
Cases: -
Vaccines: 300
Idaho
Cases: 1
Vaccines: 346
Illinois
Cases: 208
Vaccines: 2,377
Indiana
Cases: 26
Vaccines: 2,490
​Iowa
Cases: 5
Vaccines: 62
Kansas
Cases: 1
Vaccines: 216
Kentucky
Cases: 4
Vaccines: 366
Los Angeles
Cases: - (132 in LA County, according to the public health department)
Vaccines: 23,982
Louisiana
Cases: 16
Vaccines: 2,082
Maine
Cases: -
Vaccines: 226
Maryland
Cases: 55
Vaccines: 3,477
Massachusetts
Cases: 69
Vaccines: 7,007
Michigan
Cases: 19
Vaccines: 1,806
Minnesota
Cases: 15
Vaccines: 4,144
Mississippi
Cases: -
Vaccines: 416
Missouri
Cases: 5
Vaccines: 20
Montana
Cases: -
Vaccines: 8
Nebraska
Cases: 2
Vaccines: 273
Nevada
Cases: 7
Vaccines: 1,162
New Hampshire
Cases: 3
Vaccines: 262
New Jersey
Cases: 41
Vaccines: 2,813
New Mexico
Cases: 6
Vaccines: 373
New York
Cases: 581
Vaccines: 7,633
New York City
Cases: 711 (according to NYC.gov)
Vaccines: 21,821
North Carolina
Cases: 13
Vaccines: 2,869
North Dakota
Cases: -
Vaccines: 65
Ohio
Cases: 11
Vaccines: 10
Oklahoma
Cases: 3
Vaccines: 236
Oregon
Cases: 9
Vaccines: 1,522
Pennsylvania
Cases: 58
Vaccines: 3,199
Philadelphia
Cases: -
Vaccines: 2,040
Puerto Rico
Cases: 7
Vaccines: 750
Rhode Island
Cases: 7
Vaccines: 536
South Carolina
Cases: 6
Vaccines: 847
South Dakota
Cases: 1
Vaccines: 47
Tennessee
Cases: 10
Vaccines: 1,317
​Texas
Cases: 81
Vaccines: 856
U.S. Virgin Islands
Cases: -
Vaccines: 100
Utah
Cases: 11
Vaccines: 2,309
Vermont
Cases: -
Vaccines: 59
Virginia
Cases: 56
Vaccines: 4,051
Washington
Cases: 55
Vaccines: 3,550
West Virginia
Cases: 1
Vaccines: 267
Wisconsin
Cases: 6
Vaccines: 803
Wyoming
Cases: -
Vaccines: 42